U.S. Economy: Confidence Increases More Than Forecast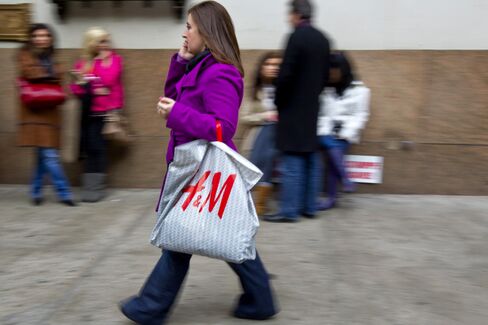 Jan. 25 (Bloomberg) -- Confidence among U.S. consumers rose more than forecast in January, reaching an eight-month high, as the outlook for jobs brightened.
The Conference Board's sentiment index increased to 60.6 from 53.3 the prior month, figures from the New York-based private research group showed today. Another report showed home values dropped in November by the most in a year.
Growing optimism, an improving labor market and tax relief may combine to help spur consumer spending, which accounts for about 70 percent of the economy. At the same time, the absence of a sustained housing rebound and unemployment above 9 percent are among reasons the Federal Reserve may announce tomorrow it will stick to a plan for more stimulus.
"Consumers are seeing the true improvement in the labor market," said Ryan Wang, an economist at HSBC Securities USA Inc. in New York. Nonetheless, "more progress is going to be needed to get the types of growth rates in both employment and spending that many are expecting to see this year."
Economists projected the confidence gauge would rise to 54, according to the median forecast in a Bloomberg News survey. Estimates of 73 economists ranged from 50 to 57.3 after a previously reported 52.5 in December. The index trails the average of 96.8 during the last economic expansion that ended in December 2007.
The share of Americans who said jobs were plentiful rose to the highest level since May 2009, while those expecting an increase in incomes climbed to an eight-month high. The Conference Board's measure of present conditions rose to the highest since November 2008.
Stocks Fall
The S&P/Case Shiller index of home values in 20 cities dropped 1.6 percent in November from a year earlier, the biggest 12-month decrease since December 2009. The group also said prices dropped 0.5 percent from October.
"The housing market is in a state of hibernation," said Zach Pandl, an economist at Nomura Securities International Inc. in New York. "We have a very severe foreclosure problem. Prices are going to keep weakening this year. Weakness in the housing market is likely to keep the Fed relatively cautious in its statement tomorrow."
Stocks erased losses in a late-session rebound that sent the Standard & Poor's 500 Index higher for a third day. The S&P 500 rose less than 0.1 percent to 1,291.18 at the 4 p.m. close in New York. Treasury securities also gained, sending the yield on the benchmark 10-year note down to 3.34 percent from 3.41 percent late yesterday.
Obama's Address
While Americans are more upbeat, President Barack Obama will use tonight's State of the Union address to focus on making the U.S. more competitive with economic rivals in a bid to boost optimism among the nation's business leaders.
Fifty-three percent of investors view Obama favorably, up from 49 percent in November, reversing a yearlong deterioration in perceptions of the U.S. president, according to a quarterly poll of 1,000 Bloomberg customers who are investors, traders or analysts conducted Jan. 20-24.
The gain in consumer confidence this month contrasts with the Thomson Reuters/University of Michigan preliminary sentiment index, which fell this month as Americans worried that higher gasoline prices would hurt their finances.
The Conference Board's index of present conditions increased to 31 from a revised 24.9. The gauge of expectations for the next six months rose to 80.3 from 72.3.
Higher Incomes
The proportion of Americans who expect their incomes to rise over the next six months increased to 11.4, the highest since May. The share of consumers who said jobs are currently plentiful rose a point to 5.2 percent. Those who said jobs are hard to get decreased.
Confidence rose in all nine U.S. regions, led by a 21.3-point surge in the West South Central area, which includes Texas and Oklahoma. Texas led states with the biggest payroll gains in December as employers added 20,000 workers, a Labor Department report showed today.
Payrolls dropped in 35 U.S. states during the month, led by New York, according to the state figures.
Americans probably stepped up their purchases in the final three months of 2010. Consumer spending grew at a 4 percent annual pace, the fastest since the last quarter of 2006, according to the median estimate of economists surveyed by Bloomberg before the Commerce Department's first estimate of fourth-quarter growth on Jan. 28.
Luxottica Group SpA, the owner of eyewear brands including Ray-Ban and Oakley, said yesterday fourth-quarter revenue climbed 16 percent on stronger sales in the U.S. and emerging markets. Sales at the Milan-based company's Sunglass Hut stores open more than a year rose almost 13 percent in the quarter, led by an 18 percent increase in the U.S.
Luxottica expects "to post solid, stable growth and increased profitability" in 2011, Chief Executive Officer Andrea Guerra said in the statement. "The start of the new year already looks encouraging."
To contact the reporter on this story: Alex Kowalski at in Washington or akowalski13@bloomberg.net
To contact the editor responsible for this story: Christopher Wellisz cwellisz@bloomberg.net