UConn Donor Wants $3 Million Back From Football Team, Day Says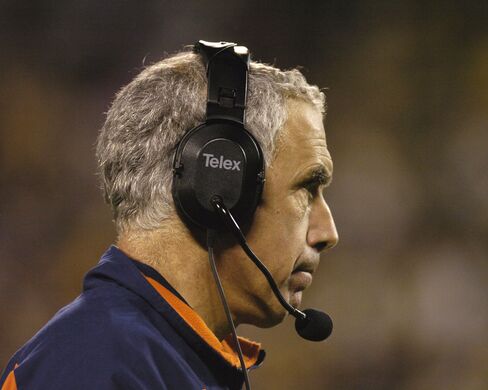 Robert Burton, chairman and chief executive officer of Burton Capital Management LLC, asked the University of Connecticut to return a $3 million donation to its football program because of disagreements with Athletic Director Jeff Hathaway, the Day of New London reported.
Burton, who has given the Storrs, Connecticut, school more than $7 million and pledged the $3 million to build the Burton Family Football Complex, also asked for his family's name to be removed from the facility, the Day said, citing a six-page Jan. 19 letter Burton sent to Hathaway, which was obtained by the newspaper.
Burton said in the letter that he was shut out of discussions about the selection of Connecticut's new football coach, the newspaper said. A telephone message left at Burton's office wasn't immediately returned. Burton Capital Management is based in Greenwich, Connecticut.
UConn's athletic department issued a statement to the Day saying Hathaway did receive and acknowledge Burton's advice, and shared the decision-making process and eventual hiring choice with the Burton family. The school declined further comment.
Burton wrote that Hathaway was "not qualified to be a Division I AD and I would have fired you a long time ago," and that Hathaway didn't respond to his request "to be kept in the loop" during its search to replace Randy Edsall, according to the newspaper. He didn't support the hiring of Paul Pasqualoni to replace Edsall, who quit on Jan. 2 to become the coach at the University of Maryland.
Before it's here, it's on the Bloomberg Terminal.
LEARN MORE