Brent Oil's Record Open Interest Threatens WTI: Energy Markets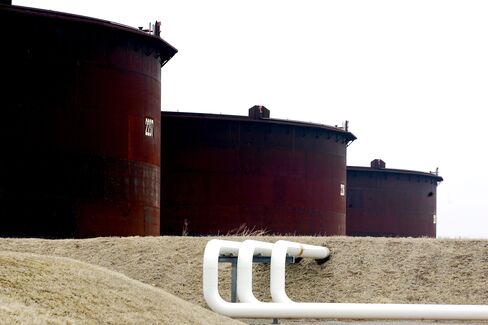 Rising purchases of Brent crude contracts have driven holdings of the European benchmark oil grade to the highest level in five months relative to New York futures as investors bet it's a better gauge of global demand.
Open interest, the number of contracts that haven't been closed or delivered, for Brent futures rose to a record 968,565 on Jan. 21, data from London-based ICE Futures Europe show. The ratio of the European marker to West Texas Intermediate oil positions on the New York Mercantile Exchange climbed to 65 percent, 15 percentage points above the five-year average and the most since Aug. 2, according to data compiled by Bloomberg.
Investors are piling into Brent as new supplies from Canada build up at the U.S. oil hub in Cushing, Oklahoma, skewing its reliability as an indicator of demand because of the lack of exit pipelines to the sea. TransCanada Corp.'s Keystone link may pump as much as 156,000 barrels of crude to Cushing from next month, according to Vienna-based JBC Energy GmbH. Cushing is the delivery point for Nymex futures.
"Nymex is challenged right now and continues to lose market share," said Stephen Schork, president of Villanova, Pennsylvania-based The Schork Group Inc., an energy consultant. "The Brent market reflects more of the underlying fundamentals given that it's more indicative of demand."
The increased purchases helped drive Brent's premium over West Texas oil to the highest level in almost two years this month. Front-month contracts for the European benchmark settled for $10.58 a barrel more than corresponding U.S. futures today, the most since February 2009, Bloomberg data show.
Limit to Premium
The widening of the premium may be limited because rising prices for Brent-based oils are likely to dent profits for refiners, including those that use more sophisticated catalytic crackers to produce gasoline, according to JPMorgan Chase & Co.
"Running Brent in a Singapore cracker consistently earned a negative margin over the past week, a trend that should limit the pull on Brent-related crudes," a team led by Lawrence Eagles, head of oil research at JPMorgan in New York, said in a Jan. 20 report.
Brent is used to price two-thirds of global oil including North Sea grades such as Forties and Ekofisk and West African exports including Nigeria's Bonny Light and Angolan Nemba, which typically have a lower sulfur content and yield more diesel and gasoline than others.
Rollover Profit
Investors have also bought Brent because of a premium, or backwardation, on prompt futures relative to later-dated supplies that's given traders a profit as they roll over their holdings from the first-month into later-delivery contracts. Front- and next-month futures were in uninterrupted backwardation from Dec. 20 to Jan. 17, Bloomberg data show.
"An interesting thing has happened with new financial money flowing into Brent," said Akira Kamiyama, a derivatives trader at Mitsui & Co. in Tokyo. "The Brent curve is very supportive because of the backwardation. That's why the long positions are getting out of WTI and into Brent."
Funds rolling over contracts from first- to second-month Brent would have gained 3 cents a barrel, according to Bloomberg data based on Jan. 21 prices. A corresponding sale of West Texas would have lost $1.52, a so-called negative roll yield. The same transaction for Brent today would result in a loss of 6 cents while WTI would cost $2.02.
Open interest in Brent futures may have surpassed 1 million when the two types of Brent traded on Nymex are taken into account, according to Olivier Jakob, managing director at Petromatrix in Zug, Switzerland. In the same way, traders can buy and sell West Texas oil on ICE.
Trading Volumes
About 264,000 WTI futures a day traded in the past two weeks on ICE, compared with 864,000 on Nymex. About 495,000 Brent futures contracts a day traded on ICE in the same period, while Nymex's main Brent contract traded 1,700.
Brent's growth percentages "look distorted" because they come from a smaller base, said Joseph Raia, the New York-based managing director of energy and metal products at CME Group, which owns the Nymex. WTI's daily volume is still double Brent's, although growth in contracts for both crudes has gained, he said.
"We certainly see a very large growth percentage-wise in open interest year on year as the global economy comes out of the recession," Raia said. "There's no doubt that the pie's gotten bigger."
Before it's here, it's on the Bloomberg Terminal.
LEARN MORE