Ghailani Gets Life in Prison for U.S. Embassy Bombings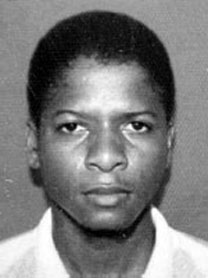 Jan. 25 (Bloomberg) -- Ahmed Khalfan Ghailani, the first Guantanamo Bay detainee tried in U.S. civilian court, was sentenced to life in prison for his role in the 1998 bombings of two U.S. embassies in Africa that killed 224 people.
Ghailani, 36, a Tanzanian citizen, was convicted Nov. 17 by a federal jury in New York of one count of conspiracy to destroy U.S. buildings and cleared of 284 other charges stemming from the Aug. 7, 1998, attacks on the embassies in Nairobi, Kenya, and Dar es Salaam, Tanzania. He was sentenced today by U.S. District Judge Lewis Kaplan in New York.
The defendant didn't address the court today before sentencing. Instead, his lawyers asked the judge to impose less than a life term. Kaplan rejected the request, calling the attacks "cold-blooded killing and maiming."
"A sentence must be imposed that makes it crystal clear that others engaged or contemplating engaging in deadly acts of terrorism risk enormously serious consequences," Kaplan told Ghailani, who stood flanked by his six lawyers.
"I am not persuaded that Mr. Ghailani is the harmless, innocent person that has been put forward -- not at all," Kaplan said as Ghailani dropped his head and stared at the defense table. "The sentence must also make sure that he never again has the opportunity to do anything like he has done up to now."
The near-simultaneous bombings killed 12 U.S. citizens and injured more than 4,500 people. The crime for which Ghailani was found guilty carries a minimum sentence of 20 years in prison. He would have faced a mandatory life sentence if he were convicted of any of 224 murder counts.
Prosecutors' Stance
Prosecutors in the office of U.S. Attorney Preet Bharara argued today that Ghailani deserved a life term because the evidence shows he participated in a worldwide terrorist conspiracy with Osama bin Laden to kill U.S. nationals using weapons of mass destruction.
Ghailani's lawyers argued he should get leniency because of the "wealth and depth of the national security intelligence" he provided. They also argued he deserved a lesser term because he was tortured while in U.S. custody.
Assistant Manhattan U.S. Attorney Michael Farbiarz said that while Ghailani did provide information to the U.S. about al-Qaeda, it didn't merit a lesser term. What Ghailani told the U.S. remains classified and has never been made public.
'Working With Al-Qaeda'
"That's not information he learned in a seminar room, he did not learn it from a book, he learned it by doing and working with al-Qaeda in the act of the embassy bombings," Farbiarz said, adding that Ghailani never expressed any remorse for the crime.
Bharara, who was present in court for the sentencing, issued a statement later calling Ghailani "a vital member of the East African terror cell that murdered 224 innocent people and wounded thousands of others."
"Justice was served," Bharara said in the statement. "Ahmed Ghailani is a remorseless terrorist, mass murderer, and an al-Qaeda operative and now he will spend the rest of his life in prison," he said.
The evidence presented by the U.S. at the trial showed that Ghailani helped buy the refrigeration truck that ferried the bomb to the Tanzania embassy attack. Witnesses said he also helped purchase metal oxygen and acetylene tanks that the government said were used to enhance the explosive power of the bomb.
A Federal Bureau of Investigation agent testified he found an explosives detonator in a locked cabinet in Ghailani's bedroom after the attacks, and that the armoire was covered with residue from the explosive PETN, which experts said indicated a large number of blasting caps had once been stored there.
'Inconsistent' Verdict
On Jan. 21, Kaplan rejected Ghailani's bid to void the sole conviction because of what defense lawyers argued was an "inconsistent" verdict.
Defense lawyers said today Ghailani didn't know that a bombing was planned until after the attacks. They said he unwittingly helped collect materials used in the Tanzania attack and didn't know the full extent of the plot until after he left Africa with co-conspirators a day before the bombings.
"At no time did he come to know what the object of this conspiracy was," his lawyer, Peter Quijano told Kaplan today. "He did not know until after he had been used by these other individuals to carry out the conduct that was the subject of this fraud and various other acts that were attributed to him."
Kaplan rejected defense arguments that Ghailani should get a reduced sentence because he provided intelligence information and because of the harsh treatment he received while in the custody of the Central Intelligence Agency.
'Suffering' and 'Horror'
"Whatever Mr. Ghailani suffered at the hands of the CIA," he said, "the impact on him pales in comparison to the suffering and the horror that he and his confederates caused."
Kaplan said that while there is no evidence that Ghailani took an oath to join the terror group, "it is abundantly clear that Mr. Ghailani worked together with al-Qaeda and its associates" to blow up the embassies. "He was an al-Qaeda operative," the judge said.
"It was a cold-blooded killing and maiming of innocent people on an enormous scale," Kaplan said. "The purpose of this crime was to create terror and death and destruction on a scale that was hard to imagine when it occurred in 1998."
In his Jan. 21 ruling rejecting Ghailani's bid to overturn the conviction, the judge said the evidence showed he had a personal relationship with five key al-Qaeda operatives, including two who were convicted of the bombing plot in a 2001 trial in federal court in New York.
East Africa Cell
Kaplan also said in his ruling that witnesses testified a key leader of the terrorist group's East Africa cell, Mustafa Mohamed Fadhil, stayed in the same room with Ghailani in the months leading up to the attacks.
Before he imposed sentence, Kaplan heard from 11 victims of the bombings who described the impact the attacks had upon them.
"In the aftermath what remains is a lingering, unsettling feeling that is compounded with grief, deep sadness and anger," said Sue Bartley, whose husband Julian Bartley Sr., the counsul general at the U.S. embassy in Nairobi, and son Julian Bartley Jr., a college student, were both killed in the Nairobi attack.
"The pain is with me every day," she said. "A part of me is missing."
James Ndeda, a Nairobi embassy employee who received skull and back injuries in that blast, suggested to Kaplan that he impose a term of 224 years in prison.
'Grave Is Chained'
"I believe one year of sentence in jail for each death is a fair sentence," he said. "That will be up to 224 years in jail. I know he might not live to that, but as the practice is in Africa, if someone dies in jail, his grave is chained until the period elapses."
Ndeda also suggested that Ghailani serve his term in a prison in either Asia or Africa and not in the U.S., "because in America, jail is like living in a five-star hotel."
Ghailani, who was captured in Pakistan in July 2004, was held and questioned by the CIA for more than two years, the U.S. has said in court papers. In September 2006, he was transferred to Guantanamo Bay by the Department of Defense. In June 2009, the U.S. transferred him to federal court in New York for trial.
Ghailani admitted that he worked for several top al-Qaeda terrorists and served as a cook and bodyguard for Osama bin Laden, the U.S. has said. The jury only heard about Ghailani's arrest in Pakistan and never heard details of his activities with al-Qaeda after the attacks.
'Near Disaster'
The case has been closely watched as a test case for the civilian prosecution of terrorists. The Obama administration has been criticized by Republicans for its plan to close the military prison in Guantanamo Bay and try some terrorism suspects held there in civilian courts.
U.S. Representative Lamar Smith, a Republican from Texas who is chairman of the House Judiciary Committee, called Ghailani's trial a "near disaster" and said the case was proof that civilian trials make it more difficult for prosecutors to obtain convictions.
"Ghailani was acquitted of all but one of the 285 counts against him," Smith said today in a statement. "'The truth is this was a close call. If Ghailani had been acquitted of just one more count, he would have been considered innocent of these heinous crimes."
U.S. Senator Dianne Feinstein, a Democrat from California who is chairwoman of the Senate Intelligence Committee, issued in her own release hailing the verdict.
Punishment 'Terrorists Deserve'
"Today's sentence shows that federal criminal courts continue to deliver the punishment that terrorists deserve," Feinstein said. "And a life sentence is longer than many sentences we have seen in the military commission system in recent years."
During a 2001 trial in federal court in New York, four co-defendants of Ghailani were convicted of all charges, including joining an al-Qaeda conspiracy to kill U.S. nationals and all 224 counts of murder.
The case is U.S. v. Ghailani, 98-cr-01023, U.S. District Court, Southern District of New York (Manhattan).
To contact the reporter on this story: Patricia Hurtado in New York at pathurtado@bloomberg.net.
To contact the editor responsible for this story: David E. Rovella at drovella@bloomberg.net.