Too-Big-To-Fail Regulations Vex Lenders, Oudea Says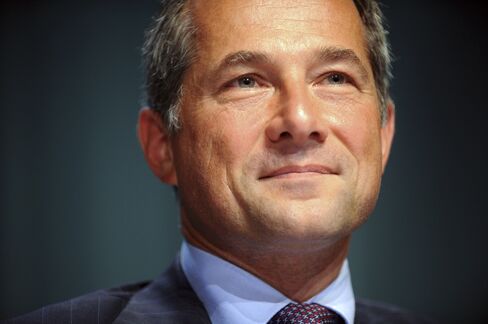 Jan. 24 (Bloomberg) -- Societe Generale SA Chief Executive Officer Frederic Oudea said global plans to list banks deemed systemically important and make them hold extra capital may backfire by creating more lenders that are too big to fail.
Banks have "real concerns" about the Financial Stability Board and other regulators "designating groups of firms" as systemically important, said Oudea, adding that lenders are also seeking changes to liquidity rules drawn up by the Basel Committee on Banking Supervision.
Oudea's made his remarks today as bank executives including Deutsche Bank AG's CEO Josef Ackermann and JPMorgan Chase & Co.'s CEO Jamie Dimon are set to gather this week with lawmakers and regulators from around the world at the World Economic Forum in Davos, Switzerland. Societe Generale, France's second-largest bank by market value, will be represented in Davos by Deputy CEO Bernardo Sanchez Incera.
"Imposing simple capital surcharges" on systemically important banks "is not the right way to strengthen systemic stability," Oudea, who chairs the Institute of International Finance's steering committee on regulatory capital, said in a statement on behalf of the IIF. The Basel measures on liquidity may constrain lending and make them hold too much sovereign debt, Oudea said.
The FSB plans to finish by mid-2011 a first list of lenders that are systemically important on a global scale. Globally significant lenders are so big that their "distress or failure would cause significant dislocation in the global financial system and adverse economic consequences across a range of countries," the board said in November.
'Sound Risk Management'
The FSB was set up by the Group of 20 nations in 2009 to oversee the work of groups setting international financial rules. The IIF, based in Washington, represents more than 400 financial firms around the world and is chaired by Deutsche Bank's CEO Ackermann.
"Size is not correlated to the magnitude of the problem" posed by systemically important lenders, Oudea said today from Paris on a phone conference call with reporters. "Sound risk management is the best deterrent" to tackle the issue, IIF's Managing Director Charles Dallara said on the call.
National regulators such as the U.S.'s Financial Stability Oversight Council are working on identifying regional criteria for systemically important lenders.
Designating groups of banks as systemically important "will tend to differentiate these in the eyes of the market," Oudea said in the statement.. "There is a risk that this will create pressures for concentration and hence intensify the problem of 'too big to fail' rather than eliminating it," he said.
'Capital Surcharge'
The Basel committee submitted draft criteria on the globally significant lenders to the FSB in December.
The FSB has said globally significant lenders may face a "capital surcharge" or requirements to issue minimum amounts of bonds that can be written off or converted to equity.
They may also face liquidity surcharges and tighter limits on the size of their dealings with a single counterparty, the FSB said. It plans to take a decision on these requirements by the end of 2011.
The Basel committee in December published details of two liquidity standards it plans to impose on banks to make them more resilient to future crises.
These measures "will directly constrain the support provided to economic actors such as backstop facilities for commercial paper and standby credit," Oudea said. Funding for "export credit and project financing" will also be hit, he said. The measures would also "unduly discourage interbank lending and give incentives to excess concentration in sovereign debt."
Basel's Liquidity Rules
The Basel group proposed imposing a liquidity coverage ratio at the start of 2015. The ratio would require lenders to hold a stock of liquid assets sufficient to survive a 30 day seizing up of credit markets.
A so-called net stable funding ratio, aiming to limit the mismatch between the duration of bank's loans and deposits, would also be enacted at the start of 2018.
Basel's liquidity rules "make unrealistically conservative assumptions about what asset classes are treated as liquid" including by failing "to recognize the liquidity and stability of covered bonds," Oudea said.
The Basel committee said in December that it will carry out assessments of the likely impact of the two liquidity standards and is prepared to revise them before they become effective.
"It is crucial that the Basel committee" make "full use" of these assessment periods, Oudea said.
'No Doubt'
The Basel committee brings together regulators from 27 countries including Brazil, China, India, Germany the U.K. and the U.S. to co-ordinate banking regulation.
The committee in December also published the details of an overhaul of international rules on the capital banks must hold to protect themselves against insolvency.
"There can be no doubt that these reforms will have significant consequences for the financing of the real economy," said Oudea.
National regulators "should avoid adding further requirements to the global standard that has been agreed, or requiring accelerated implementation," he said.
The IIF also wants the G-20 to establish a "high-level taskforce" to forge agreements on how to manage the failure of a cross-border bank, Oudea said.
To contact the reporters on this story: Jim Brunsden in Brussels at jbrunsden@bloomberg.net; Fabio Benedetti-Valentini in Paris at fabiobv@bloomberg.net.
To contact the editor responsible for this story: Anthony Aarons at aaarons@bloomberg.net.