Thai Nationalists Block Bangkok Road, Raise Pressure on Abhisit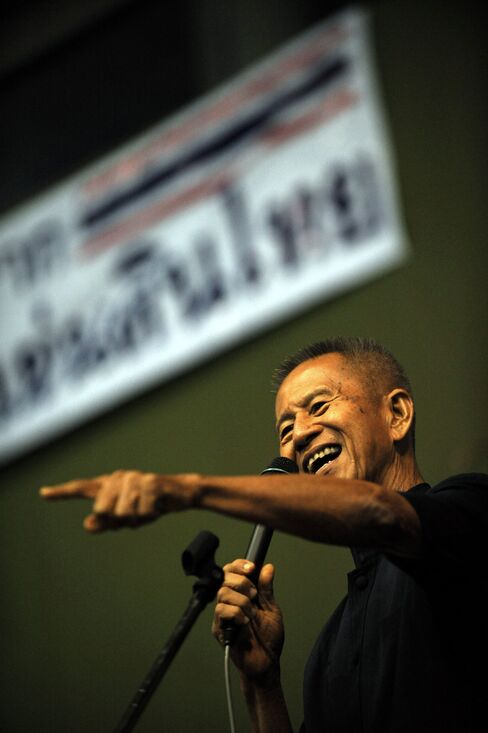 Jan. 25 (Bloomberg) -- Thai nationalists blocked a Bangkok street to pressure Prime Minister Abhisit Vejjajiva over a border agreement with Cambodia, raising the specter of protests in 2008 that led to deadly clashes and airport closures.
The People's Alliance for Democracy, which mobilized tens of thousands of protesters when it seized Bangkok's airports 26 months ago, drew 2,500 people to a street less than a kilometer from Abhisit's Government House office, police spokesman Prawut Thavornsiri said. The benchmark SET Index fell 0.5 percent, extending losses after its biggest drop in 15 months yesterday.
"The government has to do something," said Parnthep Pourpongpan, a spokesman for the protesters, who estimated the crowd at 10,000 people. "What we do next depends on the government."
The moves by the yellow-shirted demonstrators who backed Abhisit's rise to power in 2008 and now say the government is ceding territory to Cambodia may undermine his efforts to prevent street clashes before an election he must call this year. Rival red-clad supporters of ex-leader Thaksin Shinawatra, whose occupation of downtown Bangkok last year led to at least 95 deaths, gathered nearby today and have vowed to hold competing bi-monthly rallies.
"Bellicose statements" from People's Alliance leaders "do not bode well for peaceful resolution of the current dispute," PSA Asia, a Bangkok-based security and risk consulting company, said in a report today. "Police have little skill in containing rallies and are reluctant to use force to maintain order, often resulting in demonstrations quickly getting out of hand."
Disputed Border Areas
The People's Alliance is demanding that Thailand drop out of the United Nations' World Heritage Committee, cancel a 2000 agreement with Cambodia on border negotiations and urge Cambodians to withdraw from disputed border areas, leader Chamlong Srimuang said yesterday. He didn't rule out storming Government House in the days ahead as the group did in 2008.
"All parties should cooperate and act in line with the rules," Abhisit told reporters in Bangkok yesterday.
Deputy Prime Minister Suthep Thaugsuban said today the protesters' demands are "dangerous" to the country and the government wouldn't follow them.
Police arrested five suspects accused of aiming to sabotage today's rally with homemade bombs, the Bangkok Post reported, without citing anyone.
"The situation is normal now," Prawut said by phone. "We are just trying to keep the protesters in that area."
Stocks Drop
Thailand's SET Index, Asia's third-worst performer this year after Indonesia and India, dropped to its lowest level since Sept. 24. The gauge has lost 8.7 percent since reaching a 14-year high on Jan. 6, joining regional neighbors from China to India in declining from recent peaks amid concern central banks will take extra steps to prevent their economies from overheating.
The baht slid 0.2 percent to 30.99 per dollar as of 5:01 p.m. in Bangkok, according to data compiled by Bloomberg. The currency touched 31.02, the weakest level since Sept. 9.
Tourism stocks led declines, with Thai Airways International Plc falling to the lowest level since Oct. 13 and Airports of Thailand Pcl, the biggest airport operator, dropping to its lowest close since June 11. Central Pattana Pcl, owner of a Bangkok shopping mall that was set ablaze during protests last year, fell 9.7 percent to 25.75 baht, the biggest drop since Nov. 20, 2008.
'Buying Opportunity'
The recent stock declines presented a "buying opportunity," Credit Suisse Group AG said today.
"We consider politics a potential positive catalyst, rather than a reason to sell," analysts Dan Fineman and Siriporn Sothikul wrote in a report. "We still see a good chance for elections as early as April-May and expect the government to surprise the market with its margin of victory."
Thai lawmakers today debated two minor changes to the constitution that would alter the composition of Parliament and make it easier to sign international treaties. Passage of the amendments would fulfill one of Abhisit's conditions for calling an election ahead of a deadline for the end of this year.
The People's Alliance, led in part by a member of Abhisit's party, ended six months of street protests in 2008 against Thaksin's allies when a court disbanded the ruling party. Abhisit took power two weeks later in a parliamentary vote.
Army Response
Soldiers declined to enforce orders from a pro-Thaksin prime minister in 2008 to disperse the People's Alliance from Government House or the airports. The army has twice used force since then to break up protests from Thaksin's supporters, most recently in May when demonstrators turned down Abhisit's offer to call an early election.
Street clashes and small bomb attacks during the 2008 protests killed at least five people and injured hundreds of others.
Relations between Thailand and Cambodia soured in 2008 when a Thai court ordered a Thaksin-linked government to withdraw support for Cambodia's bid to list the disputed Preah Vihear temple as a World Heritage site. Gun battles in the area since 2008 have killed at least six soldiers.
To contact the reporter on this story: Daniel Ten Kate in Bangkok at dtenkate@bloomberg.net
To contact the editor responsible for this story: Peter Hirschberg in Hong Kong at phirschberg@bloomberg.net