STMicroelectronics Declines as ST-Ericsson Loss Widens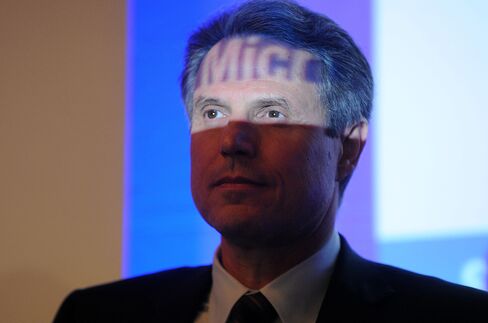 STMicroelectronics NV, Europe's largest chipmaker, fell the most in five months in Milan trading after the company's ST-Ericsson wireless venture reported increased losses in the fourth quarter.
The shares fell 4.8 percent to 8.16 euros at the 5:30 p.m. close of trading, the biggest decline since Aug. 11, giving the company a market value of about 7.4 billion euros ($10 billion).
ST-Ericsson, a 50-50 joint venture with Ericsson AB that makes chips used in mobile phones, said yesterday that its fourth-quarter net loss widened to $177 million euros from $121 million euros in the third quarter. Net revenue rose 2 percent to $577 million from the previous quarter.
"ST-Ericsson reported top line a tick better, but losses were substantially higher on price erosion," Gunnar Plagge, an analyst at Nomura, wrote in a note. "Wireless will weigh on sentiment." Plagge has a "buy" rating on STMicroelectronics.
ST-Ericsson, whose clients include the world's biggest handset makers Nokia Oyj and Samsung Electronics Co., forecast "net sales to decline sequentially, reflecting both the accelerating decline of legacy products and the effect of first quarter seasonality."
"Completing ST-Ericsson's turnaround is our key priority for 2011," Chief Executive Officer Carlo Bozotti said on a conference call today.
STMicroelectronics posted an "excellent performance in the fourth quarter," said Saverio Papagno, an analyst at AZ Fund Management in Luxembourg. "The market is cashing in."
First-Quarter Sales
The company yesterday forecast that first-quarter revenue may top analysts' predictions, citing demand for chips used in three-dimensional televisions and computerized home appliances.
First-quarter sales will fall 7 percent to 12 percent from the preceding quarter, the Geneva-based company said in a statement. That implies sales of $2.49 billion to $2.64 billion, according to Bloomberg calculations. The midpoint is $2.57 billion, compared with the $2.54 billion average estimate of 10 analysts surveyed by Bloomberg.
The CEO said in the statement that he expects the semiconductor industry to grow at a more moderate rate than in 2010, adding that the company forecasts "above-market revenue growth accompanied by further year-over-year improvements in quarterly operating profitability."
Market Growth
Bozotti today repeated that the company will grow faster than the market this year. STMicroelectronics expects the market it serves to grow 5 percent to 8 percent in 2011, the CEO said, compared with an October forecast of as much as 10 percent growth. Researcher Gartner Inc. projected Dec. 9 that global semiconductor revenue will increase 4.6 percent this year to $314 billion.
Intel Corp., the world's biggest chipmaker, forecast sales may rise 10 percent this year, Chief Financial Officer Stacy Smith said in an interview Jan. 13. Texas Instruments Inc., the second-largest U.S. chipmaker, reported a 44 percent gain in fourth-quarter profit yesterday.
Before it's here, it's on the Bloomberg Terminal.
LEARN MORE