Nadal Extends Win Streak After Beating Virus at Australian Open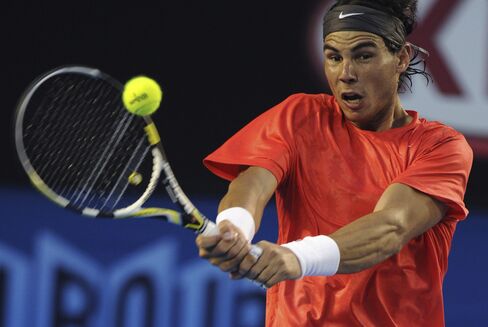 Rafael Nadal overcame a virus to beat Marin Cilic at the Australian Open and extend his win streak in Grand Slam tournaments to 25 matches.
Nadal's 6-2, 6-4, 6-3 defeat of the 22-year-old Croat yesterday in the fourth round of the season's first major tied him with Pete Sampras and Jimmy Connors, who both also won 25 straight matches at the four biggest tennis events.
The 24-year-old had lost 2 1/2 kilograms (5 1/2 pounds) during his third-round match against Australia's Bernard Tomic. He said he's finally starting to feel better after struggling with a virus during a warm-up event in Qatar at the start of the month that delayed his departure for Melbourne.
"I felt very good," Nadal told a news conference after beating No. 15 seed Cilic. "I didn't sweat like the other days. So that's fantastic news for me. The better news is I played much better than the rest of the days."
Nadal is seeking to become the first man since Rod Laver in 1969 to hold all the four major titles at the same time. The lefthander last season won the French Open, Wimbledon and the U.S. Open. In his quest to complete the "Rafa Slam," Nadal will next play fellow Spaniard and No. 7 seed David Ferrer.
"For me it's very good news because one Spaniard is going to be in the semifinals, so that's fantastic for our country," Nadal said about 28-year-old Ferrer, whom he has beaten 11 times in 14 meetings. "He's playing good. He won in Auckland. He's in the quarterfinal, it's going to be a very difficult match. I wish him all the best. Hopefully I can play my best tennis and have good chances to win."
Record Streak
Laver holds the record for longest win streak with 29 matches, which started at the 1969 Australian Open and ended in the round of 32 at the 1970 Wimbledon. Roger Federer has two streaks of 27 matches, in 2005 and 2006.
In quarterfinal matches scheduled in Melbourne today, defending champion Federer, 29, plays No. 19 seed and fellow Swiss Stanislas Wawrinka, 25. Women's top seed Caroline Wozniacki, 20, of Denmark faces French Open champion Francesca Schiavone, 30, of Italy.
U.S. Open champion Kim Clijsters from Belgium joined Nadal in the quarterfinals with a 7-6 (7-3), 6-2 win over Russia's Ekaterina Makarova, 22. Clijsters, the favorite for the women's title, will next play Agnieszka Radwanska, the No. 12 seed from Poland who saved two match points before beating China's Peng Shuai 7-5, 3-6, 7-5.
"Definitely tonight was a good match and I am happy with the way that I am playing," Clijsters, 27, said.
Soderling Exit
Fourth-seed Robin Soderling, 26, had his win streak snapped and Australian Open ended by unseeded 22-year-old Alexandr Dolgopolov in the fourth round to become the highest-ranked man to exit the tournament.
Dolgopolov, making his fourth appearance at a major and his debut at Melbourne Park, won in five sets to set up a quarterfinal against fifth-seeded Andy Murray, who lost just five games in beating Jurgen Melzer, the No. 11 seed.
Dolgopolov, ranked 42 places below Soderling at No. 46 in the world, fought back to win 1-6, 6-3, 6-1, 4-6, 6-2 for his first career victory over a top-10 player. Soderling had entered the contest having won all eight of his matches this year without losing a set.
"I came back somehow and started to play better and better with every set," the Ukrainian said in a news conference. "I started pretty bad today, but I can't say it was the nerves or something. I'm trying to get used to playing."
Murray Dominates
Murray, the runner-up 12 months ago, swept past Melzer 6-3, 6-1, 6-1 in 1 hour, 44 minutes. Murray, 23, struck his 29th winner to bring up three match points against the 29-year-old Austrian before firing his 13th ace to seal the victory.
Murray, who beat Dolgopolov in their only previous meeting in the 2006 Davis Cup, has yet to concede more than three games in any set this year at Melbourne Park.
"I'm not expecting to go through the tournament winning matches like that, with that score line," Murray told reporters. "It's been a very good start, but it's going to get much tougher."