Kodak Handed Setback in Push for Apple, RIM Royalties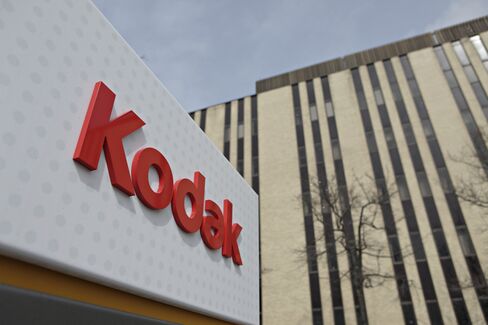 Eastman Kodak Co. was handed a setback by a U.S. trade agency in the camera company's effort to force Apple Inc. and Research In Motion Ltd. to pay patent royalties on a common image-preview feature used in phones.
Kodak fell 13 percent in New York trading after U.S. International Trade Commission Judge Paul Luckern late yesterday said Apple's iPhone and RIM's BlackBerry don't violate Kodak's patent. The administrative law judge's findings are subject to review by the six-member commission, which has the power to block imports of products that infringe U.S. patents.
Kodak, a 130-year-old company that popularized photography with the Brownie and Instamatic cameras, has been trying to drum up royalties from its more than 1,000 digital-imaging patents to fund a shift to more modern devices. Kodak used the ITC to reach agreements in 2009 and 2010 with phonemakers Samsung Electronics Co. and LG Electronics Inc. totaling $864 million.
"The ALJ's recommendation represents a preliminary step in a process that we are extremely confident will conclude in Kodak's favor," General Counsel Laura G. Quatela said in a statement. "This very same Kodak patent was upheld by a different ALJ at the ITC in our case against LG and Samsung."
The patent in the Apple and RIM case covers a feature that can preview low-resolution versions of a moving image while recording still images at a high resolution. Higher resolution requires more processing power and storage space. Rochester, New York-based Kodak contends the image-preview feature is used in every digital camera and phone with a camera.
Patent Review
Kodak fell 70 cents to $4.52 at 4 p.m. in New York Stock Exchange composite trading of almost 32 million shares, about four times the three-month daily average. It was the biggest percentage price drop since July 28.
Luckern said the patent is invalid because it's an obvious variation of an earlier invention, and that the Apple and RIM products don't infringe. The judge said if the commission overturns the ruling, he recommends an order barring entry of iPhone and BlackBerry devices that have digital cameras.
The U.S. Patent and Trademark Office took a second look at the patent at the behest of Waterloo, Ontario-based RIM and Seoul-based LG. The agency said Dec. 23 it intended to issue a notice confirming the validity of the patent, according to a Jan. 3 court filing by Kodak.
Years of Discussion
Kodak said in 2009 that it expects revenue from its intellectual property to average at least $250 million to $350 million a year for "the next few years." Perez has sought to use the money to help fund a shift to digital devices as a drop in demand for traditional film products cut revenue by almost half since he took over in 2005 to $7.6 billion in 2009.
Kodak filed the complaints against RIM and Cupertino, California-based Apple after years of discussions, the camera company said in September.
"Absent modification by a majority vote of the commissioners of the ITC, Judge Luckern's decision will become the final determination of the ITC," RIM said in a statement.
Kristin Huguet, a spokeswoman for Apple, said the company doesn't comment on pending litigation.
Apple and RIM have their own cases against Kodak. Apple filed a patent-infringement complaint at the ITC against Kodak, with a trial scheduled to begin Jan. 31 in Washington. RIM has a civil lawsuit in federal court in Texas challenging the validity of Kodak patents, including the one in the ITC case.
The case is In the Matter of Certain Mobile Telephones and Wireless Communication Devices Featuring Digital Cameras, and Components Thereof, 337-703, U.S. International Trade Commission (Washington).