Jack LaLanne, Fitness Guru, TV Exercise-Show Host, Dies at 96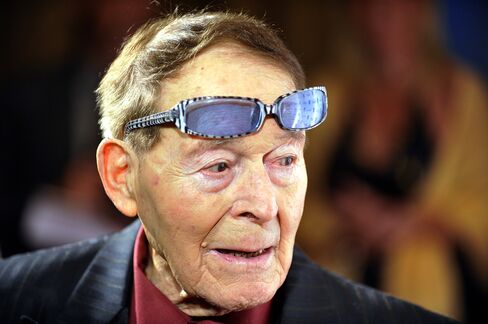 Jack LaLanne, the fitness guru and tireless television exercise-show host who demonstrated jumping jacks and push-ups while touting low-sugar diets and weight training long before they were fashionable, has died. He was 96.
LaLanne died of pneumonia yesterday at his home in Morro Bay, California, the Associated Press reported, citing his agent, Rick Hersh.
LaLanne, who sometimes referred to himself as the Godfather of Fitness, was a TV pioneer in 1951 when he hosted one of the first exercise programs. His following grew when "The Jack LaLanne Show" was syndicated nationally from 1956 to 1970. The muscular host demonstrated calisthenics while amusing the home audience with his patter: "Ten seconds on the lips and a lifetime on the hips" and "Your waistline is your lifeline."
With daily television exposure in his body-hugging short-sleeved jumpsuit, LaLanne capitalized on his recognition by developing exercise equipment, dietary aids and lending his name to more than 100 fitness centers.
Well past middle age, LaLanne staged feats of strength to remain in the public eye. At 60, he swam from Alcatraz Island to Fisherman's Wharf in San Francisco, pulling a 1,000 pound-boat while shackled and handcuffed. At 70, he towed 70 boats with 70 people for 1 1/2 miles in Long Beach Harbor.
LaLanne's longevity and vigor into his mid-90s was testimony to what he preached for more than 70 years. His commitment to healthful living began in his teens, when he was inspired by a nutritionist to abandon junk food. As his own fitness improved, he overcame his adolescent turmoil and sought converts to healthy living with a missionary's fervor.
He went on to open one of the first modern gyms in an Oakland, California, office building in 1936.
'Charlatan, Nut'
While LaLanne's popularity waned in the 1980s during the heyday of aerobics, he continued to promote his juicers, books and videos. He marked his 92nd birthday with a publicity event in New York, airing a new infomercial for juicers on the Times Square JumboTron giant video screen. Late in life, he saw vindication for his advocacy of progressive weight training and nutritious foods.
"People thought I was a charlatan and a nut," he said in a posting on his Web site. "Time has proven that what I was doing was scientifically correct -- starting with a healthy diet followed by systematic exercise, and today everyone knows it. All world-class athletes now work out with weights, as do many members of the general public, both male and female."
Born in San Francisco on Sept. 26, 1914, he was named Francois Henri LaLanne by his French immigrant parents. His father worked for a local telephone company and also as a dance instructor. His mother was a maid.
Junk Food
The family moved to Bakersfield, California, to manage a sheep herd. Later, the LaLannes relocated to Oakland, where the teenaged Jack lost his father to a heart attack. The youngster's life soon spiraled out of control.
LaLanne told interviewers that he suffered migraine headaches, fared poorly in school, was unfit for sports, had an uncontrollable temper and was a "sugar-aholic." His worried mother took him to a lecture by nutritionist Paul C. Bragg, whose message had a life-altering impact on LaLanne.
The nutritionist told the teenager that he could be "born again" if he gave up unhealthy, sugar-laden foods. LaLanne said he prayed for willpower, and once he changed his diet his headaches disappeared and his vision improved. He began training with free weights at the local YMCA and became a successful high school athlete.
After graduation, LaLanne pursued his twin passions. He sold nutritious baked goods made by his mother with prunes and other dried fruit, and he turned the family basement into his first gymnasium, sharing tips and training with local firefighters and policemen. For a time, he also attended a chiropractic school.
First Gym
At age 21, he opened the Jack LaLanne Physical Culture Studio in downtown Oakland. To recruit clients, he began visiting local high schools, wearing a tight t-shirt to emphasize his well-defined muscles. He singled out the scrawniest or most overweight students to ask if they wanted to become fit. He would then follow up with a home visit to win over parents and offer a few months of free gym membership.
If parents were impressed, they often followed their high school students into LaLanne's studio. He was willing to train women as well as men. Women viewers were later essential to his success on television.
Fittingly, LaLanne met his wife Elaine at a San Francisco television station, where she worked in the 1950s. After their marriage, she wrote five fitness books and accompanied him on personal appearances for five decades. Their son Jon, a surfing enthusiast, accompanied his father on some of his stunts.
Waning Popularity
LaLanne hosted another TV show, "Jack LaLanne and You," from 1981 to 1983, but it failed to catch on with an audience drawn to younger, flashier fitness instructors. His exercise video was overlooked in the stampede to buy aerobics videos by actress Jane Fonda.
With no TV hosting duties to keep him in Los Angeles, LaLanne sold his Hollywood Hills home in 1985 and moved with his wife to Morro Bay on the Pacific coast north of Los Angeles. He no longer had a financial stake in spas, but he actively promoted his branded products and fitness lifestyle.
LaLanne continued to rise at 4 a.m. or 5 a.m. for two-hour workouts. He made guest appearances on TV and radio shows ranging from "Larry King Live" to Howard Stern.
In addition to his wife and son, survivors include a daughter, Yvonne, from a previous marriage.
Before it's here, it's on the Bloomberg Terminal.
LEARN MORE