Ireland Races to Pass Budget as Government Collapses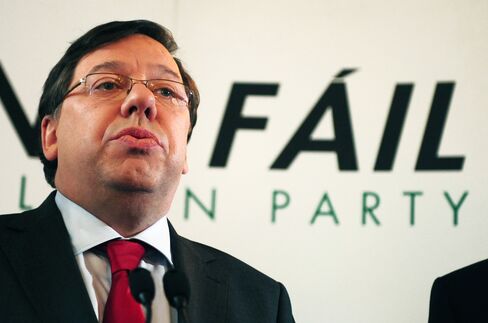 Irish political leaders said they'll press to pass a budget before elections as the collapse of Prime Minister Brian Cowen's coalition threw the government into disarray.
Finance Minister Brian Lenihan will meet at 4 p.m. today with lawmakers from the Green Party, which withdrew from the coalition yesterday, and opposition parties in Dublin to discuss a timetable for passing the Finance Bill. The plan would enact 6 billion euros ($8.2 billion) of tax increases and spending cuts.
Passing the budget is a condition of Ireland's 85 billion-euro aid package from the International Monetary Fund and the European Union. The Greens said yesterday an election may take place late next month. Cowen said the finance bill has to pass before national elections are held as scheduled on March 11.
"It looks like the finance bill will pass," said Kevin Rafter, a professor at Dublin City University who has published books about Irish politics, including a history of Fine Gael, the biggest opposition party. "All the parties want it off the table before the election."
Lenihan said it may be feasible to pass the bill on Feb. 2, telling national broadcaster RTE late yesterday, "I accept we have to accelerate the timetable for the general election."
Opposition parties are pushing for faster passage. James Reilly, deputy leader of Fine Gael said yesterday the bill can be passed this week. The Labour Party will withdraw a no-confidence motion in the Irish government if national elections are called for Feb. 25, Joan Burton, finance spokeswoman for the organization, said in an interview with broadcaster RTE today.
Off the Table
The extra yield investors demand to hold Irish 10-year bonds rather than German securities of similar maturity widened 2 basis points to 564 points today. That is still lower than a euro-era record of 680 points on Nov. 30, two days after Ireland accepted the bailout.
"More uncertainty is about to enter the stage with negative consequences for European sovereign debt and the euro," Mark Grant, managing director at Southwest Securities Inc. in Fort Lauderdale, Florida, said yesterday. "If the finance bill does not pass or is postponed until after the elections, then there will be a significant amount of stress placed upon both sovereign and bank debt in Europe."
The political turmoil was triggered when Cowen said on Jan. 22 he'll stand down as leader of his Fianna Fail party.
Backing for Cowen's party has dropped to 14 percent, according to a poll carried out this month. Since Cowen succeeded Bertie Ahern 2 1/2 years ago, unemployment has doubled, the financial system has come close to collapse and emigration resumed.
'Banana Republic'
"It's almost like a banana republic," said Eugene Murray, 52, a nurse, speaking in front of the prime minister's office in central Dublin. "Brian Cowen probably should have resigned a lot earlier."
Foreign Minister Micheal Martin, who lost a leadership challenge to Cowen last week, is favored to become new leader of the party, according to Dublin-based Paddy Power Plc. Lenihan is second favorite.
"A new leader may save a few seats, but the election will still be fought on the government's handling of the economy," Rafter said. "The Irish people are getting ready to hand them a thumping."
Fine Gael and the Labour Party are likely to form the next government, Dublin-based Bloxham stockbrokers said in a note today. "The two parties will reach a compromise," Bloxham said in the note written by analysts including chief economist, Alan McQuaid.
"Labour will have a bigger say than usual and may be given the finance portfolio," Bloxham said. "The fiscally conservative Fine Gael party will still dominate." Such a coalition will pose "little danger to Dublin's commitment to fiscal austerity and debt repayment," he said.
The cost of insuring Irish government debt against default rose 4 basis points to 614, according to CMA prices for credit-default swaps.
Before it's here, it's on the Bloomberg Terminal.
LEARN MORE