India Embraces Steelmakers With Law Capping Government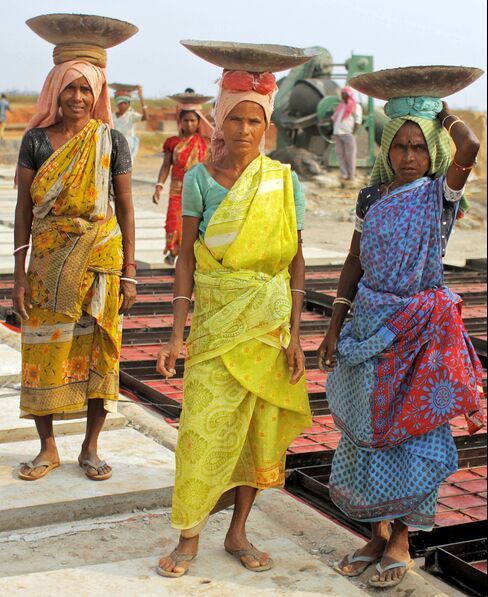 Men wielding sticks guard the bamboo gates at the end of a bumpy track to the Indian village of Dhinkia. It isn't robbers they fear, it's representatives of South Korean steelmaker Posco and the local government.
Posco is trying to buy their land to build a mill, one of about $100 billion worth of stalemated projects as companies struggle to acquire factory sites under India's 117-year-old land-rights law. The Dhinkia villagers block officials even from negotiating because they're worried about being forced out by the government for too little compensation.
"If we sell our land, what will we do next?" asked villager Bhramarabar Das, 26, sitting in the shade of a clump of bamboo. "There will be no jobs for us."
Now the government is backing a bill in parliament that moves the onus of negotiating to the companies rather than local governments. The measure would push up land prices as businesses are forced to offer more, boosting inflation that has already caused the rupee to rise 2.9 percent in 6 months. Higher prices prompted the central bank to today raise interest rates for the seventh time in a year.
"Land is the basic cost of input, it increases the cost of everything else," said economist Sonal Varma at Nomura Holdings Inc. in Mumbai. "In the long term, it is going to increase the cost of production and the return investors demand will be much higher."
Prime Minister Manmohan Singh, 78, is trying to replace the colonial 1894 Land Acquisition Act, which allows state governments to buy land cheaply on behalf of private projects.
Inflation 'Surge'
Under the provisions of the new bill, still under discussion, companies would have to agree on purchases for at least 70 percent of the land before asking authorities for help with the rest. The proposals provide specific guidelines for valuing land and require a social impact study before evictions.
They come as India's $1.3 trillion economy is facing a "surge" in inflation, led by food prices, central bank governor Duvvuri Subbarao said in Mumbai on Jan. 17. The benchmark wholesale-price index rose 8.43 percent in December from a year earlier, the commerce ministry said on Jan. 14.
Boosting interest rates to damp inflation has pushed up the rupee as overseas investors seek higher yields. Global funds added $2.6 billion to investments in Indian debt this month, raising holdings to a record $20.3 billion on Jan. 17, according to data published by the Securities & Exchange Board of India.
Rate Increases
The yield on the benchmark 7.8 percent bond has risen by 26 basis points this year to 8.17 percent on speculation the central bank would add to 2010's six interest rate increases.
"Interest rates in the U.S. and Europe are near zero and any fund in the U.S. can borrow at some zero percent and invest in Indian bonds and still get 8 to 9 percent returns," said Debendra Kumar Dash, a Mumbai-based fixed-income trader at Development Credit Bank Ltd.
Unblocking land deals would also boost food prices further as farmland is lost to industry, said Jay Shankar, chief economist at Religare Capital Markets Ltd. in Mumbai.
"The area under cultivation will be going down and land prices will be going up," said Shankar. "This is the unintended byproduct of development."
India's Associated Chambers of Commerce & Industry calculated in 2009 that land disputes had stalled 133 projects, halting $100 billion of investment. Among them were steel projects by Luxembourg-based ArcelorMittal, the world's largest steel producer; Posco, the second-largest; and Tata Steel Ltd. of Mumbai, India's top producer.
Night Patrols
In Dhinkia, more than 700 men and boys out of a population of about 3,500 take part in day-and-night patrols to prevent officials of Posco or the Orissa state government from entering the village, which has no running water, electricity or indoor toilets. A bell in the center of town is rung to warn of approaching officialdom and men in traditional dhotis gather at the entrance to form a human barricade.
Das said a villager from the Dhinkia area was killed in fighting in the last two years with people from nearby villages who want the steel mill to be built and are angry with Dhinkia for blocking the plan.
"People gave up their land for a refinery close to here and when they moved they were given poor soil," Das said. "We don't trust them."
The village gets most of its revenue from cultivating betel leaves, a mild narcotic used in paan, a mixture chewed by millions of South Asians. Dhinkia is about 10 kilometers (6 miles) from Paradip port, making it an attractive location for Pohang, South Korea-based Posco.
Hearts and Minds
"We are continuing our efforts to win hearts and minds of local residents by communicating with them over contributions that the steel plant can make to the local economy," Posco spokesman Chung Jae Woong said in a Jan. 24 phone interview from Seoul.
Gaining approval from India's environment ministry is another hurdle facing Posco. A panel set up by the department in November recommended withholding rights to clear forested land. Environment Minister Jairam Ramesh will make a decision on whether to approve the project as early as this month.
One example of how future land purchases may play out comes from Posco's local rival, JSW Steel Ltd. It paid three times the market price for farms that once fed 650 families and offered jobs and shares to secure the land it needs for a mill in the Salboni region of West Bengal state.
'Cheap Land'
"Land is so precious to farmers that you need to win their hearts, you can't do it by force," said Basudev Mitra, 49, JSW's local project manager, as he stood in a field full of excavators, surveying the boundary of the site. "For too long in this country we have been focused on getting land cheap."
JSW spent two years acquiring the site and plans to build a steel factory by 2014 that will churn out 10 million tons of the alloy a year. The local government provided 87 percent of the 4,500-acre (1,820-hectare) site.
"The bill will make land acquisition a stiff task and will certainly raise the project cost, which may force companies to reconsider investments," said Ghanshyam Das Agarwal, chairman at Adhunik Metaliks Ltd., a Kolkata-based maker of steel products for automobiles and power plants.
Sanjeev Kapoor, assistant vice president of Bhushan Steel Ltd., considers the measure a step backward. "I struggle to think how companies will be able to buy 70 percent of land privately," Kapoor said on Dec. 7 in his New Delhi office. Investors will face higher costs as they haggle with landowners rather than a single government agency, he said.
'Hungry Elephant'
Still, not all businessmen are gloomy.
"The more you can streamline that process, the easier it will be for companies to come in," Paul Hanrahan, chief executive officer of Arlington, Virginia-based power producer AES Corp., which plans to invest $15 billion in India by 2015, said Nov. 9. "Going through the government complicates it." The company's plans for a coal mine in Chhattisgarh state have been delayed since 2007 by difficulties buying land.
Land costs in India represent a small part of project budgets, brokerage CLSA Asia Pacific Markets said in a report last month. In Karnataka, where ArcelorMittal is building a $6.7-billion steel plant, buying the land is 1.8 percent of the overall estimated spending, CLSA says.
In the report, "Hungry Elephant: The Need for Land," CLSA estimated that India needs eight million hectares, or 2.4 percent of the country's land mass, for mining, industrialization and infrastructure projects if it's to sustain economic growth of close to 9 percent.
The village of Dhinkia shows how hard that battle can be. Sunakar Mallik, 52, said the men armed with sticks have been deployed since 2005.
"I don't want to lose my land and livelihood in return for money from Posco," he said.