Hezbollah, Allies Back Mikati as Lebanese Premier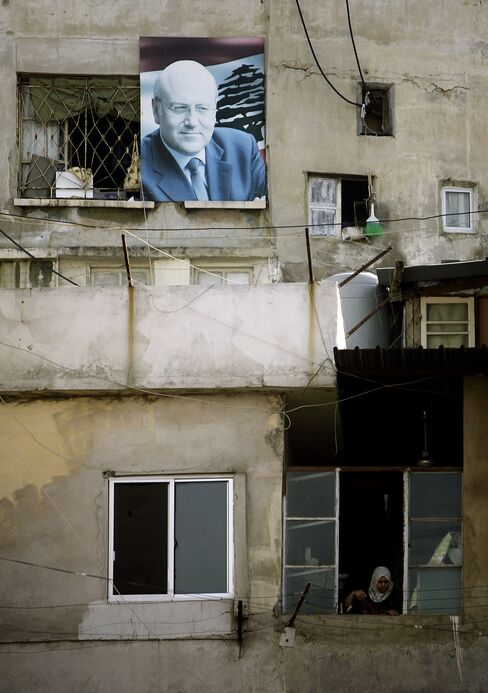 The Shiite Muslim Hezbollah movement and its allies will nominate former Prime Minister Najib Mikati, a billionaire businessman, to head Lebanon's next government after they toppled the coalition led by Saad Hariri.
Mikati "is a consensus candidate," Ali Hamdan, an adviser to Parliament Speaker and Hezbollah ally Nabih Berri, said in a phone interview today. Hezbollah spokesman Ibrahim el-Moussawi confirmed his group's backing for Mikati, 55, by text message.
President Michel Suleiman started talks with lawmakers today to choose a new prime minister. Hezbollah and its allies walked out of the government on Jan. 12 to protest the United Nations inquiry into the killing of ex-premier Rafiq Hariri, Saad's father. The Shiite Muslim group has demanded that the probe be canceled, saying it was instigated by the U.S. to target Hezbollah.
Mikati's prospect of taking over from Hariri, who has been re-nominated as premier by the pro-Western parties that support him, may depend on the parliamentary bloc headed by Druze leader Walid Jumblatt. Jumblatt last week switched his support from Hariri to the Hezbollah camp, without saying whether all the 10 lawmakers in his group would follow.
Excluding the Jumblatt bloc, Hariri has 60 seats while the Iranian- and Syrian-backed Hezbollah and its allies, including the Amal movement and Christian leader Michel Aoun, have 57. Lebanon's power-sharing arrangement requires that the president be a Maronite Christian, the prime minister a Sunni Muslim and the speaker of parliament a Shiite.
'Genuinely Neutral'
Mikati "is seen as a genuinely neutral figure," said Amal Saad-Ghorayeb, a research adviser at the Doha Institute in Qatar. He "is balanced and enjoys good relations with Syria and Saudi Arabia," the two main powerbrokers in Lebanon, she said.
Syria, Hezbollah's backer, was initially blamed for Hariri's killing by many Lebanese, and withdrew its troops from the country following a wave of protests. Both Syria and Hezbollah have denied responsibility for the murder.
Hassan Nasrallah, Hezbollah's leader, said in a televised speech yesterday that his group and its allies will seek to form a national unity government if their candidate wins the nomination.
Hezbollah backed Mikati when he was premier for three months in a caretaker government before the 2005 parliamentary elections. The group's initial choice for the premiership this time was Omar Karami, 76, a pro-Syrian politician. Karami declined to be nominated citing his age and health, Hamdan said.
Billionaire Brothers
Mikati, from the northern city of Tripoli, is worth $2.5 billion according to Forbes magazine. He founded Investcom, which runs phone networks in emerging markets, with his brother, Taha, in 1982. MTN Group Ltd., Africa's largest mobile-phone operator, bought the company in 2006 for $5.5 billion.
Mikati called for "solidarity to bring the country out of this severe crisis," and said his candidacy isn't "a challenge to anyone," according to a statement on his website.
Hariri's Future movement said in an e-mailed statement that it will refuse to participate in any government headed by the rival bloc. "There is no consensus candidate," it said.