Soderling Exits Australian Open; Murray, Zvonareva Win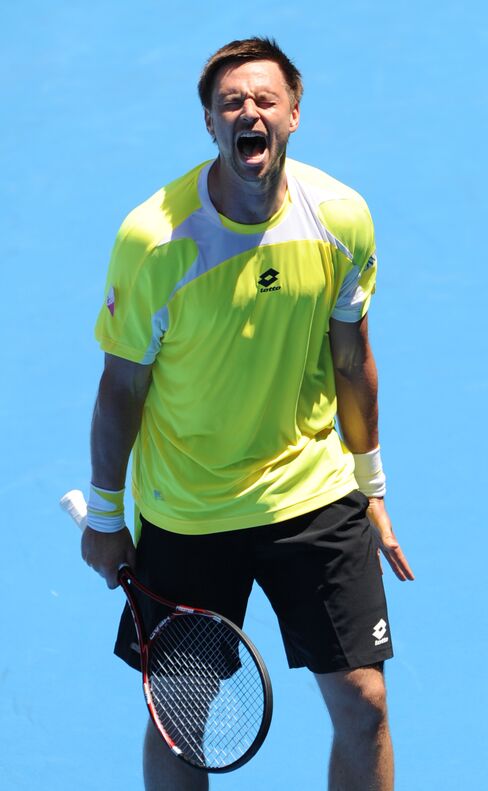 Fourth seed Robin Soderling had his win streak snapped and Australian Open ended by unseeded Alexandr Dolgopolov in the fourth round to become the highest-ranked man to exit the season-opening tennis Grand Slam.
Dolgopolov, making his fourth appearance at a major and his debut at Melbourne Park, won in five sets to set up a quarterfinal against fifth-seeded Andy Murray, who lost just five games in beating Jurgen Melzer, the No. 11 seed.
Dolgopolov, ranked 42 places below Soderling at No. 46 in the world, fought back to win 1-6, 6-3, 6-1, 4-6, 6-2 for his first career victory over a top-10 player. Soderling had entered the contest having won all eight of his matches this year without losing a set.
"I came back somehow and started to play better and better with every set," Dolgopolov, a 22-year-old Ukrainian, said in a news conference. "I started pretty bad today, but I can't say it was the nerves or something. I'm trying to get used to playing."
Murray, the runner-up 12 months ago, swept past Melzer 6-3, 6-1, 6-1 in 1 hour, 44 minutes. Murray struck his 29th winner to bring up three match points against the Austrian before firing his 13th ace to seal the victory.
Murray's Matches
Murray, who beat Dolgopolov in their only previous meeting in the 2006 Davis Cup, has yet to concede more than three games in any set this year at Melbourne Park.
"I'm not expecting to go through the tournament winning matches like that, with that score line," Murray told reporters. "It's been a very good start, but it's going to get much tougher."
Soderling's defeat leaves Murray, top seed Rafael Nadal and No. 19 Stanislas Wawrinka as the only men yet to drop a set. The Swede had tuned up by winning the Brisbane International.
"I never had a good first month in my career," Soderling said. "Still, I won a title and made it to the fourth round here. At least it's much better than the past years."
Spanish No. 7 seed David Ferrer defeated Canadian qualifier Milos Raonic in four sets and will next play the winner of tonight's match between Nadal and Croatia's Marin Cilic, the No. 15 seed.
Women's Action
Petra Kvitova earlier reached the women's last eight by fighting back to defeat No. 22 Flavia Pennetta of Italy 3-6, 6-3, 6-3. Kvitova, the No. 25 seed from the Czech Republic, extended her winning run to nine matches to reach her second Grand Slam quarterfinal after Wimbledon last year.
She'll next face No. 2 seed Vera Zvonareva, who beat Czech Iveta Benesova 6-4, 6-1 as she tries to reach her third straight final at a Grand Slam.
"I had a bit of a slow start to the tournament, but I have picked it up in each match," Russia's Zvonareva said in a televised interview. "That's what you want at a Grand Slam."
U.S. Open women's champion Kim Clijsters plays Russia's Ekaterina Makarova in the last fourth-round match tonight.
The winner will face Agnieszka Radwanska in the quarterfinals after the No. 12 seed from Poland saved two match points before beating China's Peng Shuai 7-5, 3-6, 7-5.
Radwanska is playing her first tournament since October and since she underwent surgery for a foot stress fracture.
Defending champion Roger Federer advanced to a record-tying 27th straight Grand Slam quarterfinal yesterday, and Francesca Schiavone won the longest women's match at a major.
Federer faces Wawrinka in the first all-Swiss quarterfinal at a major tomorrow after the No. 19 seed ousted Andy Roddick, the last American in the singles draw, 6-3, 6-4, 6-4.
French Open champion Schiavone outlasted Svetlana Kuznetsova over 4 hours, 44 minutes to win 6-4, 1-6, 16-14 and set up a quarterfinal against top seed Caroline Wozniacki.