Fed Signals Seen Raising Treasury Yields 60 Basis Points in '11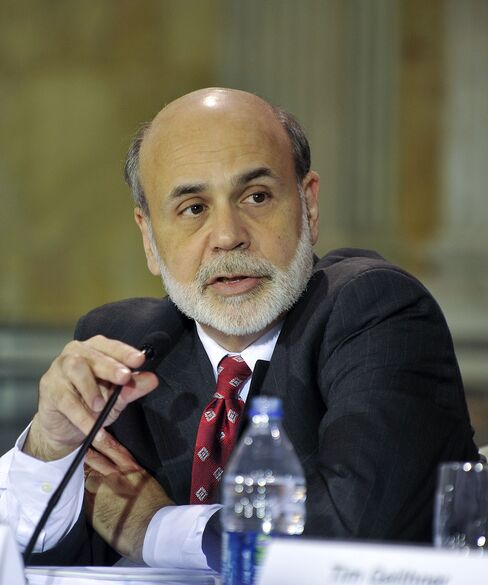 Jan 24 (Bloomberg) -- Federal Reserve Chairman Ben S. Bernanke and his colleagues may shift from focusing on the gap between actual and optimal employment to an emphasis on the economy's speed limit in the months ahead.
"By the middle of the year, the economic momentum will be building, and all the hawks are going to be crazy about tightening," said Laurence Meyer, a former Fed governor who's now vice chairman at St. Louis-based Macroeconomic Advisers, referring to officials who concentrate on fighting inflation.
Policy makers, who meet this week to plot monetary strategy, will begin to increase the benchmark federal funds rate in January 2012, he predicted. The yield on the two-year Treasury note will rise to 1.25 percent by the end of this year from 0.609 percent on Jan. 21 as it becomes clear that a Fed move is coming, said David Greenlaw, chief financial economist at Morgan Stanley in New York.
The Fed increasingly will confront a key question as the year wears on: Does a continued high level of unemployment justify holding short-term interest rates near zero even as growth picks up?
"This is something that I think is going to get a lot of discussion," Richmond Fed President Jeffrey Lacker told reporters on Jan. 14 in Richmond, Virginia. He predicted the economy may expand as much as 4 percent this year.
Jan Hatzius, chief economist for Goldman Sachs Group Inc., and Michael Feroli, chief U.S. economist for JP Morgan Securities in New York, forecast that the Fed will opt to keep rates unchanged and not raise them until 2013.
'Minding the Gap'
"You're going to have pretty low inflation and pretty high unemployment for a fairly long time," said Feroli, a former Fed official. The central bank "will keep focusing on minding the gap."
The U.S. economy "has lots of room to grow before inflation becomes a problem and Fed officials start to increase interest rates," New York-based Hatzius wrote in a Jan. 12 note.
At the two-day meeting that starts tomorrow, Bernanke and fellow members of the Federal Open Market Committee will review their plan to purchase an extra $600 billion of Treasury securities by the end of the second quarter. Since the policy known in the markets as QE2, or quantitative easing two, began, the amount of assets on the Fed's balance sheet has grown by $124.9 billion to $2.43 trillion.
Hatzius and Meyer agree the FOMC will complete the program.
'No Possibility'
"There's no possibility the Fed is going to cut it off," said Lyle Gramley, a former Fed official who is now a senior economic adviser for Potomac Research Group in Washington. "They're looking at an unemployment rate that's still around 9.5 percent and an inflation rate that's below what they think is consistent with price stability."
Unemployment, at 9.4 percent in December, is well above the 5 percent to 6 percent level that most FOMC members peg as their long-term aim. Inflation stood at 0.8 percent in November, as measured by the change from a year earlier in the personal-consumption-expenditure price index excluding food and energy. That matches October's 12-month gain as the lowest on record and is well below policy makers' 1.5 percent to 2 percent goal.
In a sign the economy is gathering strength, General Electric Co. reported on Jan. 21 that earnings from continuing operations rose 31 percent in the fourth quarter to $3.93 billion.
"Our performance is accelerating," Jeffrey Immelt, chief executive officer of the Fairfield, Connecticut-based conglomerate, said on a conference call with investors.
Not Fast Enough
"It's a great thing that the economy's growing," President Barack Obama said on Jan. 21 during a visit to a GE plant in Schenectady, New York. "But it's not growing fast enough yet to make up for the damage that was done by the recession."
Central-bank policy makers who focus on the level at which the economy is operating relative to their goals are more likely to favor delaying any interest-rate increase, Fed officials said. Those who focus on growth rates might be more inclined to tighten policy as the economy speeds up, they added.
Lacker is in the latter camp.
"Growth rates ought to be a predominant determinate of the appropriate level of the interest rate," he said.
The FOMC used both rationales -- levels and growth rates -- in justifying its November decision to buy an extra $600 billion in Treasury debt. In announcing the move, the FOMC said that unemployment was "elevated," while the level of inflation was "somewhat low." It also said that "the pace of recovery in output and employment continues to be slow."
Fed Motivation
Bernanke highlighted the latter motivation at a Jan. 13 forum in Arlington, Virginia.
"At that time, the economy was looking somewhat shaky, frankly," he said. "And we were quite concerned about the sustainability of the recovery and about potential deflation and those kinds of risks. So we felt something needed to be done."
The Taylor rule, which the Fed and other central banks use as a guide to setting policy, focuses on the position of the economy relative to officials' goals. If inflation is above target, they should tighten. If unemployment is too high, they should loosen.
John Taylor, the Stanford University professor who developed the rule, said it now suggests the Fed should keep rates near zero, even though the bank wasn't justified in embarking on QE2.
Natural Rate
If both inflation and unemployment are on target, then the Fed should set real, inflation-adjusted short-term rates at 2 percent, according to the rule. It's that so-called natural rate of interest that some economists say should move up and down as economic growth waxes and wanes.
"In the crisis, people were entirely pessimistic about the future, and it was appropriate to have a very low interest rate," said Marvin Goodfriend, a former Richmond Fed official who is a professor at Carnegie Mellon University in Pittsburgh. "Now people are more confident that growth has resumed its old trend." That might eventually justify a higher interest rate, he said.
If instead the Fed keeps interest rates down, that will encourage consumers and companies to borrow more and save less, causing the economy to grow faster.
Some officials may welcome that, arguing it will bring down unemployment more quickly, Goodfriend said. Others may worry it will lead to higher inflation, as companies have trouble finding the skilled workers they need to keep up with increased demand.
"That is the nub of the issue that the Fed has to decide," the Carnegie Mellon professor said. "We want a noninflationary recovery."
Inflation Expectations
Meyer said there's a risk that inflation expectations will begin to rise later this year as the economy grows at about 4 percent annual pace and the unemployment rate falls. To defuse that danger, the Fed will "fly the flag" and show it is willing and able to tighten credit by raising rates in January, he said.
The first move in the direction of tighter policy may come later this year, said Louis Crandall, chief economist at Jersey City, New Jersey-based Wrightson ICAP, a unit of ICAP Plc, the world's biggest broker of trades between banks. It might take the form of a decision by the Fed not to reinvest the proceeds of mortgage-backed securities it holds on its balance sheet as they mature.
The central bank then would raise rates by about a quarter percentage point in March, according to Crandall.
"As the recovery becomes more broad-based, the Fed will become more confident that it's evolved into a self-sustaining expansion and thus be more comfortable with starting to pull back the extreme levels" of easing, he said.
To contact the reporters on this story: Rich Miller in Washington rmiller28@bloomberg.net Joshua Zumbrun in Washington at jzumbrun@bloomberg.net
To contact the editor responsible for this story: Christopher Wellisz at cwellisz@bloomberg.net