Jobs Outlook Rises to Decade High, U.S. Business Economists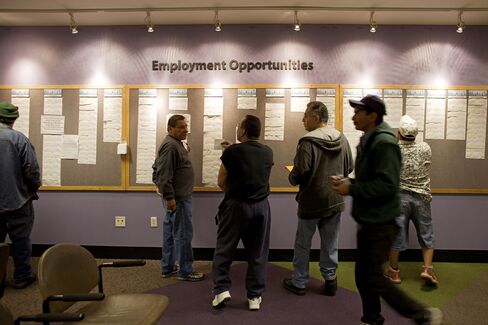 U.S. companies' employment outlook improved to a 12-year high this quarter after sales strengthened and economic growth picked up, a survey showed.
The percentage of businesses expecting to increase payrolls in the next six months exceeded the share projecting more firings by 35 points, the most since the question was first asked in 1998, according to a survey by the National Association for Business Economics issued today in Washington. Sixty-two percent of respondents planned to boost spending on new equipment this year, up from 48 percent in the October survey.
"Things are headed in the right direction," Shawn DuBravac, chief economist at the Consumer Electronics Association in Arlington, Virginia, who analyzed the results, said in an interview. "Topping everything is the high number of firms suggesting they will increase their headcount in the future."
The report adds to evidence, including a drop in claims for unemployment benefits, showing the job market is strengthening in early 2011. Payrolls rose by 103,000 workers in December, less than the median forecast of economists surveyed by Bloomberg News, and the unemployment rate fell to 9.4 percent from 9.8 percent a month earlier, according to Labor Department figures released Jan. 7. Economists surveyed by Bloomberg this month forecast unemployment will average 9.3 percent this year.
Sales, which the report showed climbed in the last three months of 2010 for the sixth straight quarter, and higher profits are making businesses optimistic enough to consider expanding staff.
More Hiring
Forty-two percent of respondents said they anticipate an increase in hiring within the next six months, compared with 39 percent in the October survey. The share planning to trim payrolls fell to 7 percent from 11 percent last quarter.
A jump in payrolls "won't happen overnight, and we're probably several years from seeing the unemployment rate that we enjoyed prior to the downturn," said DuBravac. "The fact that you see them thinking about hiring shows businesses are likely feeling comfortable with the recovery."
Eight out of 10 respondents, the most since the October 2006 survey, projected the U.S. economy will expand from 2 percent to 4 percent in 2011. Last quarter, 54 percent said the economy would grow by that much. The median estimate of 71 economists surveyed by Bloomberg this month forecast a 3.1 percent growth rate for this year.
Payroll-Tax Cut
As part of the January survey, the group asked respondents about the $858 billion bill President Barack Obama signed into law on Dec. 17, which extended Bush-era tax cuts for two years. The measure also renewed emergency jobless benefits for the long-term unemployed through 2011, cut payroll taxes this year by two percentage points and included accelerated tax depreciation for equipment purchases.
While 53 percent said the legislation will probably boost sales, 62 percent said it will not sway decisions on business investment, and 68 percent said it will have little influence on hiring, the report said.
Of the 56 percent surveyed who said a portion of their firms' sales come from abroad, about 4 of 10 said international sales increased last quarter, according to the survey. Two percent said exports declined.
Eighty-four NABE members responded to the survey, conducted between Dec. 17, 2010, and Jan. 5. The National Association for Business Economics, founded in 1959, is the professional organization for people who use economics in their work.