Federer, Schiavone Set Records as Roddick Exits Australian Open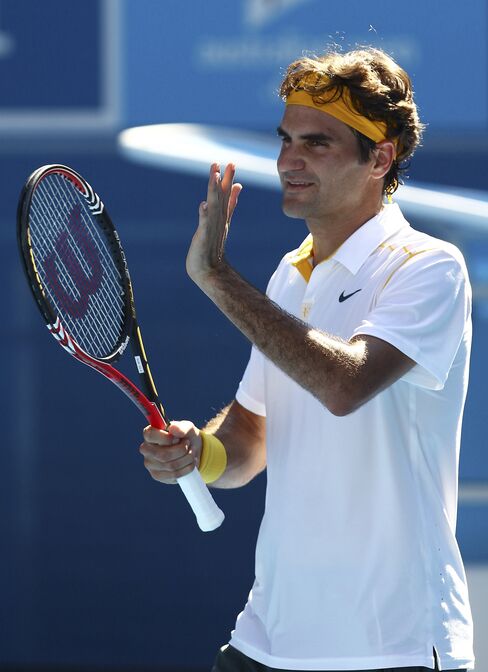 Roger Federer advanced to a record-tying 27th straight Grand Slam quarterfinal at the Australian Open as Francesca Schiavone reached the last eight by winning the longest women's match at a major.
Defending champion Federer, the No. 2 seed, beat Tommy Robredo of Spain in four sets to tie Jimmy Connors's mark for the most men's quarterfinal appearances in a row since the four tennis majors admitted professionals in 1968.
Federer, who claimed a record-extending 16th men's Grand Slam title at Melbourne Park last year, is bidding to become the second man to win the Australian Open at least five times after Roy Emerson, who won six titles.
"I'm not really looking very far ahead here," Federer, 29, said in a news conference. "The top seeds here again are showing that they're above the rest a bit at the moment. I'm still alive and going strong in the tournament."
Federer will face Stanislas Wawrinka in the first all-Swiss quarterfinal at a Grand Slam after the No. 19 seed ousted Andy Roddick of the U.S. 6-3, 6-4, 6-4 on Rod Laver Arena.
Wawrinka, who won 36 of the 39 points when he got his first serve in, fired 24 aces to Roddick's 9 and struck almost three times as many winners. Eighth-seeded Roddick was the last American in both the men's and women's singles draws.
"It obviously wasn't the showing that we wanted," Roddick told reporters. "But I'm doing what I can."
Marathon Match
French Open champion Schiavone outlasted two-time Grand Slam winner Svetlana Kuznetsova over 4 hours, 44 minutes on Hisense Arena, Melbourne Park's second biggest court.
Schiavone, 30, who became the first Italian woman to win a major at Roland Garros last year, saved six match points and had three of her own, hitting a forehand volley to triumph 6-4, 1-6, 16-14. The third set alone lasted three hours.
"You have to keep going," sixth-seeded Schiavone said. "You know that physically you are tired, but the other one is too. At the end you have something more always."
The previous longest women's match at a Grand Slam was a 4 hour, 19 minute first-round contest between Barbora Zahlavova Strycova and Regina Kulikova at Melbourne Park last year.
Schiavone next faces top seed Caroline Wozniacki, who became the first player to advance to the last eight yesterday by beating Latvia's Anastasija Sevastova 6-3, 6-4.
'Fear Me'
"I feel like I can beat anyone on a good day," said Denmark's Wozniacki, who's competing in her first major as the world No. 1. "They have to fear me when they're playing me."
China's Li Na, who reached the semifinals 12 months ago, joined Wozniacki in getting to the last eight without dropping a set by beating Belarusian Victoria Azarenka 6-3, 6-3.
Ninth-seeded Li extended her run to nine victories this season after tuning up by winning the Sydney International, where she beat Kim Clijsters in the final.
"Last year, I needed two more steps," Li said. "Hopefully this year I can do better."
Li will play Andrea Petkovic in the quarterfinals after the 30th-seeded German upset 2008 champion Maria Sharapova 6-2, 6-3. The No. 14 seed from Russia served five double faults and made 30 unforced errors to Petkovic's nine.
Men's No. 3 Novak Djokovic, who won at Melbourne Park three years ago, powered into the last eight for the fourth straight year with a 6-3, 6-4, 6-0 win over Spaniard Nicolas Almagro, the No. 14 seed.
Quarterfinal Consistency
Serbia's Djokovic has now reached the quarterfinals or better at 14 of his last 16 Grand Slams and will play Czech No. 6 seed Tomas Berdych, who defeated ninth-seeded Fernando Verdasco of Spain in straight sets, in two days.
"I'm feeling good energy wise," Djokovic said. "I didn't spend that much time on the court in the opening week. The matches are going to become more difficult."
Top seed Rafael Nadal and No. 5 Andy Murray play their fourth-round matches today, when U.S. Open champion Clijsters and women's No. 2 Vera Zvonareva also are in action.
Nadal, trying to become the first man to hold all four Grand Slam titles simultaneously since Australia's Rod Laver in 1969, said after his third-round win that he's still feeling the effects of a virus that delayed his arrival in Melbourne.
"My body is still not perfect," the Spaniard said. "I am sweating more than usual. I am more tired than usual when I'm playing. Hopefully I'm going to improve. I don't know."
Before it's here, it's on the Bloomberg Terminal.
LEARN MORE