Spain's Deficit Progress Creates Cushion for Cajas: Euro Credit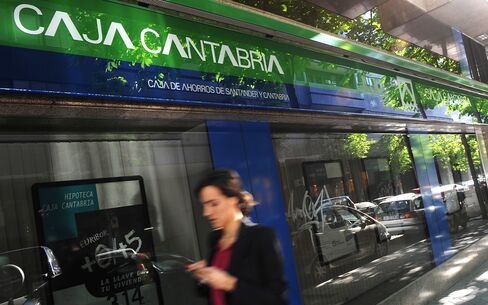 Spain's efforts to shrink the euro region's third-biggest budget deficit may be succeeding, easing investor concern that the cost of bolstering the country's savings banks will swell the public-debt burden.
Spain publishes as soon as this week the central government's deficit for last year, which accounts for the bulk of the nation's overall shortfall. The deficit fell 46 percent in the first 11 months of 2010, though December is the biggest month for spending. By contrast, Portugal's central government shortfall widened.
"These figures show the efforts by the government are bearing fruit and generally will continue to do so," said Luigi Speranza, an economist at BNP Paribas SA in London. "You can see the difference with Portugal, where developments in the fiscal balance in general will be less successful."
Spain's public finances face an additional burden as Prime Minister Jose Luis Rodriguez Zapatero puts pressure on struggling savings banks, or cajas, to bolster their capital. He has pledged to make public funds available to help the lenders. Spain's debt at 64 percent of gross domestic product was lower in 2010 than that of France and Germany, leaving the government with fiscal wiggle room to raise funds for those lenders.
The country's savings banks have been hobbled by loans to construction and real estate developers since the collapse of the property market left the nation with 1 million unsold houses. Concern about potential losses for those institutions, which account for about half of all lending, has contributed to the surge in the Spain's borrowing costs.
Yield Gap
The gap between the yield on Spanish and German 10-year bonds widened today to 207 basis points, from 203 basis points on Jan. 21. That compares with an average of 15 basis points in the first decade of monetary union. The spread reached a euro-era high of 298 on Nov. 30 after Ireland accepted an EU bailout. The cost of insuring Spain's debt against default fell to 276 basis points on Jan. 21, the lowest close in two months.
Spain's overall shortfall, which the government has pledged to bring in line with France's projected gap of 6 percent of GDP this year, includes the balances of regional administrations and the social security system. The government targeted a total deficit of 9.3 percent last year, down from 11 percent in 2009. Portugal's deficit fell to less than the 7.3 percent target last year, the government said.
'Comfortable Buffer'
Spain can afford to pump as much as 75 billion euros ($102 billion) into the savings banks, which would be a "very comfortable buffer," without straining public finances, said Gilles Moec, an economist at Deutsche Bank AG in London. He estimates that in 2015 the debt-to-GDP ratio will be 80 percent without a recapitalization and that would rise to 86 percent in the case of a 75 billion-euro injection.
"It doesn't change massively the trajectory," he said in a telephone interview. "This is conditional upon the capacity of Spain to fulfill on the fiscal side of things, but that seems to be the case."
Bank of America Merrill Lynch sees the lenders' capital shortfall at 43 billion euros, rising to 80 billion euros in an "extreme case," Sergio Gamez, an analyst, wrote in a research note on Jan. 20.
Spain's government is working on a plan to bolster savings banks' capital, Deputy Prime Minister Alfredo Perez Rubalcaba said on Jan. 21, without giving more details. The government and the Bank of Spain have said lenders should first seek funds privately, only using the rescue mechanism known as FROB as a last resort. The FROB has committed loans of 11.6 billion euros, about 1 percent of GDP, to back mergers among the lenders.
Salgado's Response
While the FROB was created with 9 billion euros of capital and the capacity to take on as much as 90 billion euros of debt, Finance Minister Elena Salgado told reporters in Brussels last week that the capital needs "would be very far" from estimates of 30 billion euros to 80 billion euros.
Spain's government cut public wages 5 percent in June, and is freezing salaries and pensions this year. In a U-turn for the Socialist administration, it scrapped a benefit for new mothers and a subsidy for the long-term unemployed as part of its battle to lower the deficit. The wage cut also applied to regional governments, which hire about half of all public workers and control health spending, helping them reduce their overall shortfall to 1.24 percent of GDP in the first three quarters, compared with a full-year target of 2.4 percent.
Spain's public finances may also receive a boost in the medium term from a pension overhaul due this month, which will raise the retirement age to 67 years from 65 and tighten rules on how benefits are calculated. The Cabinet has pledged to pass the bill on Jan. 28 and send it to Parliament for approval.
Before it's here, it's on the Bloomberg Terminal.
LEARN MORE