Sara Lee Said to Get Apollo Bid Close to $20 a Share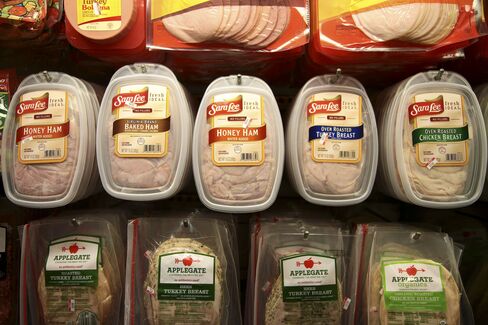 Sara Lee Corp. received a takeover bid from Apollo Global Management LLC, Bain Capital LLC and TPG Capital that is higher than the food company's Jan. 21 closing share price of $18.70, said three people with knowledge of the matter.
The offer gets close to the $20 a share that Sara Lee's board is seeking, said one of the people, who declined to be identified because the process is private. The shares fell 1.8 percent today. JBS SA, the Brazilian meat processor, is considering a revised bid backed by Blackstone Group LP, the people said. Downers Grove, Illinois-based Sara Lee has a market value of about $12 billion.
Sara Lee's board plans to meet Jan. 27 to review any bids as well as consider spinning off its coffee business, one person said. A purchase would give Apollo a company with products such as Jimmy Dean breakfast foods and Ball Park hot dogs, as well as coffee. The profit margins and growth prospects of Sara Lee's coffee division may have attracted Apollo, John Baumgartner, an analyst at Telsey Advisory Group in New York, said this month.
"You have good, stable brands and abundant cash flow," Baumgartner said. "It would scream pretty favorably from a private-equity perspective."
Sara Lee fell 34 cents to $18.36 at 4:01 p.m. in New York Stock Exchange composite trading. The shares have risen 57 percent over the past twelve months.
Shedding Units
Mike Cummins, a spokesman for Sara Lee, declined to comment. Spokesmen from Apollo, Bain and TPG also declined to comment, as did spokesmen for Blackstone and JBS. Reuters reported earlier that Sara Lee received a bid from Apollo, Bain and TPG.
Sara Lee rejected a December offer from JBS as too low, people familiar with the matter said at the time. The bid of about $17.50 a share valued Sara Lee at about $11 billion, the people said.
Interim Chief Executive Officer Marcel Smits has led Sara Lee since Brenda Barnes resigned in August for health reasons. Under Barnes, who took over in 2005, the company sold divisions such as apparel that accounted for about half of revenue. With the sale of the North American bakery unit to Mexico's Grupo Bimbo announced in November, Sara Lee will get more than half its sales and profit outside the U.S., Alexia Howard, a Sanford C. Bernstein & Co. analyst in New York, said in December.
Deal Multiples
A leveraged buyout of Sara Lee at $18.70 a share would be the largest in the food industry in at least a decade, according to data compiled by Bloomberg. At that price, Sara Lee is valued at more than 10 times the last 12 months' earnings before interest, taxes, depreciation and amortization, the data show, compared with about 8 times Ebitda for Del Monte Foods Inc., which a group led by KKR & Co. agreed to buy for $4 billion in November.
Apollo, co-founded by Leon Black more than 20 years ago, had about $58 billion assets under management as of Sept. 30. The firm agreed in 2010 to buy CKE Restaurants Inc., the operator of Carl's Jr. and Hardee's fast-food chains.
A record $1.6 trillion in LBOs were completed from 2005 to 2007, according to London research firm Preqin Ltd. Private-equity firms have made fewer large purchases in recent years, even though they have more than $430 billion to invest, based on figures from Preqin.
Buyout firms pool money from investors to take over companies, financing the purchases mostly with debt, with the intention of selling them later for a profit.
Before it's here, it's on the Bloomberg Terminal.
LEARN MORE