Irish Greens Say Will Support Budget From Opposition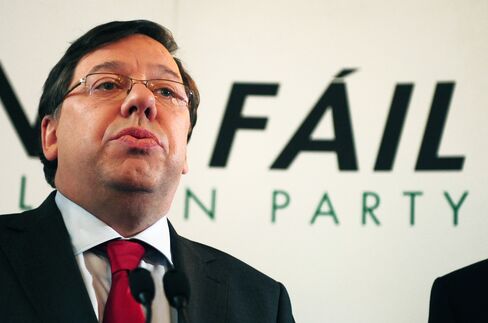 Ireland's Green Party said it will support the passage of the nation's budget from the opposition benches after it withdrew from Prime Minister Brian Cowen's coalition government.
"Our patience has reached an end" because of doubts about the leadership of Cowen's Fianna Fail party, a "lack of communication and the breakdown in trust," Green's leader John Gormley said at a press conference in Dublin today. "We have decided that we can no longer continue in government."
Cowen announced yesterday his resignation as leader of Fianna Fail, while saying he intends to remain as premier.
The timetable for passing the Finance Bill could be "severely truncated" with the aid of opposition parties, Gormley told reporters today. Accelerated passage of the bill may allow the government to bring forward the date of a general election currently scheduled for March 11, he said.
An election in "late February" is a possibility, Green Party Chairman Dan Boyle told Bloomberg News today.
The government published the Finance Bill on Jan. 21. Michael Noonan, the finance spokesman for Fine Gael, the largest opposition party, said on broadcaster RTE yesterday his party would support fast tracking it through parliament this week, if the government called an early election.
Finance Minister Brian Lenihan said today it is a "logistical impossibility" to pass the legislation in a week. He is due to meet with opposition spokespeople tomorrow to discuss the bill.
General Election
Cowen called for a March 11 general election last week after the Green Party rejected a reorganization of the cabinet. Ireland is under pressure to pass the final part of legislation for this year's budget after agreeing in November to an 85 billion-euro ($118 billion) rescue package from the European Union and the International Monetary Fund.
Backing for Cowen's party has dropped to 14 percent, according to a poll carried out this month. Since Cowen succeeded Bertie Ahern 2 1/2 years ago, unemployment has doubled, the financial system has come close to collapse and the government has had to seek an international bailout.
"The people need certainty and they can't get it with this Fianna Fail government," Fine Gael Deputy Leader James Reilly told reporters today, adding that he wants parliament dissolved this week.
The contest to replace Cowen as party leader will be held Wednesday, Jan. 26, Fianna Fail said in an e-mailed statement yesterday. Micheal Martin, who led a failed leadership challenge to Cowen last week, Finance Minister Brian Lenihan, Social Protection Minister Eamon O'Cuiv and Tourism Minister Mary Hanafin said yesterday they will run to become leader of Cowen's Fianna Fail.
Bookmaker Paddy Power Plc has Martin as favorite to replace him, at odds of 1-to-20. Lenihan is second at 10-to-1.