Hu's U.S. Trip May Augur Japan-Style Investment Push by China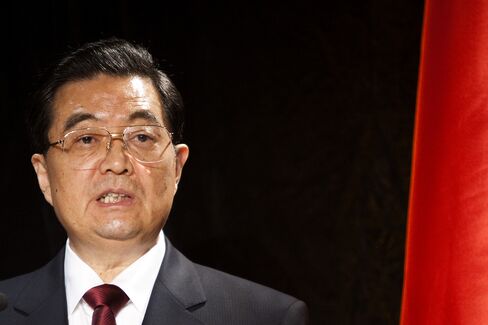 China's President Hu Jintao capped a four-day trip to the U.S. yesterday, using his last official function to meet with Chinese executives setting up businesses in the U.S.
After touring a Mandarin teaching school in Chicago, Hu visited a suburban warehouse where Chinese businesses were on hand, describing to Hu their U.S. expansion plans. Lu Guanqiu, chairman of Wanxiang Group, China's biggest auto-parts maker, showed Hu the dashboards for the Chevy Volt and the solar panels his company's more than 5,600 U.S. workers made.
Hu's welcome in the Midwest -- Mayor Richard M. Daley called him a "man of vision" -- contrasts with the cold shoulder he received from some congressional leaders in Washington. It reflects the desire of local leaders to attract foreign investment, giving China the opportunity to improve its image in the U.S. much as Japan did two decades ago when its car companies began to build auto plants in places such as Tennessee and Kentucky.
"The Chinese have taken a page out of the Japanese playbook," Michael Paulus, head of the Asia Public Sector Group at Citigroup Inc. in Hong Kong, said in an interview. "One of the things that the Japanese did is that if you are going to put a plant in Tennessee, suddenly you've got most of the congressmen, the senators and the governors saying look, we really want these guys here, and suddenly you change the political dynamic as well as the rhetoric."
White House Dinner
Hu could use the good publicity. Three of the four top leaders in Congress, including House Speaker John Boehner, Senate Majority Leader Harry Reid and Senate Minority Leader Mitch McConnell stayed away from the White House state dinner President Barack Obama held in honor of Hu. Reid, a Nevada Democrat, called Hu a "dictator" in a Nov. 18 radio interview.
In addition to Wanxiang, Dalian Machine Tool Group Corp., which acquired machine-tool maker Ingersoll almost a decade ago, is looking to build a new plant in the U.S. that will employ 200 people, Chairman Chen Yongkai said in an interview after Hu toured the warehouse. BFM Fire & Security Inc., which imports Chinese-made fire extinguishers, may start manufacturing in the U.S, company president Zhu Chunping said.
"President Hu coming to the U.S. has pushed Chinese companies to increase their investment in the U.S.," Chen said in an interview.
The comments yesterday are the latest in a series of announcements of U.S. expansion plans by Chinese companies. Xinyu City-based LDK Solar Co. said earlier this month it would build new plants in California and Ontario to meet increasing demand. Tianjin Pipe Group Corp. is planning a $1 billion plant on the Texas coast.
High Unemployment
The Chinese investment -- planned and actual -- comes amid continued high unemployment in the U.S. The U.S. jobless rate has remained above 9 percent for 19 months.
"If enterprises invest, then employment will follow, and if there's employment, then consumption will follow," Chinese Vice Premier Wang Qishan said in an interview during Hu's warehouse tour. "It's the same in China and the U.S."
Hu met with chief executive officers of U.S. and Chinese businesses for three consecutive days during his trip. U.S. CEOs including Boeing Co. CEO Jim McNerney and General Electric Co.'s Jeffrey Immelt were joined by Chinese CEOs including Wanxiang's Lu and Lenovo Group Ltd. Chairman Liu Chuanzhi at a Jan. 19 White House meeting, where Hu said he supported Chinese companies investing in the U.S.
Government Support
"I also have a message to Chinese entrepreneurs," Hu said. "The Chinese government will, as it has always done, support you in making investments and doing business here in the United States."
The next day, Hu spoke to CEOs including Goldman Sachs Group Inc.'s Lloyd Blankfein at a Washington hotel, before flying to Chicago that evening, where he was joined once again by CEOs, including McNerney, at the Hilton hotel in Chicago at a dinner for Hu hosted by Daley.
For all the face time McNerney and other CEOs had with Hu, few big deals were struck. The $19 billion in airplane orders the White House announced that Boeing won were actually orders made from 2007-2010, company spokesman Michael Tull said.
Before it's here, it's on the Bloomberg Terminal.
LEARN MORE