US Airways, Expedia Reach Data Accord Amid AMR Dispute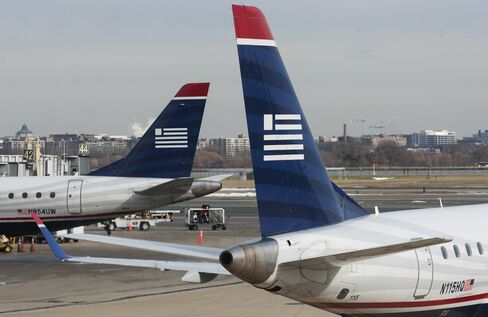 US Airways Group Inc. reached a new multiyear agreement for Expedia Inc. to provide consumers fare and flight data, even as the biggest online travel agency is embroiled in a ticketing dispute with American Airlines.
Expedia will work with US Airways, the smallest U.S. full-fare carrier, so fliers can select window and aisle seats for which the airline charges an extra fee, the companies said in a statement today. Customers buying a ticket on Expedia now must go to US Airways' website for a so-called Choice Seat.
"This makes sense for both parties," Jay Sorensen, president of consultant Ideaworks in Shorewood, Wisconsin, said in an interview. "It makes sense for US Airways to want to promote its Choice Seats product. Expedia obviously wants to communicate that the sky is not falling on online travel agents."
Expedia removed American fares from its website on Jan. 1, saying the airline's new Direct Connect technology to share the information may raise costs and make it harder for passengers to compare prices. To save money and boost revenue, American wants online agencies to use Direct Connect instead of existing data distributors such as Sabre Holdings Corp.
AMR Corp.'s American, the third-largest U.S. airline, won a temporary court order Jan. 10 to bar Southlake, Texas-based Sabre from discriminating in fare displays to travel agents. The distributor told Fort Worth, Texas-based American it planned to end their contract in August.
Orbitz, Priceline.com
American pulled its data from Orbitz Worldwide Inc in December. The airline said this week that Priceline.com Inc., the second-biggest U.S. online travel agency, agreed to use Direct Connect for the carrier's information.
US Airways, based in Tempe, Arizona, and Expedia didn't disclose financial terms of their contract, which extends an existing agreement.
"This is all about strengthening an already strong relationship that we have with Expedia," said Jim Olson, a US Airways spokesman. The airline's data will be on Expedia's brand-name site as well as on two others, Egencia and Hotwire, owned by the Bellevue, Washington-based company.
US Airways fell 42 cents, or 4.1 percent, to $9.83 at 4:01 p.m. in New York Stock Exchange composite trading. Expedia slid 31 cents, or 1.2 percent, to $25.98 on the Nasdaq stock market.
To reach the reporter on this story: Mary Schlangenstein in Dallas at +1-214-954-9451 or maryc.s@bloomberg.net
To reach the editor responsible for this story: Ed Dufner at +1-214-954-9453 or edufner@bloomberg.net
Before it's here, it's on the Bloomberg Terminal.
LEARN MORE