Scene Last Night: Krawcheck, Jackman, Baldwin, Hoffman, Lapham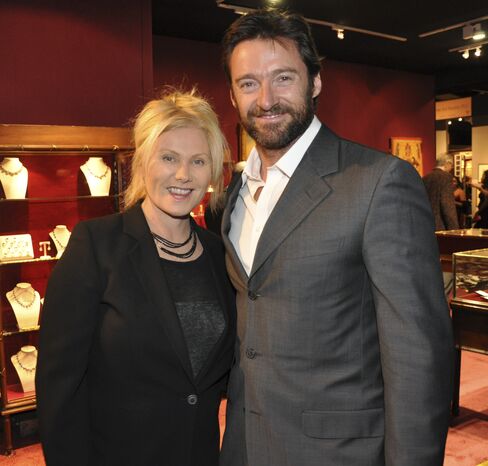 Red-dot stickers indicating a sale popped up minutes after the doors opened at 5 p.m. Thursday night for the Winter Antiques Show's party at the Park Avenue Armory in New York.
At 5:10, Robert Young Antiques sold a nightstand for $8,750.
By 6:42, Native American art dealer Donald Ellis had sold two masks: one for $2.1 million, another for $2.5 million.
Those were big-deal prices at an event known for its intense socializing.
"To really look," said Richard Chilton, the chairman of Chilton Investment Co. LLC, "you have to come back on Saturday when there aren't a lot of people you know."
The show, which runs through Jan. 30, gathers 75 dealers in art, antiques, jewelry and books, and raises money for East Side House Settlement in the South Bronx. The charitable component helped attract U.S. Trust, Bank of America Private Wealth Management as a sponsor.
Sallie Krawcheck, the bank's president of Global Wealth and Investment Management, spent two hours near the entrance greeting clients, friends, guests.
Back at the booth of A La Vieille Russie, Australian actor Hugh Jackman noted his wife's interest in a diamond-and-sapphire bracelet. "There have to be secrets, some mystery," he said. "I watch what she likes, I buy later."
Lapham's Quarterly
Also Thursday night: Lapham's Quarterly celebrated its new winter issue at Joe's Pub.
Devoted to the complexities of celebrity, the issue attracted several stars of its own.
Alec Baldwin delivered this Andy Warhol riff: "Some company recently was interested in buying my 'aura,' they didn't want my product." Philip Seymour Hoffman related a tragic story of a man whose life was ruined by an ill-timed fart.
Editor Lewis Lapham, who also podcasts "The World in Time" every Friday for Bloomberg News, spoke about the perils of a society in which celebrity is the "most precious consumer product."
Oskar Eustis, the artistic director of the Public Theater, shared his impression of Lapham and his Quarterly. "He does this intellectual disco dancing, I love talking to him and I love reading him." The star of HBO's "Entourage," Adrian Grenier, agreed, thusly providing a celebrity endorsement.
(Amanda Gordon is a writer and photographer for Muse, the arts and leisure section of Bloomberg News. Any opinions expressed are her own.)
Before it's here, it's on the Bloomberg Terminal.
LEARN MORE