Prada Said to Decide on IPO by End of Month, Open 90 Stores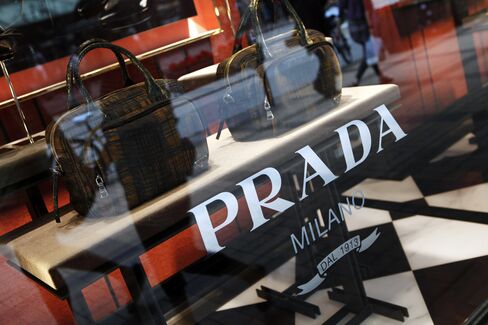 Prada SpA, the Italian fashion company that has scrapped initial public offerings four times in 11 years, may decide to proceed with an IPO by the end of the month, according to two people familiar with the situation.
Prada, which is controlled by Chief Executive Officer Patrizio Bertelli, his wife Miuccia Prada and her family, will hold a board meeting next week to review the 2010 accounts before making a final decision on the IPO, said the people, who declined to be identified because the matter is private. An announcement could follow as early as February, paving the way for a possible listing in June or July, one of the people said.
The Milan-based company plans to open about 90 stores in 2011 as demand increases, a spokesman said today from Beijing, where the company will host a fashion show tomorrow. Prada's board is expected to meet next week to review last year's numbers, though a date has yet to be confirmed, the spokesman said. He declined to comment on Prada's IPO plans.
Prada is studying a share sale as soon as the first half of 2011, three people familiar with the situation told Bloomberg in October. Hong Kong is among markets Prada is looking at for a possible listing, the Milan-based company said at the time.
Prada, which also owns the Miu Miu, Car Shoe and Church's brands, would have a valuation of at least 7.5 billion euros ($10.1 billion) based on current estimates if it sold shares in Hong Kong, compared with between 5 billion euros and 6 billion euros in Milan, one of the people said. While that makes Hong Kong more attractive, Prada may seek to accommodate Italian investors by selling some shares in Milan, the other person said.
Sales, Earnings
Full-year sales will be almost 2 billion euros in the fiscal year ending Jan. 31, while earnings before interest, tax, depreciation and amortization will be close to 500 million euros, the people said.
Intesa Sanpaolo SpA, UniCredit SpA and Credit Agricole SA are guaranteed a role in any offering as part of loan agreements with Prada, one of the people said. Goldman Sachs Group Inc., which worked on the luxury company's last IPO attempt in 2008, will likely be rehired, both people said.
Prada, which said Jan. 13 it opened new design studios in Hong Kong and Paris, plans to accelerate store expansion this year to compete with companies including LVMH Moet Hennessy Louis Vuitton SA, the world's largest luxury-goods maker, one of the people said.