OPEC Pressured as African, Asian Oil Tops $100: Energy Markets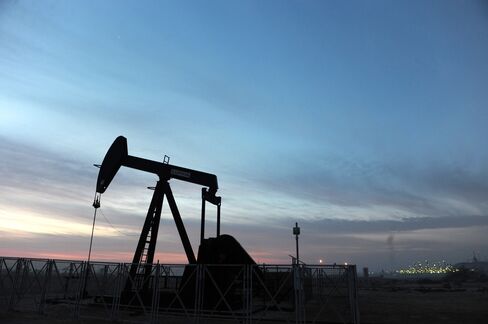 OPEC is facing growing calls to boost oil production as crude prices in Asia and Africa surpass $100 a barrel for the first time in two years.
Nigeria's Bonny Light grade, from which traders gauge the cost of West African oil, rose to $100.12 a barrel on Jan. 17, passing $100 for the first time since October 2008, according to data compiled by Bloomberg. Malaysia's Tapis and Indonesia's Minas breached that level a week ago, trading at $103.36 and $103.21, respectively today.
The International Energy Agency, an adviser to consuming nations, said Jan. 18 that "three-digit oil prices risk damaging" the economic recovery, signaling that the Organization of Petroleum Exporting Countries should raise output. OPEC responded the same day by saying that global supplies are sufficient to meet demand.
With "some Asian crudes well above $100 a barrel, the risks of OPEC acting must be higher," said Lawrence Eagles, New York-based head of oil research at JPMorgan Chase & Co. "We would not be surprised to see the public rhetoric from consuming countries accelerate in the coming weeks. Behind the scenes pressure will no doubt be mounting in parallel."
Investors should "pare risk and take some profits" on the possibility that OPEC unexpectedly increases production, Eagles said in a report yesterday. "There is a rising risk of coming into the office one Monday morning to find OPEC has raised output dramatically."
'Enough Oil'
Oil producers as well as consumers may suffer if crude stays at about $95 to $100 a barrel, the Paris-based IEA said. Stockpiles held by companies in the most developed economies were at 2.742 billion barrels, "near the top of their five-year range," it said.
OPEC, responsible for 40 percent of global supply, issued a statement on its website saying "there is more than enough oil on the market," and promised action in the event of a supply shortage. The group is next due to review production quotas in June, skipping its usual first-quarter conference.
"Any assumption that there is tightness in the market is incorrect," OPEC Secretary-General Abdalla El-Badri said in the statement. "In reality, commercial stocks remain well above the five-year average and forward cover stands at around 60 days. There is more than enough oil on the market."
Crude declined 25 cents, or 0.3 percent, to $89.34 a barrel in electronic trading on the New York Mercantile Exchange as of 4:36 p.m. London time. It has gained 18 percent from a year ago. Brent futures, used to price two-thirds of the world's oil, climbed 59 cents, or 0.6 percent, to $97.17 a barrel, for an advance of 30 percent in the past year. Brent reached a 27-month high of $99.20 on Jan. 14.
Lower Sulfur
African and Asian oil grades typically trade at a premium to other oils because of their lower sulfur content and higher gasoline and jet fuel yields. Nigeria, Angola and Gabon supply 15 percent of U.S. crude imports, according to data from the U.S. Energy Department in Washington.
When Brent first exceeded $100 a barrel in February 2008, Bonny Light had breached that level the previous week. Tapis and Minas had broken through $100 three months earlier.
Global oil benchmarks may reach $100 at "any time," the IEA's chief economist, Fatih Birol, said in a Jan. 18 interview with Maryam Nemazee on Bloomberg Television.
"If the oil price goes up, the vulnerability of our economy is going to increase significantly, and this can derail the recovery," Birol said.
'Not Worrisome'
Officials at OPEC, including El-Badri and Iranian Oil Minister Masoud Mir-Kazemi, this year's president, say $100 oil may not curtail economic growth.
"The increase in oil prices toward $100 is not worrisome enough to warrant a call for an emergency meeting," Mir-Kazemi said in Tehran on Jan. 16. "None of the OPEC members considers this figure as being unreasonable."
Rather than heed the IEA's suggestions, OPEC will likely await proof that consumers require additional barrels, according to PVM Oil Associates Ltd., a London-based broker.
"OPEC is more cautious and wants to respond to solid signals such as greater demand for physical oil and low stock levels, rather than responding to a greater demand for oil futures," David Hufton, PVM's managing director, said in a report yesterday.
Before it's here, it's on the Bloomberg Terminal.
LEARN MORE