Mexico Keeps Rate at 4.5% for 16th Straight Month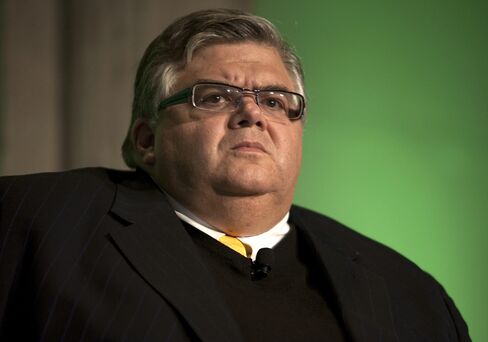 Mexico's central bank extended its longest-ever interest rate pause and bolstered expectations it will remain on hold by saying an increase in global commodities prices won't keep inflation from slowing this year.
Banco de Mexico's five-member board, led by Governor Agustin Carstens, maintained its benchmark rate at 4.5 percent for a 16th straight meeting today. The decision matched the forecasts of all 20 economists surveyed by Bloomberg.
The bank played down concerns that increasing global commodities prices could fuel inflation in Mexico, signaling that policy makers aren't preparing to increase borrowing costs soon, said Luis Flores, an economist at Ixe Grupo Financiero in Mexico City.
"These are clear indications that they're not preparing an increase any time soon," Flores said in a telephone interview. "Those who thought they would see more restrictive language will be disappointed."
Flores said the probability that the bank will raise rates will begin to increase in six or seven months. He forecasts the first rate increase for March 2012.
The peso fell 0.1 percent to 12.0588 at 3:41 p.m. New York time. It has strengthened 2.3 percent this year.
Stronger Peso
The bank said in a statement accompanying its decision that some costs that have increased recently in Mexico normally occur at the beginning of the year. The increases are also being offset by a stronger peso, the bank said.
"The appreciation in the exchange rate has partly compensated for the effects of the increases in international prices for raw materials," the statement said. "It's still expected that annual inflation will again show a clear falling trend in 2011."
Finance Minister Ernesto Cordero said today that the government wasn't concerned about an increase in inflation.
"There's no evidence of a generalized increase in prices," Cordero told reporters in Mexico City. "The prices for some goods have risen, but some have fallen."
Bloomberg's global commodity index, which calculates the mean of commodity indexes including energy, grains, food, precious metals and livestock, increased 12 percent to 264.27 on Jan. 20 since the central bank's last monetary policy decision on Nov. 26.
Food, Oil
Global food prices rose to a record in December on higher sugar, grain and oilseed costs, according to the United Nations. Oil surged to its highest year-end price in three years at the end of 2010, settling above $91 a barrel. Crude oil for March delivery closed at $89.11 per barrel on the New York Mercantile Exchange today.
Brazil's central bank raised its benchmark Selic rate by a half-point to 11.25 percent on Jan. 19, after inflation expectations climbed following heavy rains and rising commodity prices. Peru unexpectedly raised its benchmark rate by a quarter-point to 3.25 percent on Jan. 6, citing international food and fuel prices.
Still, Mexico's Carstens on Jan. 7 maintained his forecast that inflation in Latin America's second-biggest economy will slow to within its target range in 2011, saying that the global inflation outlook should remain favorable even amid the recent commodity price rally.
Forecast, Recovery
Banco de Mexico predicts annual inflation will be 3.75 percent to 4.25 percent in the first quarter of 2011, 3 percent to 4 percent in the second quarter, and within the bank's target range of between 2 percent and 4 percent in the second half of the year.
The recovery in the $875 billion economy is strengthening as expectations improve for the economy in the U.S., which buys about 80 percent of Mexico's exports, and as domestic demand improves. The statistics agency reported today that the unemployment rate fell to 4.94 percent in December from 5.28 percent in November.
Mexico's output gap, the difference between the economy's current growth and its potential growth, will probably close and "turn positive" in the second half of this year, the statement said.
The central bank said in its statement that both domestic and external demand are improving and investment is showing clearer signs of growth.
Domestic, Global Growth
The government forecasts the economy will expand around 4 percent this year. According to the median estimate from 13 analysts surveyed by Bloomberg, Mexico's economy will expand 3.7 percent this year after growth of 5.1 percent in 2010.
"The scenario for global growth is improving, especially in the U.S.," said Joel Virgen, an economist at Citigroup Inc.'s Banamex unit in Mexico City.
Virgen forecasts the central bank will increase the benchmark interest rate in October. That would be sooner than the median forecast of economists surveyed by Banamex in a report released yesterday, which predicted an increase in January 2012.
While Mexico's peso has strengthened, the country hasn't followed moves by regional peers and other developed nations to stem the appreciation of their currencies as near-zero interest rates in the U.S. and Europe prompt investors to seek higher returns in faster-growing emerging markets.
Capital Controls
Brazil tripled to 6 percent in October a tax on foreign purchases of fixed-income securities in a bid to contain the real's gains. Chile triggered the biggest fall in its peso in two decades on Jan. 4 when the central bank said it would buy $12 billion in the spot currency market.
South Korea and Taiwan last month tightened capital controls to help stem inflows of funds from abroad.
Mexico has stopped short of such measures as the peso hasn't appreciated as much as other currencies in Latin America or currencies that compete with Mexican exports for a share of the U.S. market.
The currency, which hit a high of 9.8581 in August 2008, also hasn't returned to its levels before the global financial crisis and the fall of Lehman Brothers.
If Mexican policy makers were to move to weaken the peso, they would most likely increase the amount of dollar options they auction from the current amount of $600 million per month, Cervera said.
"The authorities in Mexico are very pro-market," Cervera said. "They don't like interfering with the markets."
Before it's here, it's on the Bloomberg Terminal.
LEARN MORE