Issa Settles for Assistant Secretary in First Hearing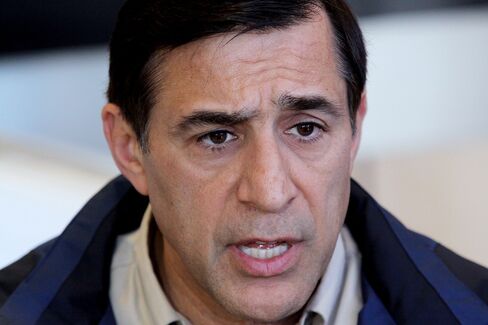 U.S. House Oversight and Government Reform Committee Chairman Darrell Issa, who has said he will hold hundreds of hearings to challenge the Obama administration, tried to get Treasury Secretary Timothy Geithner for his initial one. Instead, he is settling for an assistant secretary.
Issa, a California Republican, this week asked Geithner to testify about the Troubled Asset Relief Program at his first hearing as committee chairman next week.
Geithner declined the invitation and offered to send in his place Tim Massad, an acting assistant Treasury secretary, according to a person familiar with the matter. Issa didn't protest or threaten to issue a subpoena, the person said.
The exchange demonstrates that Issa, at least at this point, is seeking to minimize friction with the administration amid criticism from Democrats that he is planning to use his post as a partisan weapon against President Barack Obama.
Issa's approach may stem from the political tone set by the new House speaker, Ohio Republican John Boehner, said Richard Semiatin, an assistant professor of government at American University in Washington.
"Boehner doesn't want to turn his speakership into one of just investigations," Semiatin said. He and other leaders of the new House Republican majority "want to be taken seriously." He said, "Word's gotten around not to be negative."
Calling on Geithner
A spokesman for Issa's committee, who asked not to be identified, said that the panel accepted the offer of Massad's testimony, and that it still plans to call on Geithner for future hearings. The spokesman said it was an invitation, not a demand. The committee also invited the TARP inspector general, Neil Barofsky, to testify at the Jan. 26 hearing.
The $700 billion TARP fund was created by Congress amid the 2008 financial meltdown near the end of President George W. Bush's administration.
Representative Patrick McHenry of North Carolina, a Republican leading an oversight subcommittee that will focus on TARP, said the "full story's not been written" about why some banks, like Bank of America Corp., received U.S. bailouts while others, mainly Lehman Brothers Holdings Inc., didn't.
Lehman filed the biggest bankruptcy in U.S. history in September 2008, with assets of $639 billion. Regulators arranged for Wachovia Corp. to be purchased by Wells Fargo & Co. in 2008 rather than assist it in remaining free-standing.
Picking Winners
"The Wachovia piece is of interest to me," McHenry said. "Rather than a policy dictating bailouts, they did it based on deals," he said. "They really were just picking winners and losers."
McHenry said, while TARP will be a "good start" as a subject for hearings, Issa, 57, wants the committee to focus in the next several months primarily on government regulations and their effect on job creation.
Representative Jim Jordan of Ohio, a Republican who will lead a separate subcommittee, said party members plan next week to introduce a bill to repeal the Treasury's Home Affordable Modification Program, intended to help homeowners avoid foreclosure.
The HAMP program has been criticized by housing advocates, lawmakers and watchdog agencies, such as the Congressional Oversight Panel for TARP, and Obama consumer adviser Elizabeth Warren. The U.S. Treasury has spent about one-fourth of the $50 billion authorized for the program, which is projected to prevent fewer than 800,000 foreclosures.
Cummings and Issa
Representative Elijah Cummings of Maryland, the top Democrat on the panel, said Jan. 3 on MSNBC that he will "do everything in our power" to keep Issa's investigations "from being a partisan attack."
Earlier this week, Cummings sent a letter to Issa expressing concern that the chairman's actions risk "bringing our committee into disrepute."
Cummings cited Issa's comment, on a Rush Limbaugh radio broadcast in October, that Obama was "one of the most corrupt presidents in modern times." Issa said this month that he was referring to trillions in bailout spending by the Obama administration.
Cummings also said Issa overstated potential savings from rooting out fraud in Medicare, the government health program for the elderly, and he cited Issa's statement in April 2010 that an investigation of Goldman Sachs Group Inc. by the Securities and Exchange Commission was politically motivated. Cummings said the allegation led to an inspector general's investigation that found no wrongdoing.
Issa spokesman Frederick Hill responded by saying that Cummings "pushed aside" other Democrats in line for the position of ranking member "to have the most effective obstructionist" fill the spot.
"This letter and other statements have only underscored concerns that ranking member Cummings is not interested in being a serious partner on oversight," Hill said.
Before it's here, it's on the Bloomberg Terminal.
LEARN MORE