Emanuel Money Entourage Stars Trump, Jobs, Spielberg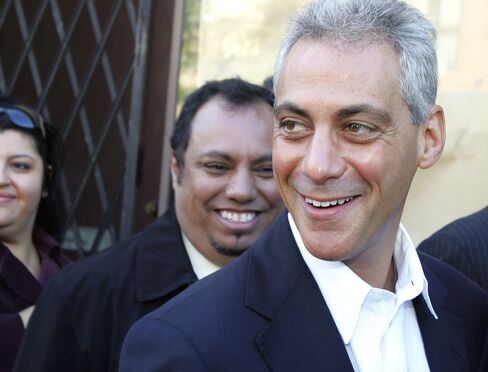 Rahm Emanuel, President Barack Obama's former chief of staff, raised $10.6 million through Jan. 19 for his bid to succeed Richard M. Daley as mayor of Chicago, with the help of Wall Street, LaSalle Street, Silicon Valley and Hollywood donors, campaign disclosure records show.
Apple Inc. Chief Executive Officer Steve Jobs gave Emanuel $50,000, while Kenneth Griffin, chief executive of Chicago-based Citadel Investment Group LLC, contributed $100,000. David Geffen, co-founder of DreamWorks SKG, donated $100,000.
The Chicago Mercantile Exchange, part of the city's financial industry known as LaSalle Street, gave Emanuel $200,000, while the Chicago Board Options Exchange gave $25,000.
"We're highly supportive of Rahm Emanuel," Leo Melamed, chairman emeritus of CME Group Inc., the Merc's parent, said in a Jan. 6 interview. "This city needs someone who has the strength, intellectual ability and contacts worldwide. He's got a Rolodex no one can match."
Emanuel, 51, built a fund four times as large as his nearest rival by tapping his investment banking connections and those of his brother, Hollywood talent agent Ari Emanuel, the inspiration for one of the characters in the HBO series "Entourage." The older Emanuel is competing in a field of candidates that includes City Clerk Miguel del Valle, former Chicago school board president Gery Chico and former U.S. Senator Carol Moseley Braun.
Rivals Raise Less
Chico, 54, has raised $2.8 million so far, his campaign said in a news release. Del Valle, 59, raised about $110,000 through the end of 2010, his campaign said in a statement. Braun, 63, raised $445,760, her filing with the Illinois State Board of Elections showed.
While Emanuel is raising plenty of money, he also is churning through it. Through Dec. 31, he had spent $3.4 million, the records show. The bulk of that amount -- $2.2 million -- went to AKPD Message & Media LLC, a Chicago-based company that until after Obama's 2008 election was partially owned by David Axelrod, a senior adviser to the president and Emanuel friend. As of the end of 2010, Emanuel had $8.3 million in his campaign account.
After leaving Bill Clinton's White House in 1998, where Emanuel was a top aide, he earned at least $17 million as an investment banker working for one of Clinton's top fundraisers, the late Bruce Wasserstein in the Chicago office of Wasserstein Perella & Co.
Celebrity Donors
Emanuel's campaign disclosure report is filled with the names of chief executive officers, developers, celebrities and others. Billionaire real-estate developer Donald Trump gave him $50,000, while Marc Lasry, who runs the hedge fund Avenue Capital Group, contributed $50,000. Haim Saban, the Los Angeles-based media executive, gave $400,000 and movie producer Steven Spielberg contributed $75,000.
Miles White, the chief executive officer of Abbott Laboratories, contributed $25,000. Members of Chicago's Pritzker family gave more than $200,000. Jay Pritzker, managing partner of the Pritzker Group, gave about a quarter of the family's total.
Former U.S. Secretary of the Treasury Robert Rubin gave Emanuel $10,000, while venture capitalist Sean Parker of Berkeley, California, contributed $100,000.
It will be harder for Emanuel to raise such large sums going forward. A new Illinois campaign finance law that took effect Jan. 1 caps individual contributions to candidates at $5,000 and corporate and union contributions at $10,000 for each primary and general election.
Nearing a Majority
Emanuel is approaching the majority of support he would need to avoid a runoff after the Feb. 22 election, according to a WGN-TV/Chicago Tribune poll released last night. He has the support of 44 percent of those surveyed, including a wide lead among women and white voters and also backing among blacks and Latinos.
Braun had 21 percent support and Chico 16 percent, with del Valle at 7 percent and 9 percent undecided. The poll of 708 likely registered voters had a margin of error of plus or minus 3.7 percentage points.
Emanuel's fundraising success from big names could fuel suggestions that he is a celebrity candidate who isn't as closely tied to the city's neighborhoods.
Three-quarters of his contributions came from Chicago or surrounding Cook County, his campaign said in a news release noting that more than half of donors gave $250 or less.
Tapping Donors
"If elected, he will ask these donors and other leaders around the country to commit to investing in Chicago's future," Scott Fairchild, Emanuel's campaign manager, said in a statement.
Emanuel also transferred $1.1 million from the congressional campaign fund he maintained since he was a member of Congress representing parts of Chicago and its northwest suburbs, said Ben LaBolt, a campaign spokesman. That brought his campaign account total to $11.7 million.
The figures needed to be reported to the state elections board by yesterday. Though the reporting period covered July 1 through Dec. 31, Emanuel and some of the other candidates released figures through mid-January.
Daley spent $4.6 million in 2007 to defeat two opponents.
If no candidate gets more than 50 percent of the vote in the Feb. 22 election, there will be an April 5 runoff for the top two vote-getters.
Before it's here, it's on the Bloomberg Terminal.
LEARN MORE