Cameron's Press Chief Coulson Quits on Phone-Hacking Allegations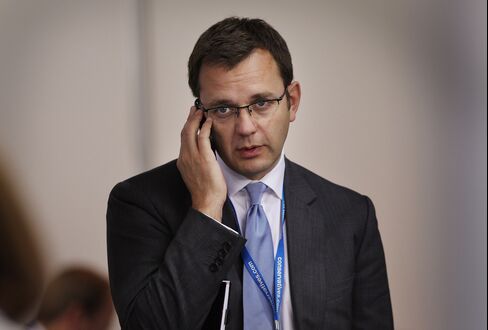 David Cameron's press chief, Andy Coulson, quit over alleged phone tapping when he edited Rupert Murdoch's News of the World newspaper, prompting opposition Labour Party attacks on the U.K. prime minister's judgment.
"Continued coverage of events connected to my old job at the News of the World has made it difficult for me to give the 110 percent needed in this role," Coulson said in an e-mailed statement today. "I stand by what I've said about those events but when the spokesman needs a spokesman it's time to move on."
Coulson has denied any knowledge of illegal activity when he was editor of Britain's best-selling Sunday newspaper, from which he resigned after a reporter and a private investigator were imprisoned for phone-tapping in 2007. In appointing Coulson, Cameron judged his experience and skills outweighed the political risk that the phone-tapping scandal might resurface.
"The cloud of allegations surrounding Andy Coulson's tenure at the News of the World raised real questions about his ability to be at the heart of the Downing Street machine. He's now done the right thing but he should have done it earlier," Labour leader Ed Miliband told reporters. "I think it raises real questions about David Cameron's judgment that he hung on to Andy Coulson for so long."
Murdoch's News Corp. is also in the spotlight as Culture Secretary Jeremy Hunt decides whether to refer to regulators its bid to take full control of British Sky Broadcasting Group Plc. Hunt will make that announcement by the end of the month.
Celebrity Lawsuits
The News of the World faces at least four lawsuits filed by celebrities, including actress Sienna Miller, over allegations the newspaper hacked into mobile-phone voicemails. U.K. police and prosecutors said last week they would review the claims for a third time.
Coulson was employed by Cameron to improve the Conservative Party's media operation in the run-up to the May 2010 election.
"I am very sorry that Andy Coulson has decided to resign as my director of communications, although I understand that the continuing pressures on him and his family mean that he feels compelled to do so," Cameron said in an e-mailed statement. "Andy has told me that the focus on him was impeding his ability to do his job and was starting to prove a distraction for the government."
In comments to BSkyB's Sky News television channel, Cameron dismissed questioning about his judgment over Coulson.
'Excellent Job'
"He's run the Downing Street press office in a professional, competent and good way," Cameron told Sky. "He's done an excellent, excellent job. I think he should be judged by that. This is all about the past. It's just gone on and on."
Coulson had been "punished for the same offense twice," Cameron said.
In a Sept. 9 debate in the House of Commons, Labour's Tom Watson told his fellow lawmakers they were "afraid" of Murdoch's power. As well as The News of the World, News Corp. owns The Sun, The Times and the Sunday Times.
"It is almost laughable that we sit here in Parliament, the central institution of our sacred democracy -- among us are some of the most powerful people in the land -- yet we are scared," Watson said.
Hunt has the option to ask the Competition Commission to look at the 7.8 billion-pound ($12.4 billion) bid for BSkyB, a review that may take six months. At issue is whether News Corp., which already owns 39 percent of BSkyB, would have too much power over Britain's media.