Buffett Stock Picker Simpson Opens Own Firm After Leaving Geico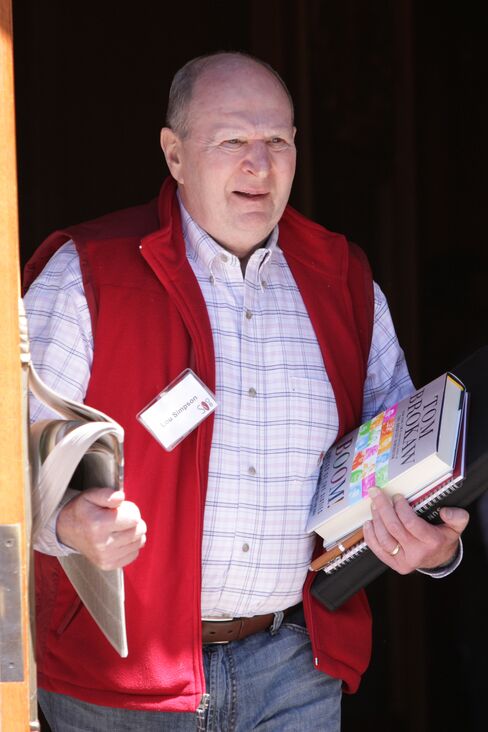 Louis Simpson, the investor who picked stocks on behalf of billionaire Warren Buffett's Berkshire Hathaway Inc. for more than a decade before stepping down, is going into business for himself.
The 74-year-old Illinois native is starting an investment-advisory firm with his wife Kimberly Querrey in Naples, Florida, according to documents filed Dec. 20 with the U.S. Securities and Exchange Commission. The company, SQ Advisors LLC, is preparing to manage money later this year for Simpson's family and friends, as well as outside charities, he said in an interview.
Once identified by Buffett as a potential head of Berkshire's investments in an emergency, Simpson retired after more than 31 years of selecting equities for its Geico Corp. auto-insurance subsidiary. Buffett, in Berkshire's annual letter to shareholders for 2004, devoted a section to Simpson titled "Portrait of a Disciplined Investor," saying his picks had produced an annual average return of 20 percent since 1980, compared with 14 percent for the Standard & Poor's 500 Index.
"He just knocked the cover off the ball year after year after year," said Jack Byrne, the former chairman of Geico who hired Simpson with input from Buffett in 1979. "I have been asking Lou for 20 years whether he would take a separate account with me."
Simpson said he'd planned to stay at Geico for another year or two, only to change his mind after buying a home in Naples with Querrey last January for $13 million, a price disclosed in public real estate records for Florida's Collier County. Once the couple decided to make Florida their primary residence, Simpson opted to end his asset-management career, a choice that proved short-lived.
Daylong Retirement
"I did retire for a day," Simpson said during the telephone interview. He then realized, "I would probably drive myself crazy and my wife crazy if I really retired and didn't do anything."
Simpson will handle investing while his wife, who turns 50 this month, will be president and chief compliance officer, according to the SEC filing. He estimated that the firm will begin with $150 million to $200 million under management.
Clients will have separate accounts with Simpson, who said he might have started an investment partnership "if I were a lot younger." Simpson declined to comment when asked whether Buffett, 80, will be investing any money with him. Carrie Kizer, a spokeswoman for Berkshire, also declined to comment.
"My guess is, having worked with Lou for 31 years, he will have to do very little advertising," Tony Nicely, Geico's chief executive officer, said in a voice-mail response to a request for comment.
Lucrative Deal
As CEO of Geico's capital operations, Simpson received a portion of the insurer's stock returns that exceeded the average for the S&P 500 over rolling three-year periods, according to Byrne. Buffett alluded to the compensation arrangement in his 2006 Berkshire shareholder letter.
"Under this deal, he has earned large amounts," Buffett wrote. "Lou, however, could have left us long ago to manage far greater sums on more advantageous terms."
SQ Advisors will charge a 1 percent management fee and no performance fee, according to its SEC registration. Managers historically have taken 2 percent of assets and 20 percent of investment profits for running hedge funds.
"This business is not being run to maximize income," Simpson said. "One of our prime thoughts was to try to help people."
'Stop the Music'
Simpson first came into contact with Buffett when Byrne, hired to rescue Chevy Chase, Maryland-based Geico from the brink of insolvency, began searching for a new chief investment officer. Byrne said he considered more than 60 candidates before narrowing the field to four. Because Berkshire was a large Geico shareholder, Byrne asked the four to meet with Buffett.
Buffett interviewed Simpson for several hours and then called Byrne and said, "Stop the music. That's the fella," Byrne said in an interview. When Buffett acquired the remaining two-thirds of Geico in 1996 for about $2.3 billion, he kept Simpson in place.
Byrne said he and Simpson struck an agreement that allowed the new investment chief to put about 30 percent of Geico's assets in stocks. At the time, Byrne said, most insurers limited stock holdings to about 10 percent of assets.
The two also agreed that Simpson would hold concentrated positions, investing as much as 60 percent of Geico's stock portfolio in his three top picks, Byrne said. The strategy paid off with the breakup of AT&T Inc. in the early 1980s: Simpson invested about 40 percent of Geico's capital in three of the regional Bell operating companies, or Baby Bells, formed through the breakup, a stake that doubled over two years and added $400 million to the insurer's $1 billion net worth, Byrne said.
'Very Big Hit'
"It was a very big hit on a very large amount of money," said Byrne, who left Geico in 1985 to lead turnaround efforts at Fireman's Fund Insurance, then a subsidiary of American Express Co.
Simpson went on to invest Geico's capital in the stocks of small and mid-sized companies, taking stakes in businesses such as Nike Inc. and CarMax Inc. As of Sept. 30, Government Employees Insurance, Geico's primary operating subsidiary, held about $4.1 billion of bonds, $2.5 billion or preferred stocks, and $3.6 billion of common stocks, according to a quarterly filing with state regulators.
"From my review of Lou's returns, he was actually better than Warren" at picking stocks, said author Robert Miles, who interviewed Simpson in 2000 for his book "The Warren Buffett CEO," published by John Wiley & Sons Inc. in 2003. "Lou invested outside the U.S. and he invested in technology and he invested in a lot of companies that were un-Buffettesque."
Before it's here, it's on the Bloomberg Terminal.
LEARN MORE