Blair Didn't Offer Bush 'Blank Check' to Invade Iraq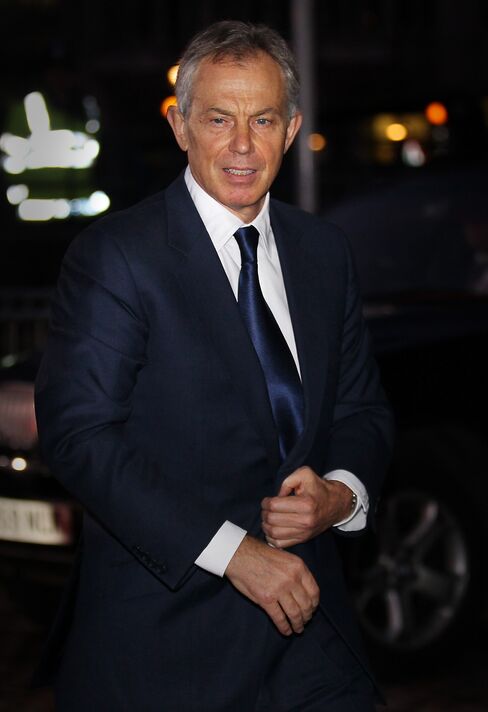 Jan. 21 (Bloomberg) -- Former U.K. Prime Minister Tony Blair, appearing for the second time before an inquiry into the 2003 invasion of Iraq, said he did not offer President George W. Bush a "blank check" of support in the run-up to the conflict.
Blair was questioned for four hours in London today about gaps in the evidence he gave the panel a year ago. Anti-war protesters gathered outside the hearing. Inside, Blair was heckled as he expressed his regret for those who died.
"I regret deeply and profoundly the loss of life, whether from our own armed forces, those of other nations, the civilians who helped people in Iraq or the Iraqis themselves," Blair said toward the end of the hearing.
Spectators in the room, one of whom the Press Association news agency said was the mother of a soldier killed in the conflict, shouted "too late" as he made the comments.
The Iraq Inquiry, which opened in November 2009 and is led by a retired civil servant, John Chilcot, is the fifth into the war that removed Saddam Hussein from power. Blair sent more than 40,000 troops to back the U.S.-led invasion, costing him popularity at home that led to his resignation in 2007.
U.K. combat troops carried out their last patrol in Iraq in April 2009. The conflict claimed the lives of 179 British service personnel. Blair told the inquiry last year Hussein was "a monster" and he had no regrets about ousting him.
Threat From Iran
"The objective never changed between April and September 2002," Blair said in written evidence to the inquiry released today. "It remained the same: to bring Saddam back to full and unconditional compliance with United Nations resolutions in respect of which he had been in breach for over a decade."
In his oral evidence, he also warned of the "looming and coming challenge" of Iran, which he told the inquiry is destabilising the Middle East and holding back modernisation by supporting terrorism.
"At some point the West has got to get out of this wretched posture of apology for believing that we are causing what the Iranians are doing or what these extremists are doing; we are not," he said. "They are doing it because they disagree fundamentally with our way of life and they will carry on doing it unless they are met by the requisite determination and, if necessary, force."
Blair said the risks of not taking action against Iraq were too great and that he used the fact that British troops were "absolutely essential" to the invasion to pressure Bush into exhausting all options at the United Nations before going to war.
'Difficult Conversation'
"When I went to President Bush and said to him I want to put down a resolution with benchmarks and an ultimatum, it was a very difficult conversation," Blair said. "It was a difficult conversation but we did have real leverage in that situation and I was prepared to use it."
Blair said in his written evidence that he disregarded U.K. Attorney General Peter Goldsmith's advice that attacking Iraq would be illegal without further resolutions from the UN because his advice was "provisional."
Blair said he thought Goldsmith would change his advice on whether a second UN resolution was needed once he was "abreast" of all the details. He said he had not raised the legal debate with the U.S. administration even though the U.K. would have had to pull out if Goldsmith had stuck to his position.
Holding the Line
"I was keeping maximum pressure on Saddam and trying to keep this coalition together," Blair told the inquiry. "If I'd started raising legal issues at that point with the president of the United States it would have made them concerned as to whether we were going to be there. I was trying to hold the political line."
The inquiry also released a note from Blair to Jonathan Powell, his chief of staff, shortly before his visit to Bush's ranch in Crawford, Texas, in April 2002, in which he argued that his Labour Party should be "gung-ho" about dealing with Hussein. Blair added that the meeting with Bush at Crawford "did not result in an alteration of policy."
Blair said the invasion was justified by the risk that Hussein, with "a history of concealment and deception," would return to developing weapons of mass destruction once international pressure backed by military threats was withdrawn.
"Supposing we'd backed off, I think it's at least arguable that he would have been developing" weapons "in competition with Iran. 'May have been' is my justification for this because I wasn't prepared to run that risk," Blair said.
To contact the reporters on this story: Kitty Donaldson in London at kdonaldson1@bloomberg.net. Thomas Penny in London at tpenny@bloomberg.net
To contact the editor responsible for this story: James Hertling at jhertling@bloomberg.net.