Wendy's/Arby's Exploring Sale of Arby's Sandwich Chain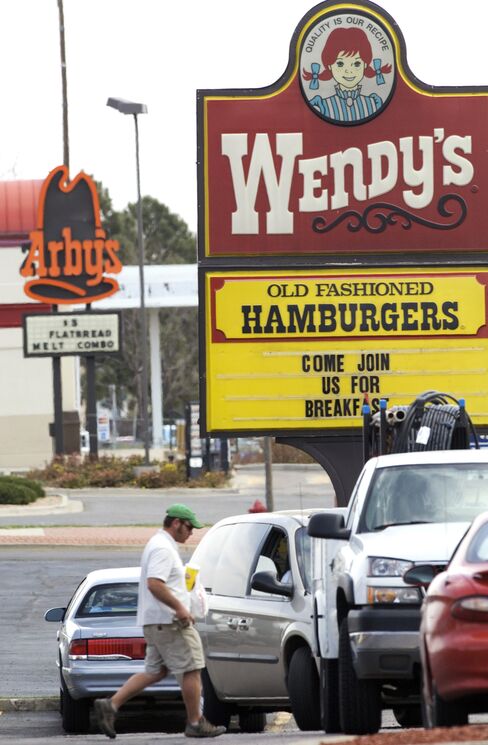 Wendy's/Arby's Group Inc., the third-biggest U.S. hamburger chain, plans to explore a sale of the Arby's brand, potentially unraveling a tie-up spearheaded by its largest investor more than two years ago.
UBS Investment Bank will help in the process, the Atlanta-based company said today in a statement. Arby's may fetch $600 million, or about 6 times earnings before interest, taxes, depreciation and amortization, said Larry Miller, an analyst with RBC Capital Markets in Atlanta. The median multiple in 27 North American restaurant deals over the past five years was about 8, according to data compiled by Bloomberg.
Getting rid of the Arby's chain will help management focus on expanding the 6,500-store Wendy's franchise, whose same-store sales have performed better. The move marks a reversal for billionaire Nelson Peltz, who pushed to unite the restaurant brands in 2008.
"It's probably the best case scenario," Matthew DiFrisco, an analyst at Oppenheimer & Co. in New York, said today in a telephone interview. "It allows them to focus on Wendy's, and it gives them capital to potentially expand the remodel, accelerate expansion and put more advertising dollars behind the Wendy's breakfast introduction." He rates the stock as "outperform."
Arby's, which has almost 3,700 stores in the U.S., had sales of $1.1 billion in 2009, less than half the amount of the Wendy's group. Wendy's/Arby's has invested in breakfast equipment in company-owned stores and plans a national introduction of new morning menu items later this year.
Peltz's View
"The Wendy's brand, given its relative size and scope, is the key driver of shareholder return, and we believe we should focus on the execution of the compelling growth opportunities at Wendy's," Peltz said in the statement.
Peltz's Trian Fund Management LP and its affiliates hold about 24 percent of Wendy's/Arby's common stock, according to the fast-food maker. Anne Tarbell, a spokeswoman for Peltz, didn't return a phone call seeking comment.
Wendy's/Arby's rose 31 cents, or 6.9 percent, to $4.78 at 4:15 p.m. in New York Stock Exchange composite trading. The stock has risen 1.9 percent in the past 12 months.
Since the $2.56 billion all-stock deal closed Sept. 29, 2008, the shares had fallen 24 percent through yesterday. That compared with a 47 percent rise in the Standard & Poor's Supercomposite Restaurants Index.
Peltz's Performance
Peltz, 68, is known for buying stakes in companies and then pushing them to increase their value by cutting costs or merging. He played a role in Cadbury Plc's 2008 spinoff of Dr Pepper Snapple Group Inc. and pressed for changes at H.J. Heinz Co., the world's biggest ketchup maker. His net worth as of September was estimated at $1.1 billion by Forbes magazine.
Peltz's new direction follows similar moves by other restaurant companies. Yum! Brands Inc., owner of the KFC and Taco Bell chains, said this week that it will put the Long John Silver's chain up for sale, along with its A&W All-American Food restaurants. In September, Benihana Inc., which operates Japanese-themed restaurants, said it hired Jefferies & Co. to explore a possible sale.
In the past five years through 2010, there have been more than 300 transactions involving North American restaurant chains, according to data compiled by Bloomberg. In September, Burger King Holdings Inc. agreed to be acquired by New York investment firm 3G Capital for about $3.3 billion.
Reporting Results
Wendy's/Arby's plans to release preliminary fourth-quarter and full-year results on Jan. 26. In November, Wendy's/Arby's lowered sales and profit forecasts for the year, sending the shares down the most in six months.
In the third quarter, sales at stores open at least 15 months fell 1.7 percent at North American Wendy's sites, compared with a 5.9 percent decline at Arby's.
Founded in 1964, Arby's carved out a niche with thinly sliced roast beef sandwiches and curly fries. In 2001, the chain added more expensive "market fresh" sandwiches. Since then, Arby's has introduced cheaper fare, including a dollar menu featuring a junior roast beef sandwich, to appeal to value-minded consumers.
Before it's here, it's on the Bloomberg Terminal.
LEARN MORE