Verizon, AT&T May Get Airwaves at Auction of U.S. TV Spectrum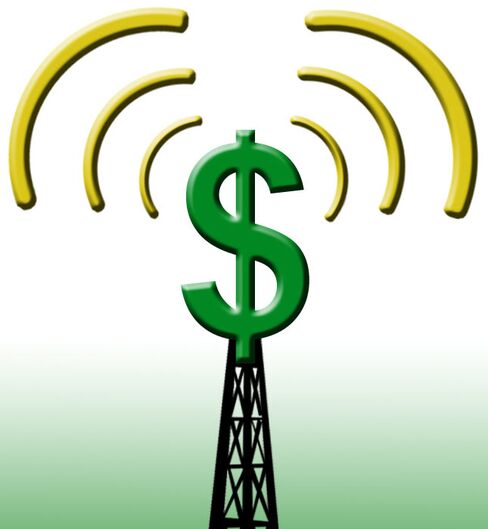 Verizon Wireless, AT&T Inc. and other mobile telephone companies may get a chance to acquire airwaves used by television broadcasters under a plan backed by federal officials.
Auctioning some of the airwaves used by TV would help avert a "spectrum crunch" brought on by increased use of wireless devices, Federal Communications Commission Chairman Julius Genachowski said in a speech Jan. 7.
Rights to the airwaves might fetch $48 billion, according to a 2009 study by the Brattle Group, a research firm in Washington. Wireless operators would receive about the same amount in annual revenue from selling new services, Coleman Bazelon, the study's author, said in an interview.
Auctions would help meet the Obama administration's pledge to double the airwaves that support data-hungry devices like Apple Inc.'s IPhone and iPad, and smartphones that use Google Inc.'s Android operating system.
Wireless data flows may increase 35-fold over the next five years, and without action consumers face poor service and high prices, Genachowski said in his speech to the consumer electronics show in Las Vegas.
Freeing spectrum for mobile high-speed Internet, or broadband, is a "crucial challenge," he said.
Sharing the Proceeds
Genachowski proposed the government conduct auctions in which broadcasters voluntarily surrender airwaves in return for part of the proceeds. Buyers may include Verizon Wireless, AT&T, Sprint Nextel Corp. and Deutsche Telekom AG's T-Mobile unit. Companies owning broadcast stations include CBS Corp., News Corp., Walt Disney Co.'s ABC, Belo Corp. and Sinclair Broadcast Group Inc.
Broadcasters are leery, said Gordon Smith, president of the National Association of Broadcasters, a Washington-based trade group.
"Is it really the government's role to pick winners and losers?," Smith said in an interview.
TV stations would remain on the air by sharing airwaves with other broadcasters, or by not participating, Genachowski said. Congress would need to approve the plan.
Backers of the idea include Gary Shapiro, president of the Consumer Electronics Association, which represents makers of wireless devices including Motorola Mobility Holdings Inc. and Samsung Electronics Co.
'Squatting' on Spectrum
Broadcasters reach fewer than 10 percent of Americans through over-the-air signals, and "are squatting on our broadband future," Shapiro said in a Jan. 6 speech to the consumer electronics show.
That comment "just isn't squared with the truth," said Smith, the broadcasters' president.
TV stations finished switching from old-fashioned analog signals to more efficient digital transmissions in 2009, and they need time to find new uses for the spectrum that can generate revenue, Smith said.
"It's reasonable for broadcasters to ask Congress to give us more time," he said. "I think you will see that space fully and efficiently used."
"There has to be sufficient room in the digital age for both broadband and broadcast," Smith said.
Will Congress Share?
Smith questioned whether the auctions can run as intended. "Will Congress actually share proceeds with broadcasters, who would voluntarily participate? That's a big 'if,' " Smith said.
One possible catch: It has taken 6-to-13 years to repurpose airwaves for new uses, according to Genachowski. The span includes devising an auction and moving users to new airwaves.
Possible delays leave wireless interests eager to begin.
"We must aggressively move to start the process now so we can try to avoid major disruptions," Steve Largent, president of CTIA-The Wireless Association, a Washington-based trade group for mobile carriers, said in an e-mailed message.
This story is part of a Bloomberg Government special report on regulation. The full report may be found on BGOV.com and in Bloomberg Businessweek.