Santander Said to Delay U.K. Unit IPO to Second Half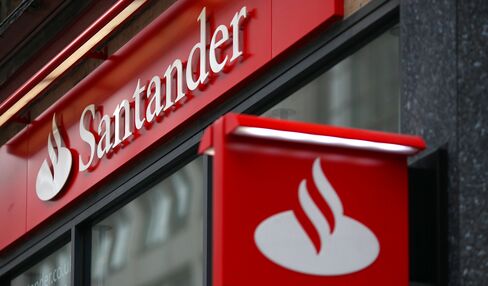 Jan. 20 (Bloomberg) -- Banco Santander SA may delay the initial public offering of its U.K. unit, which includes the former Abbey National, until the second half of the year, two people with knowledge of the talks said.
Spain's biggest lender may seek to sell as much as 25 percent of the business in the IPO, said one of the people, who declined to be identified because the information isn't public.
Alfredo Saenz, chief executive officer of Santander, said on Oct. 28 that the IPO was planned for the first part of 2011. When Antonio Horta-Osorio, who was preparing the unit for the offering, was lured to Lloyds Banking Group Plc to replace Eric Daniels as CEO last year, Chairman Emilio Botin named his eldest daughter, Ana Patricia Botin, to head operations. U.K. finance director Antonio Lorenzo and Chief Risk Officer Juan Colombas will also join Lloyds.
"Ana Patricia Botin needs to get in there and try to present herself to U.K. investors who don't really know her yet," said Andrea Williams, who helps manage about 600 million pounds ($960 million) including Santander shares, at Royal London Asset Management in London. "At the very least, it's going to take more time than they thought."
Officials at Santander in London and Madrid declined to comment. The shares rose 0.8 percent to 8.75 euros as of 10:37 a.m. in Madrid trading, giving the company a market value of about 74 billion euros ($99 billion).
'Very Difficult'
Investors in the IPO will probably use Lloyds, the biggest British mortgage lender, as a benchmark for Santander U.K.'s valuation, according to analysts. The 11 percent drop in Lloyds's share price since September may make it harder for Santander to sell shares at a price it seeks.
"Santander in the U.K. is a superior business to Lloyds, but getting the valuation they think they deserve is just going to be very difficult," said Christopher Wheeler, an analyst at Mediobanca SpA in London. "It's a test of how determined they are about getting it done."
An IPO of its U.K. unit, a business that yields 18 percent of group profit, would help Santander to boost capital ratios after the bank spent $10 billion on acquisitions since last June. Investors have become more concerned about the outlook for the bank's business in Spain. The lender has raised about $11 billion by selling shares in its Brazilian unit in a 2009 IPO and convertible bonds to Qatar Holding LLC.
Tangible Book Value
Santander was the second-largest U.K. mortgage lender after Lloyds in 2009, with an 18.4 percent market share of gross lending, according to the Council of Mortgage Lenders.
The Spanish bank's British unit has an estimated return on equity, a measure of profitability, of 17 percent for 2011, while the gauge stands at about 13 percent for Lloyds, according to Nomura Holdings Inc. Based on those estimates, and taking into account discounts for the IPO and the fact that Santander would only divest a minority stake, Santander may expect to sell the shares at 1.4 times to 1.5 times tangible book value, said Daragh Quinn, a Madrid-based banking analyst at Nomura.
Price to tangible book value, which strips out goodwill and other intangibles, is a measure used by investors to examine the value of a stock. Lloyds shares were valued at about 1 times tangible book value as of Jan. 20, compared with a high of 1.3 times in September, according to data compiled by Bloomberg.
Basel III
Botin told the House of Commons Treasury Committee in London on Jan. 18 that the U.K. unit will add branches in 2011 and plans to end the year with 1,700. Santander began building its U.K. banking business in 2004 with the 12.5 billion-euro purchase of Abbey National Plc and later acquired Alliance & Leicester Plc and parts of Bradford & Bingley Plc. Profit from the U.K. jumped 17 percent to 1.53 billion euros in the first nine months of the year from the same period of 2009.
Group of 20 leaders in November endorsed rules drawn up by the Basel Committee on Banking Supervision, known as Basel III, which will require lenders to more than triple the highest-quality capital, such as shareholders' equity, they hold to cushion against losses.
Santander had a core Tier 1 capital ratio of 8.5 percent at the end of September 2010 and said it's committed to keeping it above 8 percent this year.
Selling a 20 percent stake in the U.K. unit may raise about 4 billion pounds, adding as much as 80 basis points to the group's core Tier 1 capital, said Arturo de Frias, head of banking research at Evolution Securities in London.
At 4 billion pounds, the IPO would be the biggest in the U.K. since VTB Bank OJSC raised $8 billion in May 2007, data compiled by Bloomberg show.
To contact the reporter on this story: Charles Penty in Madrid at cpenty@bloomberg.net; Zijing Wu in London at zwu17@bloomberg.net; Jon Menon in London at jmenon1@bloomberg.net;
To contact the editor responsible for this story: Edward Evans at eevans3@bloomberg.net; Frank Connelly at fconnelly@bloomberg.net