NYC's December 8.9% Jobless Rate Lowest Since 2009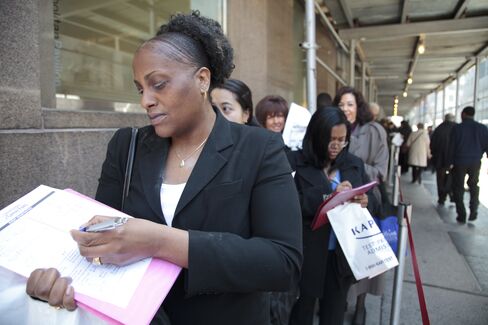 Jan. 20 (Bloomberg) -- New York City's jobless rate fell to 8.9 percent last month, the lowest level since April 2009, the state Labor Department said.
Statewide, the rate dropped to 8.2 percent from November's 8.3 percent, according to data published today. The national rate was 9.4 percent last month.
While the unemployment rate declined from 9.1 percent in November, the city lost 3,600 nongovernment jobs during the period, said James Brown, a state Labor Department economist. That compared with an average December gain of 16,200 such positions in the past 10 years, he said.
"We have a weak number, with many of the industries that showed hiring gains in previous months, such as financial activities, professional and business services, and leisure and hospitality all flat or down," Brown said in an interview.
For all of 2010, nongovernment employment in the city increased by 50,800, or 1.6 percent, to 3,184,600, the department's figures show. Professional and business services added 17,200 jobs in that period, a gain of 3 percent. Other categories with gains included education and health services, adding 16,200; tourism-related leisure and hospitality, up by 9,500, and financial activities, with a 6,500 gain, the data indicate.
Information jobs, which include publishing, broadcasting and telecommunications, while increasing by 700 in December, were down by 2,200 compared with 12 months earlier, according to the department. Government employment fell by 9,000 during the year, the data show.
"In a recovery you don't get strong data every month," Brown said. "Even though the city is enjoying generally strong job growth, hiring for the Christmas season was below average. It's a weak ending to what was a strong year."
To contact the reporter on this story: Henry Goldman in New York at hgoldman@bloomberg.net
To contact the editor responsible for this story: Mark Tannenbaum at mtannen@bloomberg.net