Man Tumbles as Investor Pulls $1 Billion From Funds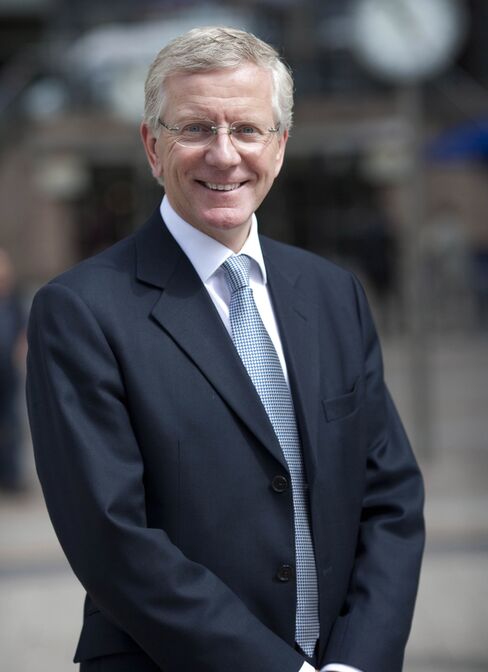 Man Group Plc, the largest publicly traded hedge-fund firm, fell after a single investor pulled $1 billion from its long-only funds and analysts questioned whether performance fees would meet estimates in future quarters.
The stock dropped 2.4 percent to 294.1 pence at the close of trading in London. The unidentified investor pulled the cash because the client no longer wanted exposure to European stocks, Man Group said in a statement today.
"We regret losing" any investors' money, Chief Executive Officer Peter Clarke said on a conference call, referring to the redemption. The long-only business is "very low margin. It's actually nearly irrelevant to earnings."
Man, which started as a sugar broker in 1783, is trying to cut its dependence on Man AHL Diversified Plc, an investment program that accounted for the majority of the fund manager's holdings before it acquired GLG Partners Inc. for $1.6 billion in October. The company is still waiting for most of its AHL funds to hit their so-called high-water marks, the level above which Man Group reaps performance fees.
Man AHL Diversified, which uses computer algorithms to identify trades in 150 futures markets, gained 14.8 percent last year. Eighteen percent of AHL funds are above their so-called high-water mark, while 58 percent of the funds need to rise 5 percent before London-based Man Group can start collecting fees.
"AHL was still, on average, 4 percent below its peak," Deutsche Bank analyst Carolyn Dorrett wrote in a note to clients today. "This suggests lower-than-forecast performance fees" for the quarter ending in March.
Funds Climb
Total funds under management climbed to $68.6 billion as of Dec. 31, from $40.5 billion at Sept. 30 following the GLG purchase, Man said today. Analysts had estimated funds would climb to about $68.2 billion, according to the average estimate of five surveyed by Bloomberg.
AHL accounts for about $23.6 billion of Man Group's assets. The purchase of GLG, a discretionary fund company whose managers make bets that stock prices will rise and fall, added $25.4 billion to assets.
AHL last year beat the 3 percent average gain for so-called managed futures funds, which use computers to spot trends in currencies, metals and other commodities, according to an index of 50 top funds compiled by BarclayHedge. AHL fell 17 percent in 2009, its only annual loss, according to data compiled by Bloomberg.
Clients added $100 million to Man's alternative investment products, less than the $400 million estimate of Credit Suisse Group AG analyst Rupak Ghose.
Hedge funds are mostly private pools of capital whose managers participate substantially in the profit from speculation on whether the price of assets will rise or fall.
Before it's here, it's on the Bloomberg Terminal.
LEARN MORE