Hypo Real Estate Wins Dismissal of J.C. Flowers Suit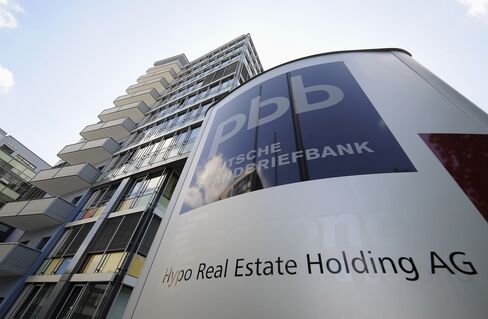 Hypo Real Estate Holding AG won a ruling clearing the German bank-rescue fund Soffin's move to force out minority shareholders as part of the lender's bailout.
The Regional Court of Munich dismissed a suit filed by minority investors, including U.S. investment firm J.C. Flowers & Co., who were forced to sell their stock. The step was necessary to rescue the bank during the financial crisis and is in line with national and European Union rules, the court said in an e-mailed statement today.
"Lawmakers reacted to the repercussions of the worldwide financial market crisis and its escalation with measures that were designed to rebuild trust," the court said. "The necessary security for the transaction could only be guaranteed by granting Soffin exclusive ownership status."
The 38 investors in the case were seeking to invalidate a decision made at Munich-based Hypo Real Estate's October 2009 shareholder meeting that paved the way for Germany's first bank nationalization since the 1930s. The vote allowed Soffin to force minority investors including Flowers to sell their shares.
A capital increase of 3 billion euros ($4 billion), excluding subscription rights for shareholders other than Soffin, was approved at a June 2, 2009 shareholder meeting. That brought Soffin's stake in Hypo Real Estate above the 90 percent threshold required to later force remaining investors to sell their stock for 1.30 euros.
Credit Market Freeze
The German government and financial institutions had to rescue Hypo Real Estate after the lender's Dublin-based Depfa Bank Plc unit couldn't raise financing when the bankruptcy of Lehman Brothers Holdings Inc. froze credit markets.
At a hearing in June, Flowers' lawyers Sebastian Zeeck and Alexander Honrath had argued the squeeze-out illegally seized shareholders' property. After analyzing today's 151-page judgment, he will consult with his client on what steps to take, Honrath said in an interview.
Daniela Bergdolt, a lawyer for other plaintiffs, had argued that an alternative would have been to deny minority owners' voting rights for a limited time. She will also decide on whether to appeal after reviewing the judgment.
"Certainly we would have loved to win, so this is now an incentive to prevail on appeal," Bergdolt said after today's ruling. "Our points are valid and nothing is final yet."
Hypo Real Estate's lawyers argued that full ownership was necessary to guarantee the success of the lender's bailout. Nina Lux, the lender's spokeswoman, declined to comment today.
Test Case
Hypo Real estate is the target of several suits over its near collapse and investor losses. The Munich Higher Regional Court this month accepted a test case under a mass-litigation procedure to bundle claims of former holders who seek damages. Lawyer Andreas Tilp said earlier this week he is representing investors with about 900 million euros in combined claims.
The Munich Regional Court last year sent a suit regarding the June 2, 2009, Hypo Real Estate shareholder vote to the European Court of Justice for guidance on whether a law allowing expedited bank rescues complied with EU laws.
Today's case is LG Muenchen, 5HK O 18800/09.