Irish Emigration to Accelerate, Exceed Worst Years of 1980s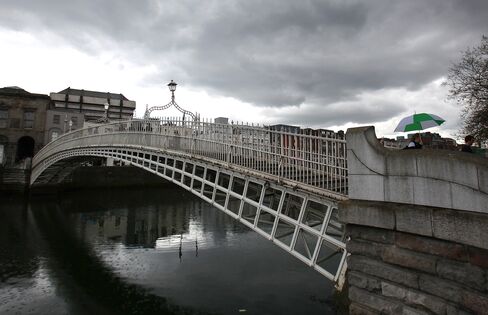 Irish emigration will accelerate and exceed the worst of the 1980s, when the country was last mired in recession, the Economic & Social Research Institute said.
A net 100,000 people will leave the country in the two years through April 2012, the Dublin-based ESRI said in its quarterly report. Some 35,000 people left in the year to April 2010 and 44,000 departed in 1989, the biggest outflow in that decade.
"The weakness in the labor market for younger people in particular has given rise to return of emigration," the ESRI said today. "Our forecasts envisage a continuation of this."
Ireland drew almost 400,000 immigrants in the nine years through 2008. Now, companies including Bank of Ireland Plc are shedding jobs, pushing the unemployment rate to 13.5 percent this year. The government, which accepted an 85-billion euro ($114 billion) aid package last month, is raising taxes and cutting spending, to narrow a fiscal deficit and rescue the banking sector.
The economy will expand 1.5 percent this year, the ESRI said today, cutting an October forecast of 2.25 percent. Gross domestic product will expand 2.25 percent in 2012, the organization said.