Hu Flaunts China Power in Chicago's Friendly Confines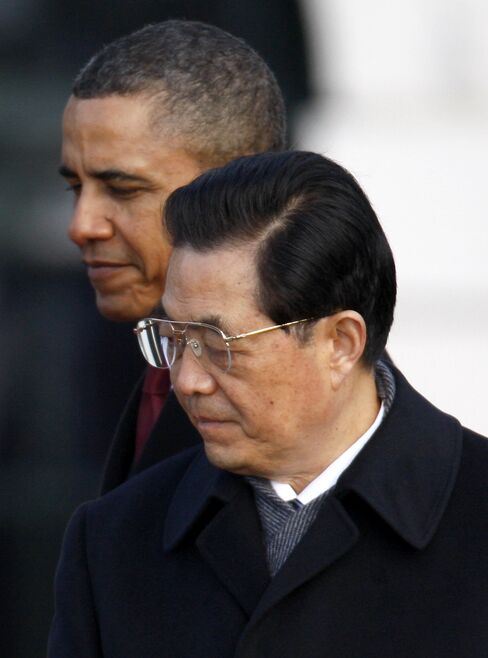 Chicago is known as a destination for immigrants. Yet in a city with 2.8 million people, the most recent U.S. Census estimates found only about 40,000 Chinese -- just 1.4 percent of the population.
So why did the president of China, Hu Jintao, arrive in Chicago today for his only U.S. stop outside Washington, instead of places with more Chinese residents and businesses, such as San Francisco, New York or Los Angeles?
The answer combines long-standing business relationships, pragmatic politicians who have muted their criticism of the Chinese, and one of the first Mandarin-language programs in a U.S. high school. Pushing them all is a mayor whose brother -- a former Commerce secretary and early advocate for China trade -- now works for a city resident, President Barack Obama.
"We can't shut our doors," Mayor Richard M. Daley said in an interview yesterday in Washington for Bloomberg Television's "Conversations With Judy Woodruff."
"We have to be able to work with them," Daley said. "We will differ with them on issues, but I think we can work with them to the betterment of the United States of America and China."
Hu and his delegation arrived in Chicago after attending events in Washington that included a state dinner at the White House last night. Hundreds of supporters and protesters gathered across the street from the Hilton Chicago where Hu and the mayor joined U.S. and Chinese business executives.
China Rising
"Our country is rising," said Jasmine Feng, 25, a doctoral student in business and management at the University of Wisconsin in Madison who is originally from Xian, China.
"The relationship between China and the U.S. is very important for Chinese students," she said, holding a Chinese flag. "It will influence our decision of whether to stay here or go back to China, so it's in our interest to have harmony between the two countries."
A group of about 60 protesters included Tibetans from Illinois, Indiana, Wisconsin and Minnesota.
"We have no human rights," said Karma Phargyal, 34, who works at a Whole Foods in Chicago. "We're protesting against the Chinese government and to show solidarity with the Tibetans who are suffering under Chinese rule with no free speech and no religious rights."
The Chinese delegation will meet with U.S. business leaders, sign commerce agreements and visit Walter Payton College Prep, a public school that has offered a Chinese-language program since 1999.
Softer on Chinese
Chicago wooed the Chinese in part because Illinois politicians have been less outspoken in their criticism of China's policies, giving the city a bargaining advantage, said William Spence, a Chicago lawyer and co-chairman of the Chicago Sister Cities Committee.
"Here we are, with this enormous economy in Chicago," he said, and "we are friendly to China in ways that the East and West coasts are not."
Spence pointed to Senator Charles Schumer, a Democrat from New York who is pushing legislation meant to prod China into raising the value of its currency, and Democratic Representative Nancy Pelosi of California, who served as speaker of the House from 2007 through 2010 and has sought trade sanctions against China because of its human-rights record.
Skipping Dinner
Three of the four top U.S. congressional leaders skipped yesterday's state dinner, highlighting the contentious relationship between Congress and China, the world's second-largest economy.
House Speaker John Boehner, an Ohio Republican; Senate Majority Leader Harry Reid, a Democrat from Nevada; and Senate Minority Leader Mitch McConnell, a Republican from Kentucky, all didn't attend the first state dinner for a Chinese leader in more than 13 years. Pelosi did.
Daley, 68, who has visited China three times since his first trip in 2004, said he didn't think that the Chinese were rewarding those who have been less critical.
"We're not selling out," Daley said. "And they're not saying, 'Well, you've been silent, we're going to benefit your city or your company.' It's not like that."
That Chicago is Obama's adopted hometown probably helped the city's lobbying to win a visit from Hu.
Obama Effect
"It certainly doesn't hurt that President Obama is from here and Rahm Emanuel is coming out of the White House to run for mayor of Chicago," Spence said. "That helps the Chinese understand that many roads in the U.S. lead through Chicago."
While in the city, Chinese companies signed deals today to buy $1.8 billion of oilseed from the U.S., said Wang Chao, the vice minister of commerce.
The Chinese buyers approved 10 contracts with companies including Archer Daniels Midland Co., Bunge Ltd. and Cargill Inc. Ten additional contracts may be signed at a ceremony tomorrow, said Paul Burke, the director of global marketing for the U.S. Soybean Export Council.
China is an important market for several Chicago-area companies, though not all of them could claim benefits from the trip.
Boeing Co. failed to win any new business from China during the visit. Boeing, based in Chicago, had been widely expected to announce an order from China for new airliners, said Howard Rubel, an analyst in New York with Jefferies & Co. Instead, the White House highlighted a $19 billion package of purchases that referred to the Chinese government's final approval for orders dating back to 2007.
'Faux Order'
"This is a faux order," Rubel, who has a "buy" rating on Boeing shares, said in an interview yesterday. "If this is an attempt at showing there's a love-in with the Chinese, there's no substance to it. Boeing has lost market share in China. There should have been something tangible here and instead it's PR."
Mike Tull, a Boeing spokesman, declined to comment about the company's failure to win any new China business.
U.S. companies that get the largest proportion of their revenues from China are more commonly based in California than in Illinois, Bloomberg data show. A forum in Chicago tomorrow seeks to change that.
"I think the reason they chose Chicago is for recognition of the strong business ties between Chicago and China, which have been deepening over the past decade," said Thomas Wright, the executive director of studies at the Chicago Council on Global Affairs. "Mayor Daley has been instrumental in fostering greater ties with China."
Business Crowd
Wright's group is hosting the forum with the Beijing-based China Chamber of Commerce for Import and Export of Machinery and Electronic Products. It's likely to draw as many as 1,000 U.S. and Chinese business leaders, representing about 60 U.S. and Chinese companies, Wright said.
About 300 companies based in the Chicago area have offices in China, and 30 Chinese companies maintain operations in Chicago, Wright said.
Daley led Chicago trade missions to Shanghai in 2004 and to Beijing in 2006. The pitch in Beijing, made over a seafood lunch and using a PowerPoint presentation, was to sell the business community there on Chicago as a place to expand.
The mayor's interest in China runs in the family. His youngest brother, William M. Daley, 62, Obama's new chief of staff, helped the nation negotiate its entrance into the World Trade Organization and earn most-favored-nation trading status when he was Commerce secretary for President Bill Clinton.
Hu Arrival
Shortly after Hu and his delegation arrived at O'Hare International Airport, where four daily nonstop flights depart for China, they were to join U.S. business executives at a downtown hotel.
Greg Brown, chief executive officer of Schaumburg, Illinois-based Motorola Solutions Inc., was at the White House yesterday and will participate in talks with the China delegation in Chicago.
Tama McWhinney, a company spokeswoman, declined to comment on what it expects from the sessions. It receives about 6 percent of its revenue from the China region, according to Bloomberg data.
Tomorrow, Hu and his delegation will gather at a suburban location to showcase Chinese companies with Midwest operations. Wanxiang America Corp., a Chinese-owned auto parts company based in the Chicago suburb of Elgin, will be one of the companies highlighted.
Learning Chinese
Hu's visit to a public school named after Walter Payton, the legendary Chicago Bears running back, comes as Chicago public schools are seeing strong interest in Chinese-language courses.
The district has 42 schools where 12,000 students are taking such classes, said Jane Lu, the district's Chinese World Language Program coordinator. The number of students enrolled in those courses has doubled since 2006, and Mandarin is the second-most-popular language for instruction after Spanish.
Robert Davis, a former director of the Confucius Institute of Chicago, traveled with Daley on his first trip to China, which included a chat with schoolchildren fluent in English.
"It left a huge impression on him because everyone spoke English," he said. "It really clicked for him, the power of language."