GE Investors Look Past Profit to Industrial Sales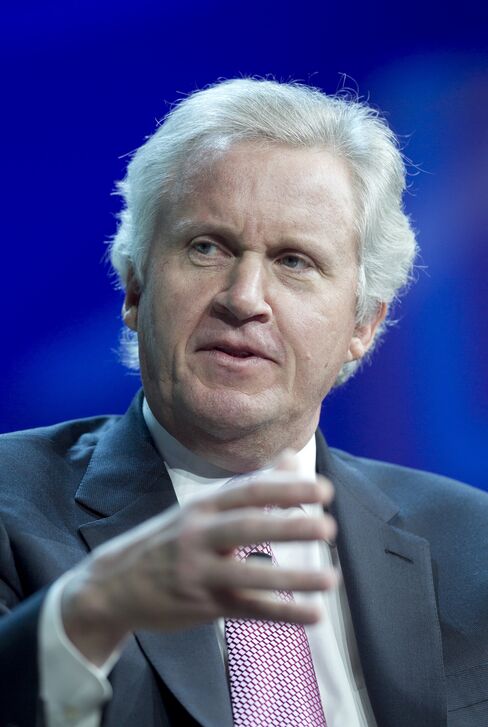 General Electric Co.'s projected third straight quarterly profit gain would cap a year in which the company outperformed the Standard & Poor's 500 Index for the first time since 2004 and raised its dividend twice.
Investors want something more from tomorrow's earnings report: Signs that Chief Executive Officer Jeffrey Immelt's industrial investments and $172 billion in backlogged orders will generate faster sales growth.
"The key for the stock just remains the industrial businesses, revenue growth and profitability," said Mark Demos, a fund manager at Fifth Third Asset Management in Minneapolis, whose parent company owns about 6.2 million GE shares. "We'll keep watching."
Immelt is spending to develop new products and making acquisitions including about $6 billion in the past four months as he steers a battleship of industrial businesses that manufacture equipment for power generation, railroads, airports and hospitals. The CEO is shrinking the percentage of total revenue from GE Capital as well as its assets.
GE Capital and the transportation and health-care units may help push the Fairfield, Connecticut-based parent company's fourth-quarter profit to 32 cents a share, from 28 cents a year earlier, even amid slower earnings growth in the energy division, GE's largest. Revenue may fall about 4 percent to $39.7 billion, analysts estimated.
"They've done a pretty decent job of telegraphing that there's a little upside in this quarter," said Stephen Hoedt, a Cleveland-based analyst at Key Private Bank, whose parent company owns 17 million GE shares. "Over the intermediate term, though, it's hard to see how things get much better here without improvement in the power-generation business."
NBC Universal
Immelt continued spending a discretionary cash stockpile of about $20 billion in the fourth quarter, announcing acquisitions mostly tied to the energy division, including the $3 billion purchase of oil-field equipment maker Dresser Inc. GE also raised its dividend for the second time in a year and repurchased stock.
The CEO has simplified the kinds of businesses GE owns, with the company expecting to complete the sale of a controlling stake in NBC Universal to Comcast Corp. this month following regulatory approval this week. GE should have a "small" gain after taxes and about $8 billion in pretax proceeds from the transaction, the company said in a statement Jan. 18.
"We continue to believe that the company will likely deploy this cash" into mergers and acquisitions, probably within the energy, oil and gas and aviation businesses, Nigel Coe, a New York-based analyst with Deutsche Bank AG, wrote in a note to investors Jan. 18. Coe has a "hold" rating on the stock.
Industrial Comparisons
In December, Immelt projected cash from operating activities including NBC Universal of $14 billion to $15 billion, in 2010.
Investors have responded, driving the stock up 13 percent in the quarter through Dec. 31 to top a 10 percent climb in the S&P 500. GE's full-year gain of 21 percent also beat the S&P. The shares rose 10 cents to $18.43 at 4:15 p.m. in New York Stock Exchange composite trading.
The shares have trailed some industrial companies that see results from an economic rebound -- and recessions -- more quickly, said analysts including Morgan Stanley's Scott Davis, who is based in New York. Caterpillar Inc., based in Peoria, Illinois, gained 19 percent in the last quarter.
GE is "likely to beat the S&P, but is a tougher call on whether it can beat the industrial space" in 2011, Davis, who has an "overweight rating on the stock, wrote in an investor note. Of 19 analysts tracked by Bloomberg, 10 have forms of buy ratings on the stock, while nine recommend holding it. None suggest selling GE shares.
'Hard to Love'
"This is a stock that is hard to love for many reasons, most notably power generation's cycle decline well into 2011," Davis said in a note to investors.
GE's overall order backlog held steady in the third quarter at $172 billion, with simultaneous increases in service and equipment orders for the first time in two years.
In November, GE Energy announced a $750 million order for gas and steam turbines, the latter of which will be made at a Schenectady, New York, plant that President Barack Obama is scheduled to visit tomorrow. Immelt has publicly supported Obama's goal of doubling U.S. exports by 2015.
The Energy Infrastructure unit's profit in the fourth quarter may be about $2.15 billion, based on the full-year forecast that Immelt gave Dec. 14 of about $7.2 billion.
Profit in the segment this year should be little changed or slightly higher, Immelt said, as 12 of 15 main units improve and GE builds the oil and gas business, along with service contracts. Services provide a steady stream of more profitable sales than equipment alone.
Divisions including health care and transportation, the world's biggest makers of medical imaging and information systems equipment and locomotives, respectively, are improving.
In November, GE Healthcare's John Dineen raised the outlook for annual profit growth at that division to 10 percent a year.
Keeping Locomotives Running
In GE Transportation, the world's biggest maker of freight locomotives, sales in emerging markets such as Pakistan, Brazil and China should help results this year, Lorenzo Simonelli, who runs the unit, said in an interview this week. The unit may also benefit from a joint venture designed to tap high-speed rail projects in the U.S., he said.
"We feel good about the emerging markets," said Simonelli, whose division is boosting its offerings of software and services. "We're starting to see some of the equipment orders come back. The main thing is keeping these locomotives on the track and running, so that they can be revenue producers for our customers."
GE said in December it would set aside $500 million in the fourth quarter to comply with the U.S. Environmental Protection Agency's program to lower toxic sediment in the Hudson River. The agency released a plan in 2002 to dredge pollutants that GE's factories in Hudson Falls and Fort Edward dumped into the waterway for three decades, starting in the 1940s.
'Getting Better'
That cost will be tempered by tax credits and proceeds from the $1.9 billion sale of the BAC-Credomatic GECF Inc. bank to Colombia's biggest financial holding company, as GE Capital sells consumer units outside the U.S., the company said in December.
GE Capital is shrinking net investment in finance assets, a measure used by analysts to gauge the division's size, to $440 billion in 2012, down from about $516 billion at the end of last year's first quarter and $489 billion at the end of September. GE is shrinking the percentage of revenue and profit it gets from the finance unit to reduce the risk of bad loans and volatility from areas such as real estate that investors value less after the global financial crisis.
"The bottom line for me is they did shrink the balance sheet," Key's Hoedt said. "It hasn't shrunk enough, but it's not as bad as it was."
GE Capital's earnings were expected to climb to about $3 billion for 2010, unit CEO Michael Neal told investors Dec. 7, up from $1.7 billion in 2009.
"GE and many of its markets continue to be getting better, or at least less bad, with the recovery," wrote Steven Winoker, a Sanford C. Bernstein & Co. analyst in New York, who cut his rating to "market perform" from "outperform" on Jan. 12.
Before it's here, it's on the Bloomberg Terminal.
LEARN MORE