Fischer Sets New Reserve Rules to Stem Shekel's Gains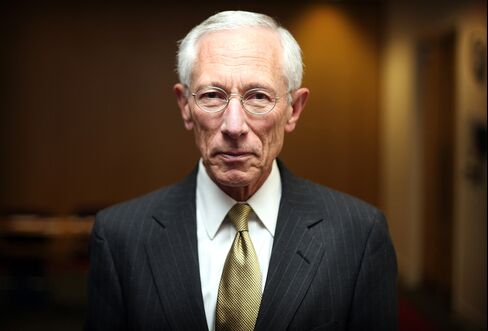 Bank of Israel Governor Stanley Fischer just scored his biggest success in 17 months of trying to weaken the shekel.
The currency plunged as much as 2.4 percent yesterday to 3.6320 per dollar after Fischer ordered Israeli banks to meet a 10 percent reserve requirement for foreign exchange derivative transactions by non-residents beginning Jan. 27. Residents and non-residents will be required to report foreign-exchange swaps and forwards of more than $10 million a day, the central bank said in a separate statement on Jan. 19.
Near-zero interest rates in the U.S. and Europe have spurred increased inflows into Israel and other countries where borrowing costs are higher, driving gains in currencies and threatening exports. The Bank of Israel has been buying foreign exchange since March 2008 in an effort to moderate the effect, more than doubling reserves to $70.9 billion at the end of December.
"The Bank of Israel is now becoming big brother," said Tal Zohar Avda, the Tel Aviv-based chief executive officer of Forex Capital Markets LLC's Israel unit. "Fischer understood that the intervention of the Bank of Israel in the open market failed both in the short and long term and now he is moving to target the speculators."
Policy makers are "very concerned" the shekel may be "overvalued" because of the inflow of "'hot money" into the country, Deputy Governor Zvi Eckstein said last week. A strong shekel could have harmful long-term effects on exports, he said.
Report Transactions
The currency has strengthened 2.9 percent against the U.S. dollar in the past 12 months, the third-best performer among the 10 most-active currencies in emerging Europe, the Middle East and Africa, according to data compiled by Bloomberg.
The shekel depreciated 0.4 percent to 3.6304 against the dollar at 10:10 a.m. in Tel Aviv.
Residents and non-residents will need to report transaction details and the balance of their holdings in swaps and forwards contracts, the bank said. Non-residents who trade more than 10 million shekels in so-called Makam bills and other short-term government bonds in a day will also be required to report.
"I believe they have a much wider plan that they haven't made public," said Shy Datika, chief executive officer of I.L.S. Brokers Ltd. "They want to do something with the information. It may be taxation or the cancellation of certain exemptions from taxes that non-residents enjoy."
Other emerging market countries have also moved to limit currency gains. Chile's central bank has a $12 billion plan to buy dollars in the spot currency market, while South Korea and Taiwan last month tightened capital controls to help stem inflows of funds from abroad.
'Very Concerned'
In Brazil, policy makers have set reserve requirements on short dollar bets while Finance Minister Guido Mantega authorized the country's sovereign wealth fund to buy dollars in the futures market to stem the currency's gain.
Lenders were asked to comment on a draft order on the reporting requirements by Jan. 26, the central bank said. The rules will take effect "shortly after" comments are received, it said.
"There has been a significant increase in the foreign currency derivatives transactions and in the holdings of foreigners in the Makam," Central bank spokesman Yossi Saadon said in a telephone interview. "We are interested in improving our ability to analyze these transactions, behavior patterns and trends in these tools and in this way to improve our ability to preserve financial stability."
Stronger Shekel
Swaps and other derivatives are financial instruments whose value is based on an underlying security or benchmark, such as currencies, bonds and stocks. Companies may use them to hedge risks and other investors employ them to bet on markets.
The volume of foreign exchange derivative transactions by non-residents has risen in the past few months, according to the central bank. A significant part of the increase in those transactions is in short-term instruments, it said.
"Clearly, the journey for a stronger shekel will likely be more volatile," Roderick Ngotho, an emerging-market currency strategist at Royal Bank of Scotland Group Plc. Still, given robust economic growth, ongoing monetary tightening and the country's solid balance of payments backdrop, Ngotho said he remains "bullish" on the shekel in 2011 and has a year-end forecast of 3.35.
Israel emerged from the global recession faster than many developed countries. Growth was 4.5 percent last year, the statistics bureau said on Dec. 29, more than double the World Bank's estimate for European Union countries.
As the economy recovered, Fischer, 67, gradually increased the benchmark lending rate to 2 percent, lifting the rate by 1.5 percentage points since August 2009. He is likely to raise interest rates by a quarter-point at the next rate-setting meeting on Jan. 24, according to 17 of the 18 economists surveyed by Bloomberg.
"He has to do something so that the shekel doesn't end up at 3 to the dollar, and we won't be able to sell anything," said Kobi Gavril, co-chief executive officer of Tel Aviv-based Effective Financial and Investment Managers. "The speculators aren't contributing anything to the economy. What he is doing now is just the first step. It's a very good thing."