Europe Watchdog May Be Toothless in Crisis Prevention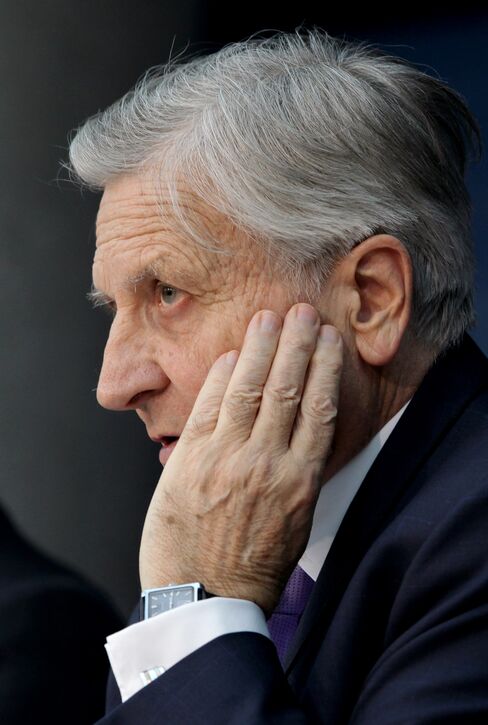 Europe's new risk watchdog probably lacks the teeth to avert the region's next financial crisis, economists and analysts say.
The European Systemic Risk Board, which aims to identify and warn of brewing risks in the financial system, may fail to prevent future imbalances as it doesn't have any legal power to enforce action, according to economists at ING Group, Barclays Capital and ABN Amro.
The 65-member board, which met for the first time in Frankfurt today, is chaired by European Central Bank President Jean-Claude Trichet, with Bank of England Governor Mervyn King acting as vice chairman.
"The problem is that these bodies are set up to solve yesterday's problems," said Peter Hahn, a former Citigroup Inc. banker who lectures on finance at Cass Business School in London. "They can never do more than flagging any issues," and whether they can stop a crisis "is questionable."
The European Union is trying to avoid a repeat of the financial crisis that followed the 2008 collapse of Lehman Brothers Holdings Inc. and resulted in European governments setting aside more than $5 trillion to support banks. Part of a wider regulatory overhaul, the ESRB is similar to the Financial Stability Oversight Council in the U.S.
"The idea is excellent, but if the thing is not going to have any teeth, it is not going to be good enough," said Nick Kounis, an economist at ABN Amro Bank NV in Amsterdam.
'Comply or Explain'
"If you're looking for an institution that will save us from the next crisis, this is certainly not it," said Carsten Brzeski, an economist at ING in Brussels.
Trichet said at a press conference with King today that while the board can only do as much as the legislation asks it to, it has "a lot of moral authority" and will employ a strategy of "comply or explain."
It can pass on matters to the heads of European governments if its warnings aren't heeded.
With the ECB president and vice president on the board, and the central bank's resources at its disposal, some analysts say the ESRB's advice will be hard to ignore.
"If they come up with a convincing case pointing to deficiencies in any particular market or jurisdiction, it will be very hard for the authorities concerned to ignore that warning," said Bernhard Speyer, head of financial market regulation research at Deutsche Bank AG in Frankfurt. "I am fairly confident as to the quality of the output of the ESRB."
Public Disclosure
While the body will monitor macro-prudential risks, it may turn its attention to single institutions deemed systemically important. It has yet to identify those institutions or say what methodology it will use in its risk analysis.
The ESRB has been given discretion over whether to inform the public of any warnings it makes on a case-by-case basis. Lawmakers have allowed the body to keep warnings secret if it thinks any judgment would unsettle markets, even though the legislation says that "public disclosure can foster compliance."
ECB council member Athanasios Orphanides of Cyprus said the ESRB could recommend actions similar to those taken by the Cypriot central bank in 2007, when it tightened the loan-to-value ratios on real estate loans.
"That decision made our system more resilient" and is "an example of the recommendations I foresee the ESRB will consider making," he said in an interview on Jan. 14.
Market Discipline
Still, in the absence of clarity about the ESRB's powers and activities, banks have reacted with indifference to the arrival of the new body, according to James Nixon, co-chief European economist at Societe Generale in London.
If systemic risk analysis "is all that the ESRB is going to be doing, then they are not going to have much to do for the next decade," said Nixon, a former ECB forecaster. "The market will be imposing its own discipline on the banks for quite a long time."
The ESRB is one of four new bodies in Europe's financial regulation architecture. The others are the European Banking Authority, the European Insurance and Occupational Pensions Authority and the European Securities and Markets Authority.
"There is still a serious hole in the system of financial regulation in Europe," said Julian Callow, chief European economist at Barclays Capital in London. "There isn't any one independent agency at European level which in a crisis situation could get all the players around a table to strike a deal over a weekend."
Before it's here, it's on the Bloomberg Terminal.
LEARN MORE