Equanum Plans India Hedge Fund as Firm Moves Base to Singapore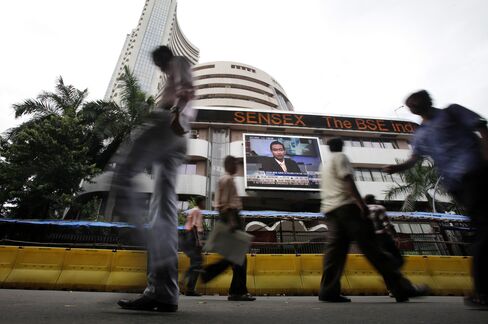 Equanum Capital Management, a U.S.- based equity hedge fund focusing on Asia outside Japan, plans to move its operations to Singapore as it starts an India fund.
Equanum Capital plans to raise about $50 million for an Indian "long-biased" hedge fund, which it aims to introduce in the second quarter, said Kalpesh Kapadia, the firm's founder, who is moving with his family from Palo Alto, California. The firm already has two analysts in Asia, he said in an interview in the city-state.
"Due to its strategic location, infrastructure and ease of doing business, Singapore is becoming more and more of a regional hub for money managers," said Indian-born Kapadia, who lived in the U.S. for 16 years. "Given 3 billion people in the region and double-digit per capita income growth, this makes for a very fertile ground to mine for investment opportunities."
Global managers such as New York-based Soros Fund Management LLC, founded by billionaire George Soros, and Fortress Investment Group LLC, are setting up shop in Asia as the region's economic growth outpaces the rest of the world. Still, the World Bank last week expressed concerns about the possibility of so-called asset bubbles in the east Asia and the Pacific region, whose largest economies include China, Indonesia, Thailand and Malaysia.
"We are secularly bullish on the region's prospects outside of Japan; however, we see some cyclical headwinds such as inflation and rising interest rates," said Kapadia, 37.
Grappling With Inflation
Countries across Asia are attempting to grapple with accelerating inflation pressures as food and commodity costs climb and liquidity rises with an influx of foreign capital. China's stocks slumped last year after the government ordered banks to set aside more reserves and boosted interest rates to tame inflation and curb asset bubbles after record gains in lending and property prices.
The Bombay Stock Exchange's Sensitive Index, or Sensex, dropped 8 percent in the first two weeks of the year on concern that rising interest rates are curbing profits. Stocks also fell after Indian authorities said Nov. 24 it arrested eight executives for allegedly operating a scheme to bribe senior officials at state-run banks to approve loans.
Prime Minister Manmohan Singh's government has been trying to fend off opposition calls for a cross-party probe into an auditor's report on the award of mobile-phone licenses at below-market prices that may have cost the state $31 billion.
'Capture the Growth'
The rising cases of corruption in India in the last six months may prompt investors to invest in Asia through Western companies with better corporate governance that "can capture the growth" in the region, Kapadia said.
Equanum's planned India fund will have a "disciplined private-equity-like approach," holding about 10 core long positions that bet on rising share prices, he said. The fund also seeks to hold three to five short positions, some cash, invest in derivatives and maintain "capital structure flexibility," he said.
Except for investments in companies that are planning initial public offerings and certain debt securities, all of the fund's equity assets will be in mid-to-large capitalized stocks "with a reasonable public float and institutional ownership," Kapadia said.
The planned fund, which can buy debt, equity or options, will aim to double or triple the money it will invest in companies in two to three years, he said.
"Right now India is rocky," Kapadia said. "It's a good time to invest if you have conviction."
Indian Developers
The Indian industries that Equanum plans to invest in include exporters, energy, financial services, automobile, pharmaceutical and power or infrastructure, he said. There will also be investment opportunities in the nation's "out-of-favor" real estate industry, he said.
The Sensex's 17 percent advance last year was the most among the world's 10 biggest equity markets as the nation's economic growth lured record foreign funds. A gauge tracking 13 property stocks lost 26 percent following the arrest of the eight executives.
Equanum's existing Asian hedge fund invests in companies that seek to capitalize on "Asia's dual advantage" of high growth and low cost, Kapadia said.
Prior to founding Equanum in 2005, Kapadia worked for C.E. Unterberg, Towbin and was named the No. 1 stock picker in the Wall Street Journal's 2004 "Best on the Street" annual rankings. London-based Collins Stewart Plc acquired U.S. investment bank C.E. Unterberg, Towbin in 2007.