Coke's Chief Kent Gets Lost in Translation Toasting China's Hu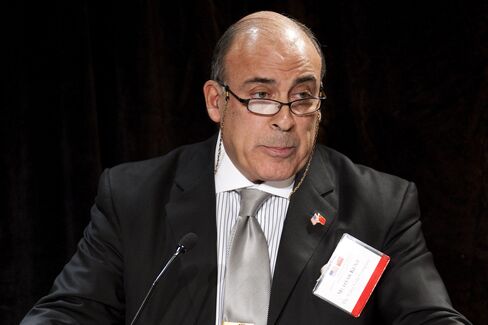 Coca-Cola Co. Chief Executive Officer Muhtar Kent found a memorable way to toast Chinese President Hu Jintao: in Japanese.
Kent, chairman of the Washington-based U.S.-China Business Council, was warming up the crowded ballroom at Washington's Wardman Park Marriott Hotel yesterday for Hu's only policy address during his four-day trip to the U.S., which ends today.
"In honor of this very historic moment, I would like to propose a toast to President Hu and also to his esteemed delegation -- kanpai," Kent said.
His toast was followed immediately by laughter from the crowd, which included hundreds of China hands, including former Secretary of State Henry Kissinger, former ambassador to China James Sasser and White House National Security Council China director Evan Medeiros.
The toast in Chinese is "ganbei," pronounced gahn-bay. The phrase in each language -- the equivalent of "Cheers!" -- is written with the same Chinese characters.
While China and Japan have close economic ties, the two countries fought a war from 1937 to 1945, in which large portions of China were occupied and millions of Chinese were killed.
Kent, 58, isn't alone in making a linguistic gaffe. In 2009, Secretary of State Hillary Clinton presented a mock "reset" button to her Russian counterpart, Foreign Minister Sergei Lavrov, symbolizing the new approach the U.S. was taking toward Russia. Lavrov told her that the Russian word on the button really meant "overcharge."
After his policy remarks in Washington, Hu flew to Chicago, where he and his delegation will meet with U.S. business leaders, sign commerce agreements and visit Walter Payton College Prep, a public school that has offered a Chinese-language program since 1999.
Before it's here, it's on the Bloomberg Terminal.
LEARN MORE