Chicago Selling $1 Billion in Bonds Amid Lawsuit: Muni Credit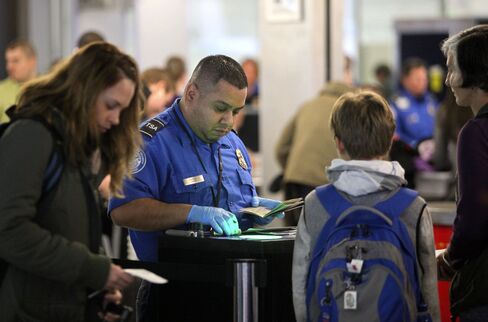 Chicago plans to offer about $1 billion in taxable and tax-exempt debt to expand O'Hare International, the second-busiest U.S. airport, even as it faces a lawsuit from the hub's two largest carriers.
United Continental Holdings Inc. and AMR Corp.'s American Airlines filed suit against the city Jan. 18 seeking to delay the O'Hare modernization program. Next week's debt sale will finance Phase Two, which will add a new terminal complex on the western side of the airport and finish taxiways and other airfield infrastructure, and will cost an estimated $3.36 billion, mostly paid for by the airlines.
United and American account for about 80 percent of travelers to O'Hare, the busiest U.S. airport by passenger traffic after Atlanta. The suit may force the city to offer higher yields on the airport-revenue bonds, said Evan Rourke, portfolio manager with Boston-based Eaton Vance Corp., which has almost $10 billion under management.
"Anything at the moment that casts a pall is bound to have a negative impact" on the market, he said in a telephone interview. "They're going to have to pay for the perceived risk."
A January 2026 O'Hare revenue-bond issued in April for the first phase of modernization traded at an average yield of 5.77 percent Jan. 18, according to Municipal Securities Rulemaking Board data. That's 154 basis points over top-rated 15-year debt, according to a Bloomberg Valuation index. The same securities traded at a so-called spread of 117 basis points on Dec. 22. A basis point is 0.01 percentage point.
Airlines' Lawsuit
United and American claim in the lawsuit that the terms of their leases with the airport require Chicago to obtain their consent before selling bonds -- backed by airline passenger facility fees -- to finance the construction. The charges are federally approved fees added to plane fares to support airport improvements. Citing the expected cost increases, the carriers have withheld approval.
The airlines said in a Jan. 14 letter to Chicago Mayor Richard M. Daley that the second phase "is not needed now" and won't be needed "for many years to come" because of a drop in travel demand and revenue during the recession. Airfield delays are down 60 percent since 2004 and aircraft movements have declined 5 percent since Phase One began, the carriers said in the letter.
Chicago "believes it has the legal right" to continue to move forward to get funding for O'Hare, Rosemarie Andolino, commissioner of the Chicago Department of Aviation, said in a statement. The project is also critical for the Chicago area because it creates local jobs and helps the economy, she said.
O'Hare had 64.4 million passengers pass through in 2009, trailing only Atlanta, according to Airports Council International, a trade group.
'Timing is Essential'
"We remain willing to discuss modernizing O'Hare with the airlines that serve the airport; however, timing is essential," Andolino said. "The opportunity to realize the project's benefits for the region and national aviation system cannot be lost."
Phase One of the project extended one runway and added two more at a cost of $3.2 billion, and one of those runways isn't yet complete or usable, the lawsuit says.
Alexander Samuelson, a spokesman for Citigroup Inc., the underwriter for the airport bonds, declined to comment on the sale. Citigroup is not involved in the lawsuit, he said.
The lawsuit may delay, reduce or prohibit next week's issuance, said Gordon Murray, senior credit analyst at White Plains, New York-based Belle Haven Investments, which has about $600 million in assets under management.
"It's tough to sell when there's an unsettled suit going on," Murray said. "It doesn't seem to have a black-and-white answer at the moment."
General Obligations
Chicago is selling about $298 million in taxable general-obligation debt this week to pay for infrastructure projects, refinance debt and fund judgments entered against the city, according to preliminary offering documents.
The lawsuit is unlikely to affect the city of Chicago's creditworthiness because the tax-collecting powers of the city outweigh the revenue-raising ability of a busy airport, Rourke said.
Chicago's debt is rated Aa3 by Moody's Investors Service and AA- by Fitch Ratings, both fourth-highest, and one level lower by Standard & Poor's.
Demand for Deal
The general-obligation offer may see added demand as the expiration of Build America Bonds on Dec. 31 left taxable buyers with fewer opportunities in the municipal market, said Richard Ciccarone, managing director of McDonnell Investment Management LLC in Oak Brook, Illinois, which holds more than $7 billion of municipal bonds.
"There's a shortage of inventory for investors who want to buy BABs," he said. "They're going to take advantage of their rating in the global market. There is an appetite out there."
Chicago-based Loop Capital Markets LLC, the underwriter on the deal, put preliminary yields on debt due in January 2035 at 310 basis points above 30-year U.S. Treasuries, according to data compiled by Bloomberg.
Pete Scales, a spokesman for Gene Saffold, Chicago's chief financial officer, declined to comment on this week's sale.
Following are descriptions of pending sales of U.S. municipal debt:
FAIRFAX, the most-populous county in Virginia, plans to sell $192 million in tax-exempt general-obligation bonds through a competitive sale on Jan. 25. The bonds, which mature serially from April 2012 to April 2031, are rated AAA by Fitch and will fund various public improvements. (Added Jan. 20)
SUTTER HEALTH, the largest single-state health-care system by revenue, plans to offer $900 million in tax-exempt debt through California state agencies as soon as next week to refinance debt and pay for capital projects. The health-care revenue bonds are rated Aa3 by Moody's and AA- by S&P and Fitch, all fourth-highest. Underwriters led by Morgan Stanley will market the offering. (Added Jan. 20)
Before it's here, it's on the Bloomberg Terminal.
LEARN MORE