Banker Influx to Lift Luxury Home Rents in Hong Kong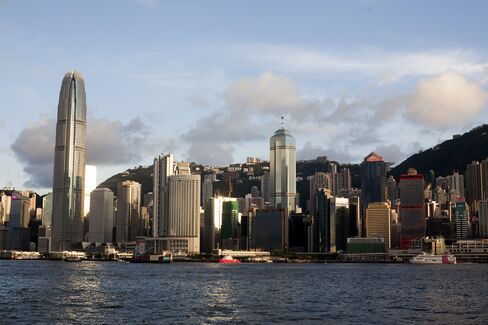 Jan. 21 (Bloomberg) -- Sarah Cheung was bracing for a rent increase on her apartment in Hong Kong's Happy Valley district ahead of the expiration of her lease this month. She still wasn't prepared when her landlord demanded 43 percent more.
"We've looked around and this is still one of the better deals, even after the raise" to HK$40,000 ($4,890) a month, the first increase in five years, said Cheung, a 45-year-old businesswoman who lives with her husband and two daughters in a 1,250 square foot apartment that overlooks the Happy Valley racecourse.
Rents of Hong Kong luxury homes, classified as those of at least 100 square meters (1,076 square feet), are growing faster than in London, fuelling lease increases in the broader market, fanning inflation and hampering government efforts to cool housing prices. Hong Kong luxury rents may jump as much as 15 percent this year after a 13 percent gain in 2010, according to property brokers Savills Plc and Jones Lang LaSalle Inc.
HSBC Holdings Plc and Standard Chartered Plc are among companies boosting hiring to tap record equity sales in Hong Kong and demand for wealth management. The number of registered financial professionals in the city rose to a record 38,304 in the third quarter, according to the Securities and Futures Commission.
"As the large financial firms expand, they pull in more people who then normally get accommodated at the luxury end," said Simon Smith, Hong Kong-based head of research at Savills. The occupancy rate of apartments used typically by companies for short-term stays "is extremely high at the moment and that's a good indicator because that's the first stop for people moving into the market."
Housing Allowance
Housing allowances for senior executives in the financial industry moving to Hong Kong can range from HK$80,000 to HK$150,000 a month, according to Matthew Hill, a managing director based in the city for Ambition Group Ltd., an Australian-listed recruiting firm. That compares with Hong Kong's median monthly household income of HK$18,100.
The strong luxury rental market is helping drive up overall rents in the city and fueling inflation, said Irina Fan, an economist at Hang Seng Bank Ltd. in Hong Kong. Rising private-sector rents helped the city's inflation rate increase 2.9 percent in November from a year earlier, the biggest gain in three months.
"We're seeing an overall increase in rent; it's not just limited to the luxury market," said Fan. "This is certainly adding to pressure on inflation."
'Skill Shortage'
That may become a deterrent for businesses trying to lure employees to the southern Chinese city with a population of more than 7 million, said Ambition Group's Hill.
"Rising rents certainly will have an impact and will be an increasing factor when businesses are deciding on relocating an executive and their family," he said. "This could become a problem as there is an increasing skills shortage of senior local executives for certain roles and there continues to be a need for many businesses to hire from overseas."
Still, Hong Kong companies increased hiring of senior management executives from overseas by about 20 percent in the past year, said Hill.
"We didn't expect the skill shortage we're experiencing in Hong Kong to come about so quickly," Hill said. "Demand is outstripping supply."
HSBC, Hong Kong's biggest bank by deposits and customers, plans to add 200 people to its small-to-medium enterprise unit in the city, it said in October. London-based Standard Chartered in February 2010 announced plans to hire 500 employees for its local wealth management business.
Rental Yields
Hong Kong's home prices have surged more than 50 percent in the past 24 months, powered by interest rates at a two-decade low, an expanding economy and an influx of buyers from China. That prompted the government to impose additional property transaction taxes and raise mortgage requirements to cool price gains.
Hong Kong overall home prices have risen 21.6 percent from the beginning of 2010 to Jan. 9, according to an index compiled by Centaline Property Agency Ltd., the city's biggest closely held realtor.
Rental yields haven't kept pace with the rapid price gains. The yield for luxury residential properties has stayed below 3 percent since July 2009, according to figures compiled by Seattle-based Colliers International. That's the lowest since at least 1994, Colliers said. The total return for the city's benchmark Hang Seng Index was 8.6 percent last year.
"For luxury residential rents, this will be a year of catching up," said Hong Kong-based Simon Lo, director of research at Colliers. "We've seen price outperforming rents by quite a big margin since the property market began recovering from the global credit crisis."
Similar sized apartments in Cheung's neighborhood, near the Causeway Bay district, home to the world's second-most expensive shopping spot, normally command monthly rents of more than HK$45,000, said Kelvin Yuen, a senior sales manager at a Happy Valley branch of Midland Holdings Ltd., the city's biggest realtor by market value.
'Hottest Areas'
Bankers tend to live on the Peak, the city's most expensive district, or Midlevels, both within a 20 minute drive of the Central business district. They also favor Island South, along some of Hong Kong Island's most popular beaches and home to Hong Kong International School, which teaches a U.S. curriculum, and the American Club.
Average luxury residential prices on the Peak rose 8.8 percent in the fourth quarter from a year earlier to HK$22,182 ($2,850) a square foot, according to data compiled by property consultant Knight Frank LLP. That compares with the 1,531 pounds ($2,446) in London and $2,101 in New York's Manhattan.
Prime central London residential rents may gain 7 percent in 2011, according to Savills.
Suburbs favored by expatriates will be Hong Kong's "hottest areas," said Steven Hui, manager for real estate and tenancy management at Crown Relocations, which advises and services multinational companies on staff movements.
"Some of the buildings in these areas right now have zero vacancy which is extremely rare in my 16 year experience" in the industry, said Hui.
To contact the reporter on this story: Kelvin Wong in Hong Kong at kwong40@bloomberg.net
To contact the editor responsible for this story: Andreea Papuc at apapuc1@bloomberg.net