Al-Qaeda Saw Pearl Kidnap as 'Opportunity,' Study Says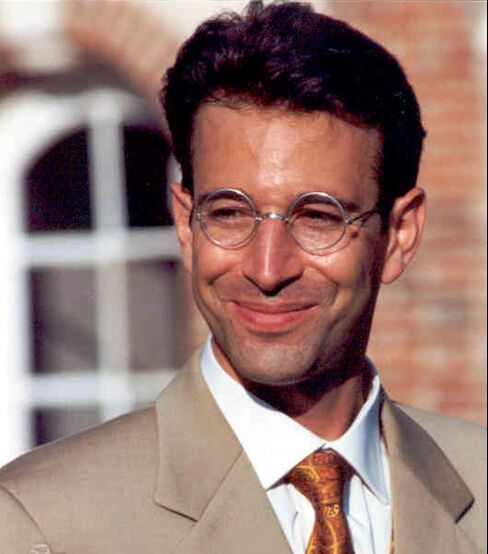 Al-Qaeda took over the kidnapping of journalist Daniel Pearl on orders of one of Osama bin Laden's closest lieutenants, who is still free and reportedly leading anti-U.S. militants on the Afghanistan-Pakistan border, according to a study.
Shaif al-Adel issued the order nine years ago to Khalid Sheikh Mohammed, mastermind of the Sept. 11 terror attacks, to take custody of Pearl, a Wall Street Journal reporter who had been kidnapped by local militants in Pakistan, the Georgetown University-sponsored journalistic investigation says.
Al-Adel considered Pearl's abduction a "target of opportunity," according to the report, which said it could not be certain whether al-Adel directed the subsequent killing of Pearl. The Journal's South Asia bureau chief was kidnapped in Karachi, Pakistan, on Jan. 23, 2002. A video of his decapitation was sent to the U.S. consulate in Karachi on Feb. 22 that year.
Al-Adel is one of the Federal Bureau of Investigation's most wanted terrorists, with a $5 million reward offered, for his alleged role in the 1998 bombings of U.S. embassies in East Africa.
A U.S. government official with knowledge of al-Adel said he is considered a senior al-Qaeda operational figure and is believed to be in the Waziristan region of Pakistan, which borders Afghanistan.
The Georgetown report says Egyptian fugitive al-Adel regarded the kidnapping by local militants as a propaganda opportunity to exploit. It was just over four months after the Sept. 11 attacks and two months after the U.S.-led ouster of the al-Qaeda-allied Taliban regime in Afghanistan.
Larger Plot
Almost a decade later, the U.S. is still fighting to disrupt and dismantle al-Qaeda in its safe havens in northwest Pakistan, largely through the use of missiles from unmanned aircraft.
"The Pearl case focused U.S. government attention on the issue of homegrown Islamist extremism inside Pakistan in a way that may not have otherwise been seen," said Alan Kronstadt, a specialist in South Asian affairs at the Congressional Research Service.
The newly reported link to an al-Qaeda operative still at large may add pressure on Pakistani and U.S. authorities to re-examine the Pearl case. The study, called the Pearl Project, is a 68-page report by a team of graduate-school journalism students who spent three years investigating Pearl's death. It is being released today by the Washington D.C.-based Center for Public Integrity.
The plot involved at least 27 individuals, most who have not been brought to justice, according to the report. At least 14 guards, drivers and "fixers" connected to the case are free. They include Mati-ur Rehman who allegedly is making suicide vests in Pakistan for use against U.S. troops in Afghanistan, it said.
Admitted Killer
Mohammed, imprisoned at Guantanamo Bay, Cuba, carried out the killing, the probe concludes. Mohammed, identified by the 9/11 Commission report as "principal architect" of the 2001 strikes, told a U.S. military hearing at Guantanamo Bay on March 10, 2007, he had personally slit Pearl's throat and beheaded him. He has not been charged in the Pearl case although his role is not disputed by U.S. officials.
"The kidnapping was done by leaders and foot soldiers in the Pakistani militancy," said Asra Nomani, Pearl's co-worker at the Journal, one of the last to see him before the abduction and co-founder of the project, said in an e-mail statement. "The murder was an al-Qaeda operation. We learned that Mohammed took over the kidnapping operation after getting a call from Saif al-Adel. Danny was a target of opportunity.
''For KSM, Danny was good propaganda for al-Qaeda,'' Nomani said.
Bin Laden 'Angry'
The findings also reveal divisions among al-Qaeda leaders.
Al-Adel may have a sought the killing of a Jewish-American journalist as a means to raise the profile of al-Qaeda, but Osama bin Laden ''was angry'' that the gruesome slaying brought ''unnecessary attention to the network,'' the report said.
The report cited an interview with Morris Davis, the former chief prosecutor of military commissions at Guantanamo Bay. Davis, in telephone interview yesterday with Bloomberg News, said he heard the assertion about bin Laden second-hand from an government agent who was told by a detainee close to Mohammed.
''We look forward to seeing the report and will not prejudge its findings,'' State Department spokesman Philip J. Crowley said on Jan. 18. ''We continue to seek justice for Daniel Pearl.''
'Vein Matching'
Mohammed's confession, because he was ''water-boarded'' 183 times by U.S. personnel, has been questioned by legal experts and journalists such as Lawrence Wright, author of the ''Looming Tower,'' a Pulitzer Prize account of al-Qaeda's history.
Water-boarding, now banned by the U.S., simulates drowning.
Still, the Pearl Project claims officials' ''doubts about KSM's confessions during water-boarding were eased when FBI agents and CIA officials used a technique called 'vein matching' to compare the hand of the killer in the murder video with a photo of Mohammad's hand."
Mohammed told FBI agents in 2007 he had received orders from al-Adel, who wanted to "exploit the murder for propaganda," the report said, citing unidentified officials with knowledge of the classified information. Mohammed also told them that he heard about the kidnapping from al-Adel.
"They want to know if we want him," al-Adel allegedly told Mohammed. Al-Adel "thought this was an opportunity. We can take advantage of it," and the abduction would become "an al-Qaeda thing," al-Adel allegedly said, according to the report, which cited unnamed sources.
Witnesses
Two of Mohammed's nephews may have witnessed the killing, the report said. They are Musaad Aruchi, who was arrested in 2004 though his whereabouts today aren't known, and Ali Abdul Aziz Ali, who is held at Guantanamo Bay, the report said.
Rushing to close the case, Pakistani authorities "knowingly used perjured testimony" to convict four Islamic militants of the murder as well as the abduction, even though their direct involvement in the beheading "remains unconvincing," the report said.
U.K.-born Islamic militant Ahmed Omar Sheikh, 37, was sentenced to death in July 2002 for murdering the journalist and being the lead planner in his capture. He's still in prison.
Three of his collaborators received life sentences for assisting in the kidnapping and ransom requests.
All four men are appealing their convictions.
Sheikh "will be freed at some point," the report said, citing unidentified people familiar with the case.
"We've already tried the man and convicted him," Husain Haqqani, the Pakistani ambassador to the United States, said in a Jan. 11 interview in Washington. He said Pakistan "can't really move forward" against someone else "unless the U.S. Justice Department offers us some evidence saying 'you convicted the wrong man'."
The widow of the slain journalist, Mariane Pearl, sued 23 individuals, including Mohammed, in July 2007 for their alleged role in the abduction, torture and murder.
-- With assistance from Indira Lakshmanan in Washington. Editors: Terry Atlas, Steven Komarow
Before it's here, it's on the Bloomberg Terminal.
LEARN MORE