Wells Fargo Won't 'Pay Up' to Settle Mortgage Buybacks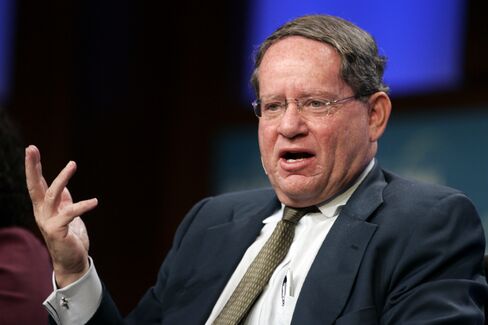 Wells Fargo & Co. won't seek a settlement with Fannie Mae or Freddie Mac on disputed mortgages, and terms offered to rival banks may not have been as generous as some portrayed, Chief Financial Officer Howard Atkins said.
"The quality of our securitizations was of a much higher caliber than all of the other large bank peers," Atkins said today in an interview. "It doesn't make sense for us to pay up to get rid of the remaining small amount of problems we have."
Prodded by lawmakers, Fannie Mae and Freddie Mac have pressed banks including Wells Fargo to buy back mortgages that were based on faulty data about the homes and borrowers. Wells Fargo said today in its fourth-quarter report that demands from the government-owned mortgage companies declined for a second straight quarter and now stand at $1.5 billion.
Wells Fargo set aside $464 million of provisions in the fourth quarter to cover repurchases and spent $506 million for buybacks. The San Francisco-based company's repurchase reserve stood at $1.29 billion at the end of December, down from $1.33 billion on Sept. 30. Atkins cited the reserve during a conference call with analysts today as one reason the bank didn't need to settle.
Rivals including Bank of America Corp. and JPMorgan Chase & Co. reached settlements with the two government-owned mortgage companies to put a cap on potential losses. Analysts predicted that Bank of America's settlement might be a template for other home lenders. Before the settlement, the Charlotte, North Carolina-based bank was handling disputes on thousands of loans one at a time.
Settlement Template
Bank of America, the second-largest U.S. home lender, paid about $2.8 billion to Fannie Mae and Freddie Mac to settle claims on at least $4.1 billion of loans from Countrywide Financial Corp., according to a Jan. 3 statement. Before the settlement, the lender had $12.9 billion in unresolved "putback" demands, with about half related to the government-sponsored enterprises or GSEs, according to an Oct. 19 presentation.
While analysts said the accord favored the bank by settling for a low price, Atkins disagreed with that characterization and said it wouldn't make sense for Wells Fargo to pursue a similar deal with Fannie Mae and Freddie Mac.
"It might be favorable in the sense that it reduces the risk to the bank but I'm not sure the pricing terms would be favorable," said Atkins, 59. "Given the fact that the GSEs ultimately answer to Washington, I don't see why a GSE would want to give anything on the economics of any transaction."
Buyback Demands
Fannie Mae and Freddie Mac, which invest in home mortgages, can force banks to buy back loans if lenders used incomplete information about borrowers' incomes, home values or other data.
At the end of December, the companies had demanded Wells Fargo repurchase 6,501 loans, down from 9,887 at the end of the third quarter and 12,536 loans at the end of June, according to the statement. Total repurchase demands, including from private investors and mortgage insurers, numbered more than 12,600 loans representing almost $3 billion in original balance.
Janis Smith, a spokeswoman for Fannie Mae, and Freddie Mac spokesman Michael Cosgrove declined to comment.