U.K. Invites Media Providers to Host Local Television Channels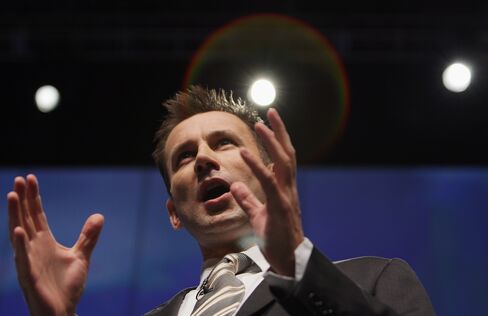 Culture Secretary Jeremy Hunt will invite media companies today to register their interest in running a television channel that will carry purely local content in as many as 15 U.K. cities.
Speaking to media companies in Oxford, England, Hunt will say the new service will be given a high-numbered channel on electronic program guides. New and established media providers will be invited to bid to run the "spine" channel on which local content will be broadcast.
"For consumers, what this will mean is a new channel dedicated to the provision of local news and content," Hunt will say, according to excerpts from his speech released in advance by his office. "One that will sit alongside other public-service broadcasters, offering a new voice for local communities, with local perspectives that are directly relevant to them."
Hunt's adviser on the plans, Nicholas Shott, the head of U.K. investment banking at Lazards, warned last year that advertising alone would not be enough to cover the costs of the proposed local TV stations and that they might only be viable in a dozen of Britain's largest cities.
Shott suggested sponsorship for the entire local television network might be an initial solution, citing Barclays Plc's sponsoring of London Mayor Boris Johnson's bicycle-hire program as a parallel.
"We will wait for the necessary technical assessment to be completed and we will listen to the commercially viable proposals that come forward," Hunt will say. "Our goal is to be able to award the relevant licenses by the end of 2012, and for local TV to be up and running soon after."
Possible investors include Richard Horwood, the former managing editor of newspaper group Trinity Mirror Plc, who told The Sunday Telegraph last year he has established a team to bid for the new channel under the company Channel 6.