Turkey May Halt Rate Experiment After Decline in Lira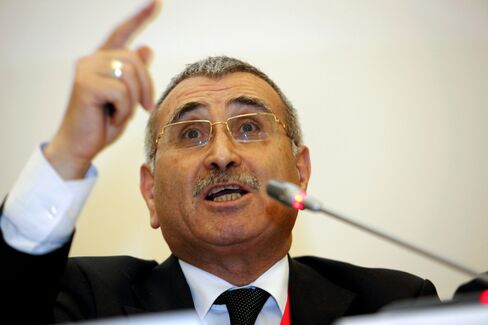 The Turkish central bank may put its "experimental" policy of using rate cuts to rein in the current-account deficit on hold this week after engineering a decline in the lira.
The bank probably will hold the benchmark interest rate unchanged at a record low of 6.5 percent when it discloses the decision today at 2 p.m. Ankara time, according to the median estimate of 11 economists surveyed by Bloomberg. Four predicted a cut. The announcement will occur for the first time when local markets are open, as opposed to the previous 7 p.m. when exchanges were shut.
Governor Durmus Yilmaz, who had been signaling for a year that his next move would be an increase, lowered rates on Dec. 16. The decision was made to curb the flow of so-called hot money into the country, weaken the lira and narrow Turkey's trade gap, according to the central bank. The yield on two-year government debt fell to a low of 6.9 percent on Jan. 5 and today climbed to 7.56 percent, the highest in five weeks, after Yilmaz said credit growth is too fast, and the budget deficit widened.
The lira dropped as much as 4.6 percent after the policy shift was announced Dec. 13, falling to a six-month low of 1.578 per dollar on Jan. 11. It was trading at 1.558 per dollar at 9:56 a.m. in Istanbul.
Yilmaz's strategy has worked with "the exchange rate pretty much where the bank wants it," leaving no need for another cut this week, said Barbaros Ozuyilmaz, head of fixed income at Alternatifbank AS in Istanbul. "It's an unusual policy, but everyone from the U.S. to China is doing unusual things, trying to get more nuanced control over their individual economies."
Lira Losses
The December budget gap announced this week of 16.1 billion liras ($10 billion) was triple the year-earlier figure and sent a "bad signal," said Cevdet Akcay, chief economist at Yapi & Kredi Bankasi AS in Istanbul. It's not enough to end the bank's "experiment" and "a cut is still in the toolkit," he said.
Spending jumped in December as Prime Minister Recep Tayyip Erdogan, seeking a third term in elections due in June, used the extra revenue from last year's faster-than-expected expansion to build roads and improve healthcare. He has presided over average annual growth of 5.3 percent in the past eight years.
Debt has dropped as a proportion of economic output and Turkey has kept its budget tighter than most developed nations, Finance Minister Mehmet Simsek said on Jan. 17. The country's fiscal deficit last year narrowed to about 3.6 percent of gross domestic product.
Erdogan's election prospects are buoyed by the economy, which Yilmaz predicted this month expanded by more than 8 percent in 2010, faster than any other European country.
Economic Boom
Any increase in interest rates to curtail the boom may have lured more money from developed countries where rates are near zero -- strengthening the lira, making imports cheaper and widening the current account deficit. The shortfall in the 12 months through November was $44.9 billion, or about 6 percent of GDP, and Turkey increasingly depends on short-term flows, known as hot money, to finance it.
The bank's solution was to undermine the currency by cutting rates, at the same time as curbing the consumer boom by making banks set aside more money. It raised the proportion of liabilities they must keep as reserves at the central bank to 8 percent from 6 percent on Dec. 17.
The prospect of slower loan and profit growth has pushed Turkey's index of banking shares down 7 percent since Dec. 13. Turkiye Garanti Bankasi AS, in which Spain's Banco Bilbao Vizcaya Argentaria SA is buying a stake for $5.8 billion, declined 8 percent. In the same period, the main ISE National 100 index rose 0.2 percent.
Tighter Conditions
The central bank repeated yesterday the net impact of its policy shift would be tighter monetary conditions. It's too early to tell whether it is right, said Inan Demir, chief economist at Finansbank AS in Istanbul.
"They've seen the expansionary impact of the rate cut, but there hasn't been time to see the contractionary impact of the higher reserves," Demir said. Before cutting rates again, "they may want to wait to confirm that the total package is not expansionary," he said.
Inflation may determine the timing of future rate cuts. It slowed to 6.4 percent in December, the lowest for a year, and the central bank forecasts a further decline in the current quarter, allowing a window for rate cuts before inflation picks up in the second half. The inflation rate has dropped from a high of 73 percent in 2002.
'On Purpose'
For investors and analysts, the central bank's strategy has made interest rate forecasts harder, after a year in which the bank telegraphed its intentions and economists surveyed by Bloomberg were usually unanimous in predicting the decisions.
That may be part of the plan, as Yilmaz seeks to deter foreign investors from pouring money into Turkey, said Haluk Burumcekci, chief economist at Fortis Bank AS in Istanbul.
"The central bank isn't giving a clear picture of what it intends to do," he said. "Perhaps the bank is doing this on purpose, to make short-term bets more difficult."
Before it's here, it's on the Bloomberg Terminal.
LEARN MORE